http://biblehub.com/interlinear/psalms/14.htm
 Heb. read from right to left. 
Sose,
Remove the s and you have
palm 14
add an s and you have P
s
alm
s
14. Then Z used the "In the Beginning
God
..." stamp same as the one on the 10/5/70 postcard.  Just a slider is all!
Since up to the time of the 10/27/70 card there was a claim of
13
vics by Z even on the 10/5/70 card. So to threaten a 14th victim would be in line with Z's tabulation of the number of vics. Since Z brush lettered (Z used brush lettering also on the 3/22/71 Pines card and spelled Avery's name as "Averly" the  same as on the 10/27/70 as we know) in "
You
are doomed!," and it was addressed to Paul Avery-not to the Chronicle only as a C/O- then logically he must have referred to PA indicating he would be the
14
th victim.
You advocate a double meaning then which you have expressed in great detail, and that's fine and a lot of work went into that.  As far as Z
selecting
PA for a threat he had been the main reporter writing stories about him.  In  October 18,1969 it says ,"Zodiac Called a 'Clumsy Criminal'."  Paul says what detectives are speculating that  Z was a clumsy criminal, latent homosexual and a liar. This may have stuck in Z's obsessive/compulsive mind and along with a constant printing of yet more PA articles calling Z a "boastful killer" Z then threatened him. It didn't have to be PA was so critical of him all of the time , but it was like his murders and
other missives
a great excuse to gain more publicity.
Z was a psychopath and possibly the
way
Z saw it Avery didn't present Z as he felt he should be presented to the public. Any interview that Avery gave could have had something said that Z may have disliked.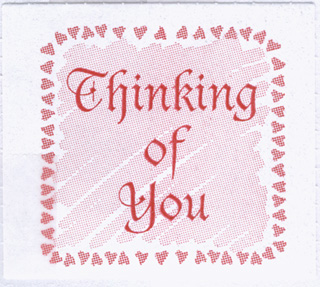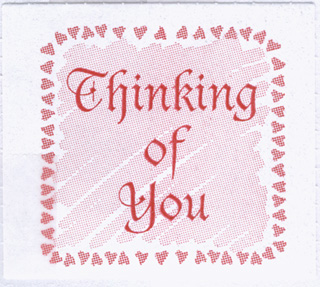 To  made an original discovery. He found in the HC two stickers one saying Have a nice day and the other Thinking of
You
(above )which seems a reference to Z dwelling on Avery.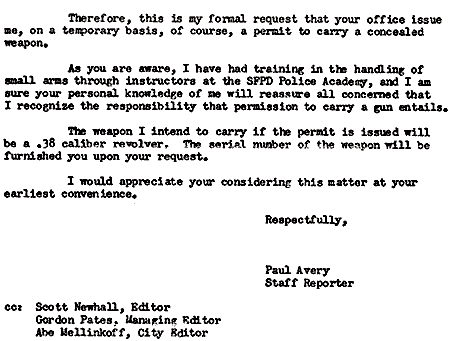 Avery wrote this letter saying Z threatened him. Can't get it right as to cut and paste today!