VARIOUS - CPR Volume 3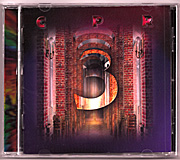 Well this isn't one for the faint hearted. An eleven track compilation of Christian progressive rock, hence the CPR monicker. Now I've dipped into the world of Christian rock a few times over the years having fallen for the music of John Elefante at an early age, and you can't keep me away from Neal Morses solo albums. So I girded myself and dived on in.
And there's a heck of a lot of good music here. For sure, there's a couple of clunkers, but with the label calling out around the world for music, they've been able to sort mainly wheat from chaff.
That would include the opening track from Oztralien progsters Unitopia whose 'Lives Go Round' is quite stunning. 'Angle Of Repose' by Ad Astra is equally striking, but the album highpoint is 'Passport' by Phil Keaggy, which originally appeared on his 1985 album "Getting Closer", and which will have me hitting the internet shortly.
The people behind the release say they want to expand knowledge of prog rock into the Christian community, and to increase Christian themes within the prog community. I hope they succeed, as there is some truly inspirational music here.
http://www.cprogrock.com