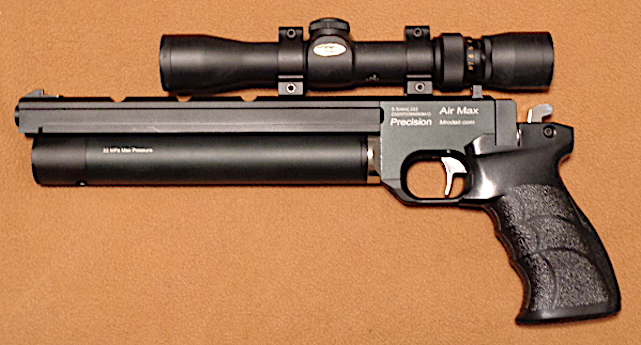 I wanted to wait until I had my .22 MRodAir Air Max Precision completely sorted out before posting about it; but got so tired of seeing nothing new here decided to post results so far.
Impressed with the design, features, execution and quality of the gun, initial velocity testing on the brand-new pistol left much to be desired. Matter of fact it was downright erratic; moreso than an unregulated gun. So much so that I jumped right into it, thinking even if I didn't find the problem I'd learn to work on it. And though I did not find the inconsistent-velocity problem, did thoroughly clean and degrease everything inside, scrub the bore, drill and tap the grip-frame, and install a set-screw to anchor the ***-end of the barrel.
Unfortunately the velocity issue persisted, so I started monkeying around with the power-adjusting features in hopes of finding consistency at high power (15+ foot-pounds). Backed the transfer-port screw out of the way of air-flow, then concentrated on the hammer-spring adjustment; that being the power adjustment I'm most familiar with anyway.
Though I was able to easily get the power-level i wanted, the pistol was still acting like an unregulated gun.
So then I also started messing with the regulator adjustment, trying to find a combination of regulator and hammer-spring adjustments that would give high power and consistent velocities. After a LOT of monkeying and testing, best I could get was an unregulated-type bell-curve power-band at good power, but disappointing number of shots per charge. These were the best results-
With 18.1 grain JSBs at 2800 PSI, a 15 shot power-band returned this- Low= 591, High= 625, ES= 34, SD= 11, Average= 607 FPS/14.8 FP. Also, five consecutive five-shot groups at 35 yards averaged 1.31" center-to-center.
Accuracy wasn't bad; but for this field-target shooter, nothing to get excited about. With a couple days worth of monkeying and testing at that point, I put the gun away for awhile. A couple subsequent accuracy-test sessions yielded the same bench-rest results, no matter how hard I tried. So "awhile" became quite awhile.
Occasionally I'd handle and admire the gun, and think how nice an air pistol it could be if performance was as impressive as the features, configuration and (subjective) 'feel'.
Finally got around to searching the forum for information yesterday, specifically looking for others' Air Max Precision testing and 'smithing results. More specifically, some very impressive, REGULATED-consistency power-bands I thought I'd seen before. Found them, and based on the information decided to try backing-off the hammer-spring tension to more sane power levels to see if I could find regulated consistency. Happy to report IT WORKED!
By that time it was 1 AM and 30 degrees, and my fingers were so numb that loading the gun was painful. However I found what I was looking for; albeit at a less-magnum power level.
16 grain Air Arms at 3000 PSI returned this 30 shot power-band- Low= 581, High= 606, ES= 26, SD= 6, Average= 596 FPS/12.6 FP.
Duly inspired and unable to resist, I managed to load five more pellets to shoot a 35 yard group. Since that group went barely over an inch, of course I had to try another in spite of increasingly painful digits. VIOLA! A penny spanned the center-to-center of the five-shot group... YESSSS!!
After fine-tuning the trigger adjustment to a cleaner break, I couldn't resist shooting a few more groups today in spite of 20 MPH+ crosswinds that were inflicting 2-3" of drift (at 35 yards). That three groups maintained a 1" average in such conditions reinforces my hopes of 3/4" averages in still conditions. And though that still wouldn't put the gun in the same accuracy league as field-target pistols, I consider 3/4 - 1" groups at 35 yards fine accuracy for most any other air-pistol purposes.
It sure is rewarding to get impressive performance out of a new gun. All the more gratifying the more fussing, testing, 'smithing, aggravation and PAIN it takes to finally get there. Especially when you've started thinking "there's no way to get there from here".
Mighty happy and RELIEVED to finally get there!