On 9th September 2009 I started Project Change over on
Ninjabread
- an attempt to collect and paint one of every Tzeentch model ever produced under the Games Workshop banner. One Tzeentch-aligned model every nine days until I had one of everything.
********* ********* ********* ********* ******** ********* ********* ********* *********
Wednesday, 9 September 2009
Project Change I
Today I started my new slow-burn collecting project that will focus on the Chaos God Tzeentch.
My first model is one of the second generation of Blue Horrors from 1997.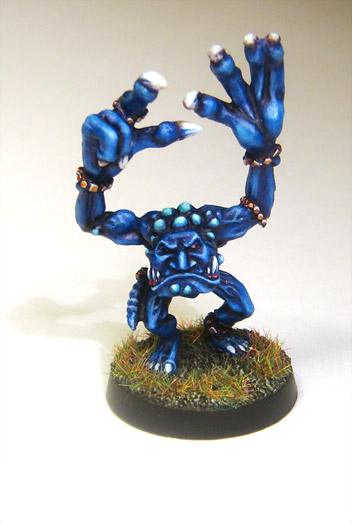 The end goal is to build a collection of every Fantasy and 40K scale model aligned to Tzeentch. At the end of this I will have a large collection of models, but not an army per se.
This isn't a modelling project at the moment. I'm very happy taking models as they are 'off-the-shelf'. There are a lot of daemon armies with a twist at the moment, but I don't feel the need to intrinsically stamp my own identity on the models. I've got a collecting urge.
********* ********* ********* ********* ******** ********* ********* ********* *********
Friday, 18 September 2009
Project Change II
My second project Change model is one of the first generation of Tzeentch Daemons - the 1988 Blue Horror 'Warpgrunter". I experimented with the turquoise colour I used on the bubble of my first horror, which combines nicely with the pink.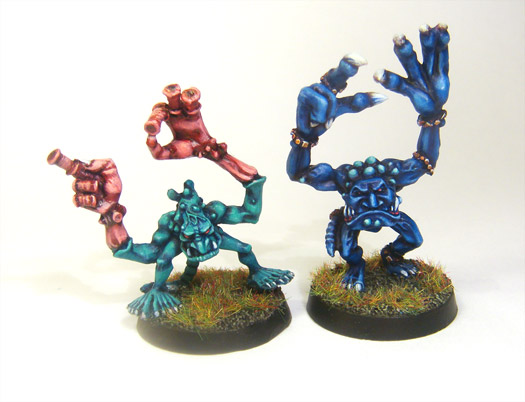 The original Blue Horror models were scultped by Kev Adams, the sculptor most recognised for his work on the early Ork ranges. His signature was big gurning faces. The first and second generation Horror models were very similar, and might even work alongside each other in a regiment. The difference with the Blue Horrors is they lost the suckered fingers and their feet shrunk from ten toes each to just four.
********* ********* ********* ********* ******** ********* ********* ********* *********
Sunday, 27 September 2009
Project Change III
Next in line for my Tzeentchian forces is a classic Rogue Trader Renegade. Photographed against a much better blue fade background than previous blog entries.
I love these old models. The original Chaos Renegade range oozed character and individuality. And they were goofy. I love goofy models.
Tzeentch doesn't have any real signature colours, Well, odd really as Tzeentch's lesser daemons are the only ones whose name actually specifies a colour. Oh, and thinking about it Magnus the Red also is spectrally defined. I digress.
Well, post-Heresy Thousand Sons are always done in blue and gold scheme to evoke the Egyptian archetype. I fancied red and gold (which are quite close to pre-Heresy Thousand Sons, though this guy's not necessarily one of them). But I didn't want it looking like my Blood Angel captain or a Khorne worshipper. So I headed in the pink direction, but not enough to make it look Slaneeshi.
********* ********* ********* ********* ******** ********* ********* ********* *********
Tuesday, 6 October 2009
Project Change IV
Back to the Daemons with another first generation Blue Horror. I did it in a light blue scheme, that still looks quite vivid and fits with the rest of the army.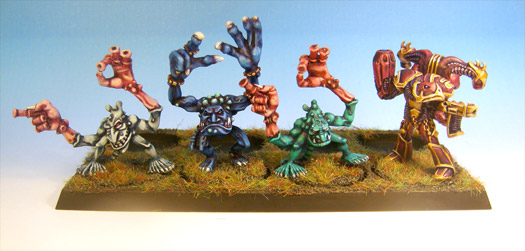 I also copied Carl Woodrow's idea for using War of the Ring movement trays for display purposes. Shame they're not 10mm narrower else they'd be great to rank up models for Warhammer Fantasy.
********* ********* ********* ********* ******** ********* ********* ********* *********
Thursday, 15 October 2009
Project Change V
Another first generation Blue Horror in the traditional Enchanted Blue scheme. Boring.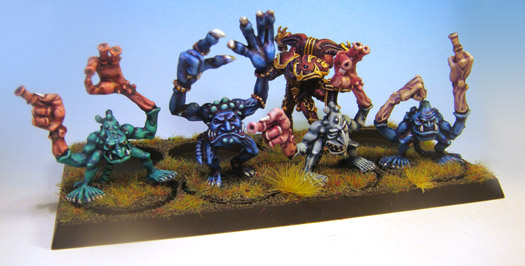 But what's not boring is the tuft of grass front centre. Yes! A tuft of grass. I have a problem with static grass in that it tends to look flattened. The effect of static grass is that static electricity pricks the strands on end, so they stand up like real grass. Mine just looks trampled. And I came across a German company - Fredericus Rex - who produce pre-made tufts of grass in all sorts of lengths and colours. I went crazy and ordered every variety of dried grass available. Real nerd shopping spree.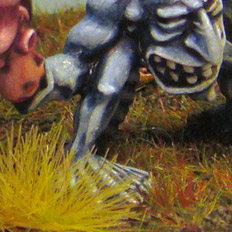 Bit too big for the individual 25mm bases (you tend to lose the feet and make the model look like he's about to stumble on a small bush), but great on movement trays and bigger bases.
Anyone got any tips for making my static grass stand up on end?
********* ********* ********* ********* ******** ********* ********* ********* *********
Saturday, 24 October 2009
Project Change VI
Another Generation One Blue Horror! Worshipping the Chaos God of Change is now seeming quite repetitive. But these classic models are so quick to paint on account on their diminutive size.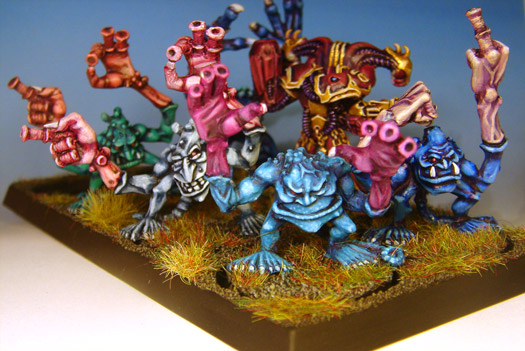 This Horror I experiemented with a different style of painting. I added white blotches in between the glazes to get a mottled skin effect. I was copying it from my Realms of Chaos books, where it's used to paint several different daemons. Not too keen, but I may experiment some more.
********* ********* ********* ********* ******** ********* ********* ********* *********
Monday, 2 November 2009
Project Change VII
And this morning, it's something that isn't a Tzeentch demon to add to the project file. I present, Bowie Inconstatine - Champion of Tzeentch.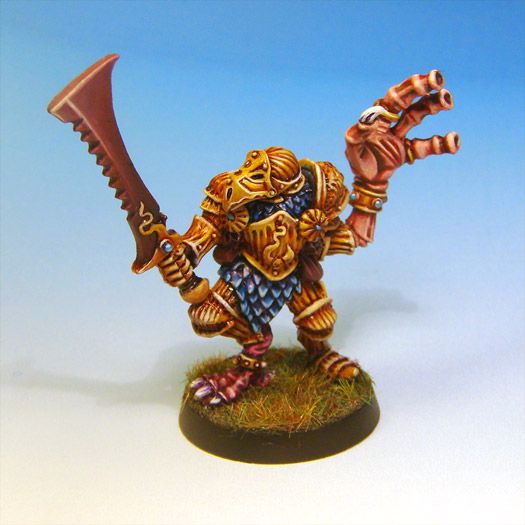 Champion of Tzeentch! Yes, he has been blessed with the Hand of Tzeentch and Bird's Feet. They're blatantly on the miniature, and some others like Withering Gaze are difficult to model, and I'm a stickler for wysiwyg. I did his armour (which may or may not be Chaos Armour at this point) in the classic Tzeentchian blue and gold scheme, that's really come to the fore as the Thousand Sons developed their Egyptian vibe.
And because I'm super awesome cool, I've also transliterated his name into the Dark Tongue's phonetic Runes with the help of the language section in The Lost and the Damned.

Not too sure about the runes for e and i, so I may change that. And I might kern some of the letters too. There wasn't a typographical notes about kerning in the book. I don't think you can kern runes. I think more research is in order.
********* ********* ********* ********* ******** ********* ********* ********* *********
Wednesday, 11 November 2009
Project Change VIII
It's the eighth Tzeentchian model in Project Change - a Generation 2 Pink Horror. This is one of the models I stripped a while back. I've not painted a second generation Horror since the first model way back when, so it's nice to return to more modern models. I say modern - they're dated 1997. Eep. time to get some Generation 3 Daemons.
Stoner eyes Horror
A straightforward pink scheme made from GW's foundation Mechrite Red highlighted with VGC's Pale Flesh and glazed with reds and purples. I particularly enjoyed doing the scary eyes. The big bloaty hands are difficult to do as there's very little shape and definition to them. Unlike the sharp features of the rest of the model there's nowhere obvious to highlight.
It's
been a while
since the last group shot, and now there are eight models I have enough to fill up a whole WotR movement tray.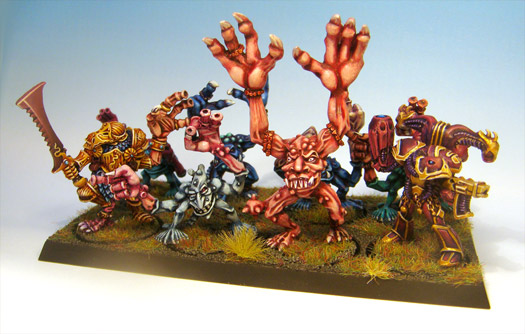 Lovely!
********* ********* ********* ********* ******** ********* ********* ********* *********
Friday, 20 November 2009
Classic Lord of Change - Project Change IX
The ninth update for Project Change. That means something a bit special. A classic first generation Lord of Change - the Greater Daemon of Tzeentch.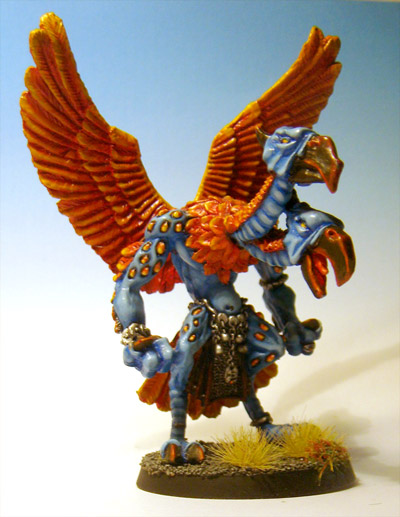 He's mounted on a 40mm round base, but I've also made him a special 50mm square base with a circle cut out which he slots snugly inside should I ever want to use him for games of Warhammer Fantasy.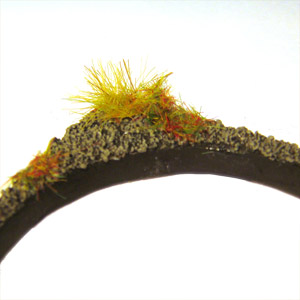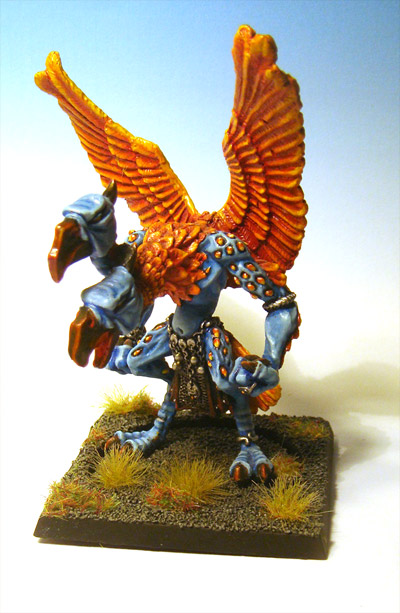 Seeing this now brings home a little how plain my basing scheme is. I need something to jazz it up a little. And maybe rework the grass.
Working through Citadel 1991 Catalogue 2 it turns out there are a colossal 36 different combinations of the first Lords of Change - (6 heads x 3 bodies x 2 tails x 1 wings = 36). I am considering collecting and assembling them all. Though collecting just six to showcase each of the different heads may be enough. I shall enjoy agonising over it for a few months.
********* ********* ********* ********* ******** ********* ********* ********* *********
Sunday, 29 November 2009
Fledgling Horror Squad- Project Change X
And so, by accident I've assembled my first game-legal unit in Project Change - five Blue Horrors. That's a troop choice under the current Codex Chaos Daemons. (Well, technically not as they say Blue Horrors should be mounted two to a 25mm base but boo sucks. I'll probably get round this by insisting we all play second edition 40K where they had rules for splitting.)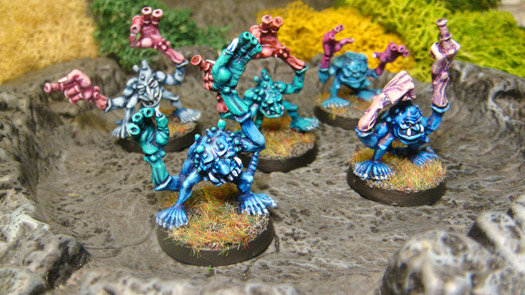 Yes, this is yet another Generation One Blue Horror. Rather than painting the arms from the elbow up as pink as I have with the other four I tried another shade of blue. Honestly, I'm not too keen but I can always change it later.
I've also started carving out the ends of the fingers on my Horrors, rather than painting them as holes. I need to go back and change the others eventually.
In other news, I've just come back from the Epic UK Grand Tournament where spookily I ranked ninth. More on this awesome event tomorrow.
********* ********* ********* ********* ******** ********* ********* ********* *********
Tuesday, 8 December 2009
Tzeentch Familiar - Project Change XI
When's a Pink Horror smaller than a Blue Horror? When it's Epic scale.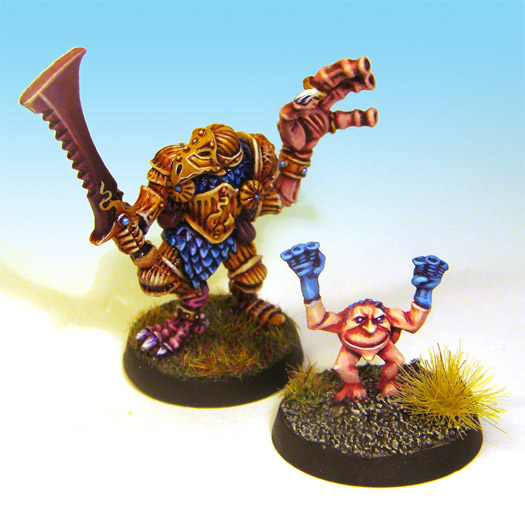 Look at his big cute smile. Grinning loon, like one of those giant cartoon M&Ms. You can see why this generation of Epic Chaos models have been swept under the carpet. That, and the fact that for a 6mm wargame they were ridiculously out of scale.
So, this Epic Pink Horror can also double as Bowie Inconstatine's familiar of Tzeentch. There are several familiar models Workshop have produced for Tzeentch, but none of them are quite the "miniaturised form of a Horror" Realm of Chaos: The Lost and the Damned makes them out to be.
And because I felt like one tiny Epic model was a real con for the latest Project Change update, I also did an old Dark Elf Harpy. In a pasty pink colour that combined with the lumps around his groin makes me want to itch.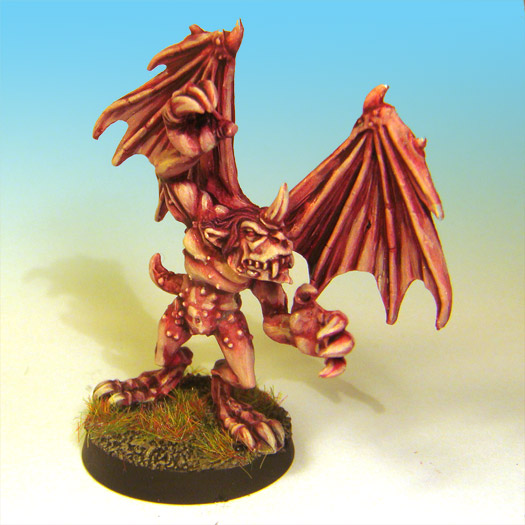 "But that's not Tzeentch. That's not even proper Chaos." I hear you cry. Well, this gem from Marauder Miniatures (yes, not Citadel) was originally a Dark Elf Harpy - one of the descendants of an outcast tribe that settled in Naggaroth near Karond Kar. But in 1997 Harpies were also available to Chaos armies (as scavengers from the Northern Wastes). Ahhh - so they can be proper Chaos. And maybe this model could be used to represent a Chaos Fury - one of the undivided Daemons that conforms to the gargoyle archetype. Perhaps. Maybe. Possibly.
********* ********* ********* ********* ******** ********* ********* ********* *********
Thursday, 17 December 2009
Finally - Modern Pink Horrors - Project Change XII
Something more modern for Project Change - a Generation 3 Pink Horror (far right - the other models are a Generation 1 Blue Horror and a Generation 2 Pink Horror). Wow, this is not the normal crazy retro lead I obsess over, but sleek and sensible modern miniatures without big goofy grins.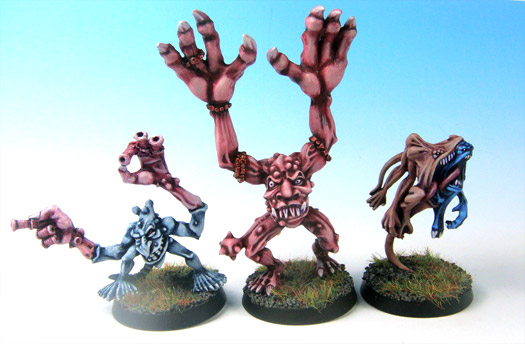 Well, I say modern - these models have tab dates of 2001, and they're also in the tiny part of the current Citadel range that's still in metal. Here's hoping for plastic Horrors with the rumoured second wave of Daemons.
I have to say , this model isn't great. This is my second attempt at painting one of this generation of Horrors, and both times I've been frustrated at the indistinct detailing. Not indistinct in the gribbly Tzeentch way of "ARGH THIS ARM IS MY MOUTH AND IT'S COVERED IN EYES", but in a subtley-detailed way that's largely lost in the molding and casting process. There are warbly bits I'm not sure if I should file off because they're tentacles or feedlines. There are what I imagine started as sharp crisp details that have been rendered down to smarbly indistinct metal wibbles during the production process. Not that fun to paint when you're trying to be a perfectionist. Maybe by the time I get round to doing the others I'll be used to the quality of the casts.
Haha - just got to work out how many variations of these models there can be with all the arms and horns.
And I now have nine horrors of various generations and scales.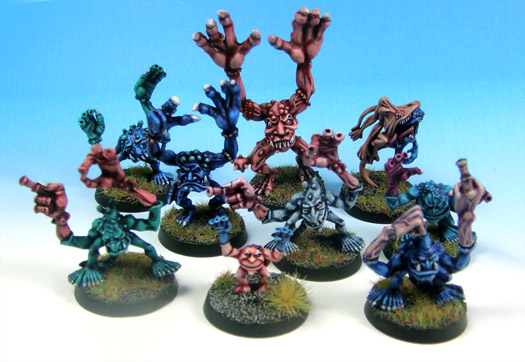 ********* ********* ********* ********* ******** ********* ********* ********* *********
Saturday, 26 December 2009
Classic Flamer of Tzeentch - Project Change XIII
Back in September 1989, White Dwarf 117 had a page chock full of models painted and photographed by Fraser Gray - a suitably gothic-looking man whose backdrops probably served as the inspiration for the current range of 40K terrain pieces.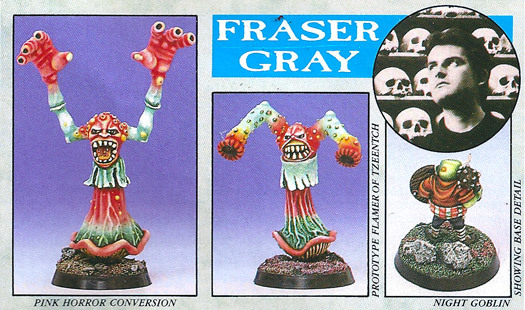 And among the weird Tzeentch conversions were the two Flamer-based ones above I've nicked the colour scheme from. (The prototype Flamer made me wonder if originally the Horror bodies were designed to fit on the Flamer torsos, but playing around with them I conclude not.) So here's my unconverted tribute. It's come out quite differently as I was really trying to veer away from painting my model red.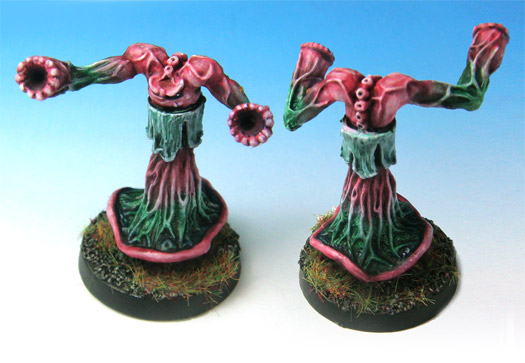 Now to add it to the WotR movement trays I line up the Project Change models in. Or is there a better way to display them?
Another of my hobbies is browsing discount toy shops for cheap Transformers knock-offs. On one such stupid adventure I found a Jungle Rack playset.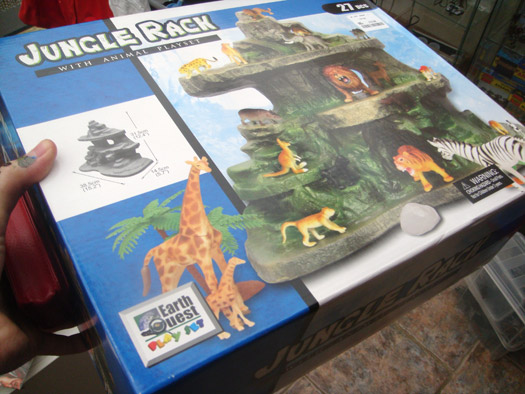 I bought it in a flash and hurried home excitedly. Some glue, sand, drybrushing, grassing and bushing later I had a gorgeous tiered display piece of just the right size and shape to put in my glass display cabinets.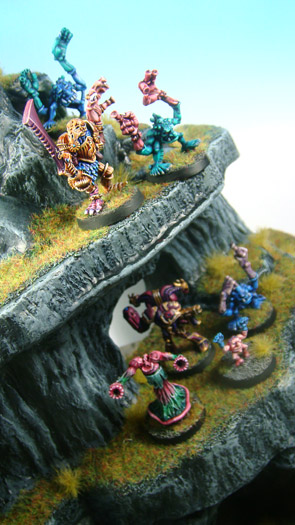 First attempt at drybrushing a terrain type of thing for a long while, so it was a learning experience. I want some more subtlety which I might achieve with weathering powders. I also want more Jungle Rack playsets, if not least to melt down the tiny plastic lions with matches.
********* ********* ********* ********* ******** ********* ********* ********* *********
Monday, 4 January 2010
G2 Flamer of Tzeentch - Project Change XIV
Hailing from the depths of 1995 comes this Marauder Miniatures Flamer of Tzeentch. This one in an experimental pale chalky scheme that's an attempt to copy the studio scheme from the 1997 Realm of Chaos.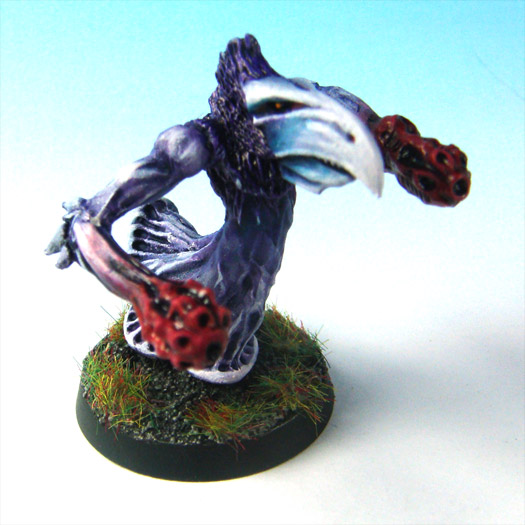 Marauder Miniatures?! They're not Games Workshop. Well, back in the days Marauder was brand that Warhammer miniatures sculpted by Ali and Trish Morrison were distributed under. They were gradually subsumed back into Citadel in 1993 (according to Source of Legends), though these models are tabbed Marauder and 1995. Who knows. Actually, I'm fascinated to learn the reasons behind the split and subsequent reabsorption.
I recently discovered thanks to the Collecting Citadel Miniatures Group that Marauder also produced a pair of Greater Daemons - one for Khorne and one for Tzeentch. I'm rather excited, as there have been several Lords of Change knocking around eBay that I've dismissed as knock-offs. But no! They are official Games Workshop models. And ones I go rabid for as they're obscure and retro. If anyone out there's got a photo of the Khorne one, I'd love to see it.
********* ********* ********* ********* ******** ********* ********* ********* *********