July 21, 2017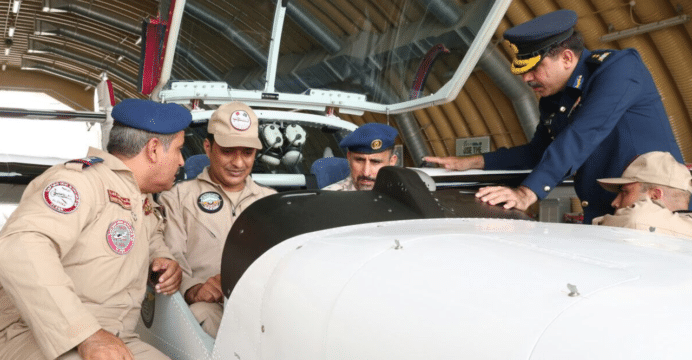 Photo source: Qatar Ministry of DefenceDaily News Jul 20, 2017 Quwa Team -
PAC DELIVERS FIRST BATCH OF SUPER MUSHSHAK TRAINERS TO QATAR
590
SHARES
Share
Tweet
Qatar's Ministry of Defence (MoD) announced that Pakistan Aeronautical Complex (PAC) delivered its first batch of Super Mushshak trainers to the Qatari Emiri Air Force (QEAF) on July 19.
Qatar ordered eight Super Mushshak trainers from PAC in June 2016. The QEAF will operate the trainers at its al-Zaeem Air Academy. It appears that the Super Mushshak will serve as a primer and/or screener trainer, from which pilot trainees will move onto the Pilatus PC-21.
In the same week, PAC also delivered the first five of 10 Super Mushshak trainers to the Nigerian Air Force.
After completing its deliveries to Qatar and Nigeria, PAC will proceed to fulfill a 52 Super Mushshak aircraft order for the Turkish Air Force. This is the single largest Super Mushshak order to-date.
The QEAF's fighter aircraft fleet will swell in the coming years through the induction of 24 Dassault Rafales and 36 Boeing F-15QA. Moreover, the Rafale and F-15QA are larger twin-engine fighters, each possessing significantly greater payload capacity and range than the Mirage 2000-5.
Besides fulfilling the QEAF's air defence roles, both additions with imbue the QEAF with long-range strike capabilities. For example, the Rafale will accompany an assortment of stand-off range munitions, among them the MBDA SCALP (Système de Croisière Autonome à Longue Portée) air-launched cruise missiles.
The QEAF's close air support (CAS) element, which is currently built around the Dassault Alpha Jet, will be expanded with 24 Boeing AH-64E Apache Guardian attack helicopters.
Interestingly, the Pakistan Air Force (PAF) had demonstrated the JF-17 Thunder multi-role fighter to Qatar during a goodwill visit to the Gulf state in February 2016. Aviation journalist Alan Warnes reported that the JF-17 had been in contention as a candidate for succeeding the Alpha Jet in the attack role.
The matter has not progressed since then, but the PAF could position the forthcoming JF-17 twin-seater as a dual attack and training solution. However, even if the QEAF was to consider a lead-in fighter-trainer (LIFT) platform, its U.S. and French fighter fleet may predispose it to a Western LIFT solution.
http://quwa.org/2017/07/20/pac-delivers ... ers-qatar/