Having [I Swear Too Much] the construction of my second fellbIade and having bought up lots of bits over the past number of months (enough to build 3 Storm Raven, 1 Storm Talon, 1 Dark Talon (and am in the process of getting enough parts for a second Dark Talon)), I've decided to build some SM Aircraft:
Dark Talon:
This kit was a real pleasure to put together and it only took a few hours to get to this undercoat stage. I added some magnets to the under slung weapons pod. This will allow me to swop between Hurricane Bolters and missiles as the mission dictates. I am not sticking the main weapon to again allow me to swop between Twin Las Cannons, Rift cannon and Mega Bolter variants.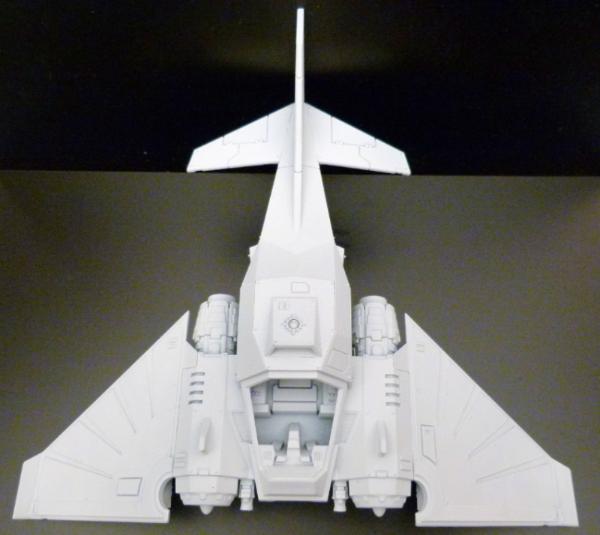 I've seen fire4effekt's Dark Talon painted in red and liked his paint scheme. I want to do something similar, paint the main body Vallejo Model Air Fire Red but I want to then paint the Imperial Eagle black with grey highlights. I think this will be visually striking. My sticking point is the colour of the cockpit. I'm thinking of painting the interior with a cream colour that I've seen lots of others do on their Land Raiders etc. What do you others think?
Through scalpels and files, I removed all trace of Dark Angels iconography from the under slung weapon pods .........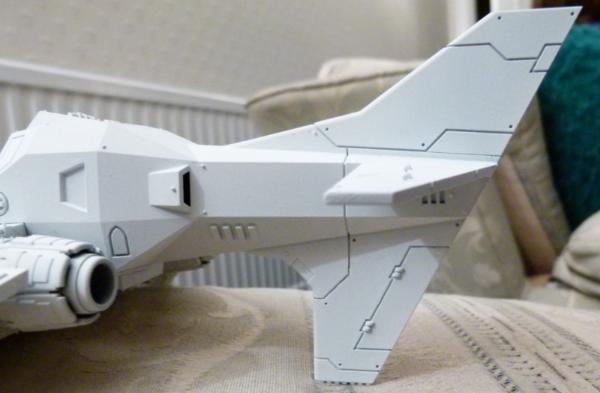 .... and from the front of the bottom tail fin. This will look fab if the picture in my head can be transferred on to actual model!
Storm Raven
I've never liked the original Storm Raven - far to [I Swear Too Much] and stubby. I've seen others "stretch" out the body and have seen the Chapterhouse conversion kit and thought I would give it a go....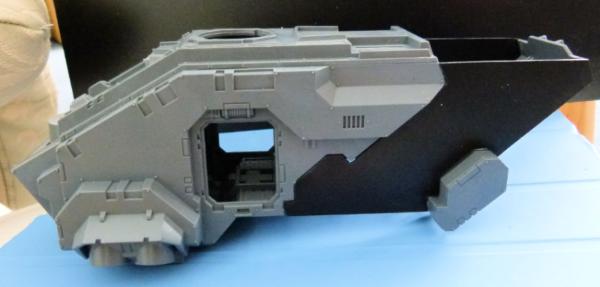 I traced the outline of the rear section and added an extra 2 inches (5cm) of plasticard. I felt this was large enough to accommodate the supposed amount of SM's that a Storm Raven is supposed to carry.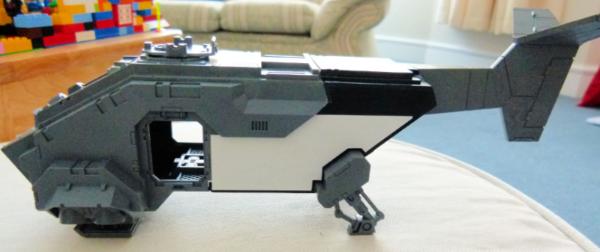 To hide the joins between the plasticard and the original model, I added another layer of plasticard (the white parts). Only after taking this [I Swear Too Much] did I realise I had glued the top tail fin the wrong way around.. DOH!!!!!
It looks plain at the moment, but I plan on adding Hurricane Bolter sponsons not on the door as per normal, but just to the right of this doorway. This will allow me to use chapter specific doors and will also allow exit by front, rear and from the side.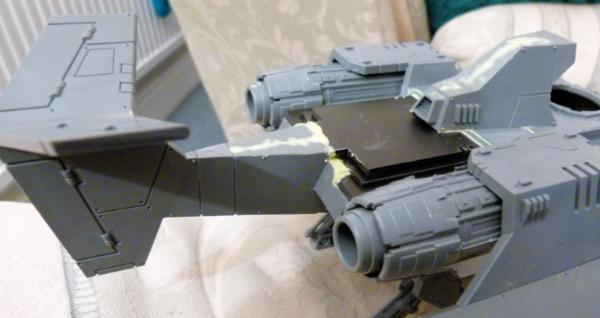 This [I Swear Too Much] shows the rear section. Milliput has been added to hide small gaps and after curing, will be sanded smooth. I need to add some small rivets and the gap between the air intake/cowl and tail will be [I Swear Too Much] by a large Adeptus Mechanicus Logo from Cities of Death. This will reinforce the close bond between my Chapter and the men from Mars!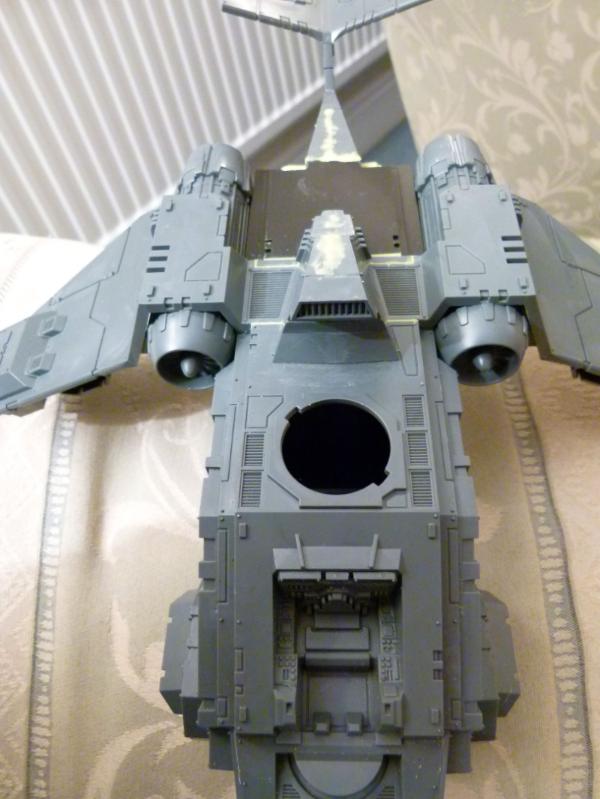 This plan [I Swear Too Much] shows the extra length that has been added. I have made some templates for the plasticard to decrease the build time of the next 2 Storm Ravens.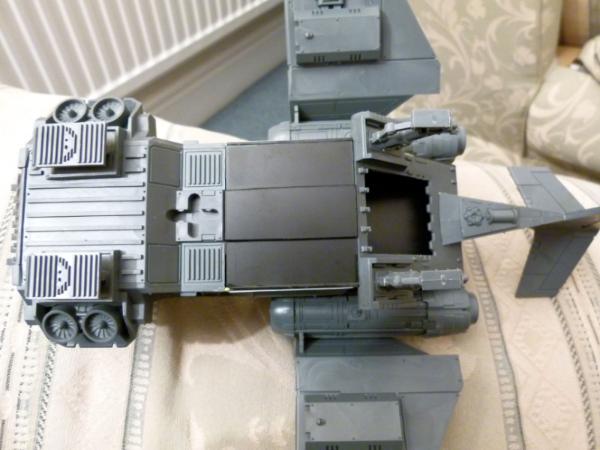 A [I Swear Too Much] of the underside. I don't have any plans to add extra detail on anything on this view.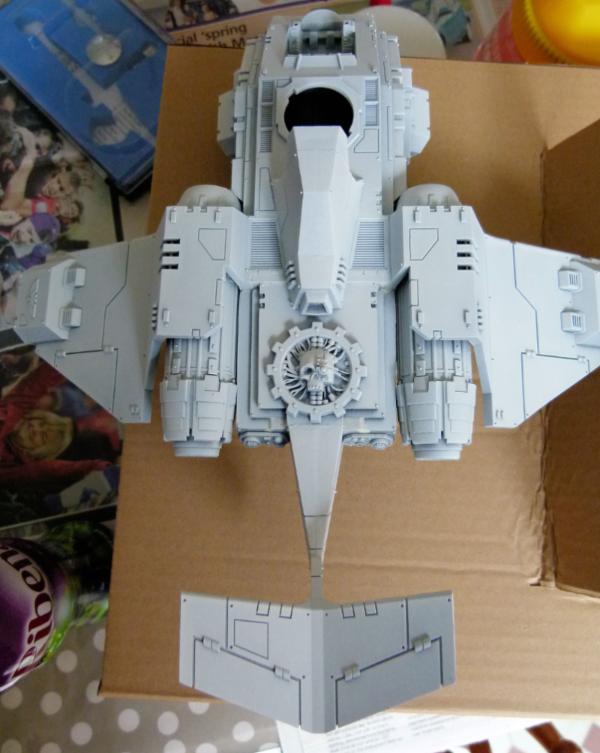 This shows the plan view of my Extended Storm Raven after I undercoated it. After much cutting, sawing and filing, I added the Cities of Death Adeptus Mechanicus Logo to the top. I had great [Warning No Swearing] building this and plan on building another 2 Storm Ravens to this extended pattern.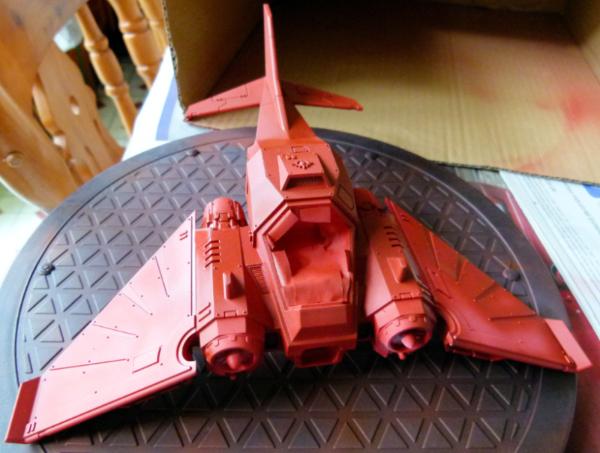 This shows a WIP of my Dark Talon. I used Vallejo's Fire Red Model Air to basecoat the model after using some Tamiya masking tape to cover the cockpit.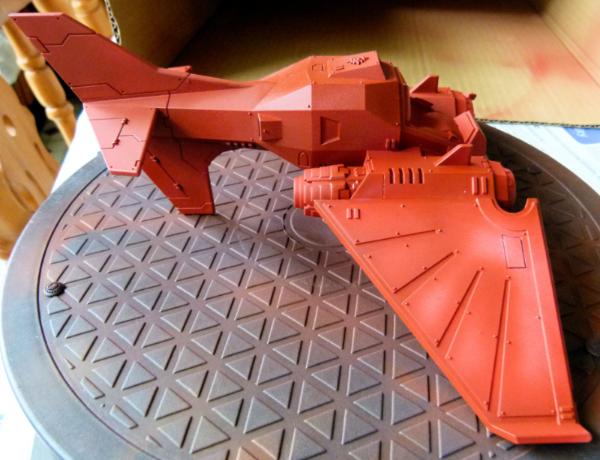 I then used watered down Vallejo Gloss Varnish Acrylic to cover all of the model to assist in the wash process.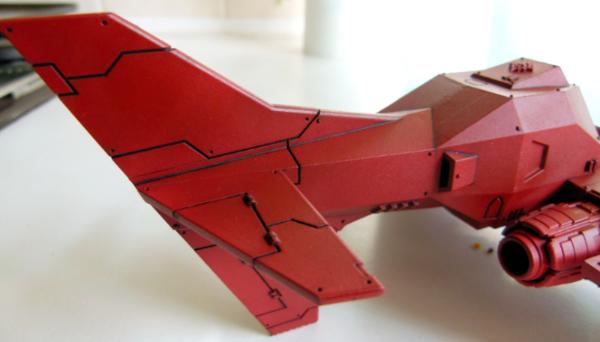 I used some black smoke oil paint from AK Interactive mixed with some thinner to create a wash and as carefully as I could, added the wash into all the cracks. After a few minutes, using thinner and a clean brush, I then proceeded to clean up any spillages.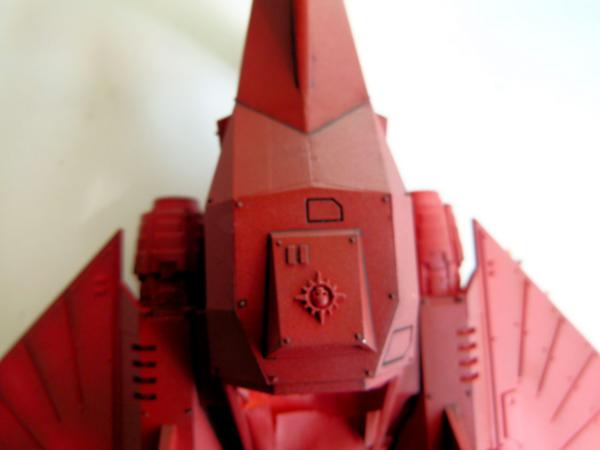 This shows a top view of the WIP black lining process. As oil paint takes ages to dry, I put this aside for 2 days to give the paint time to dry. To ensure no impact on other weathering processes, I used another layer of watered down Gloss Varnish.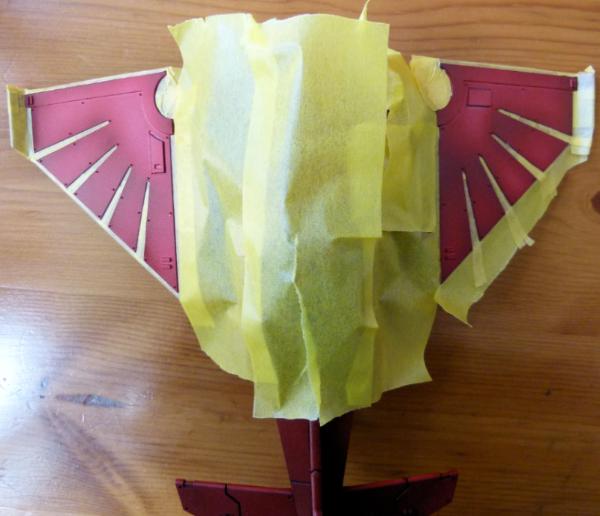 As I wanted the Aquila on the wings to stand out, I used some Tamiya Masking tape to mask the areas around the Aquila ready for some airbrushing! This process took ages!!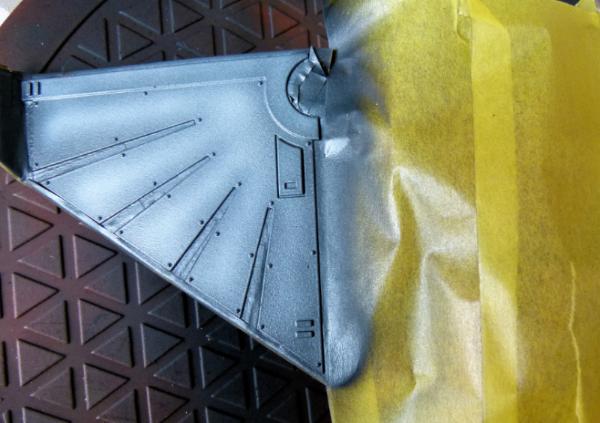 I started off spraying the Aquila Vallejo Model Air Black as an undercoat. I would have liked to have kept the Aquila darker, but due to issues with my airbrush clogging up and lack of fine control, the Aquila came out a lot greyer than I would have liked.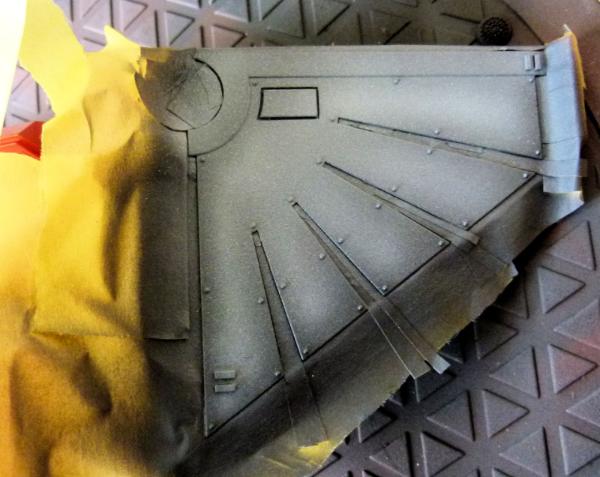 Never mind, Rome wasn't built in a day and an airbrush is a difficult tool to learn.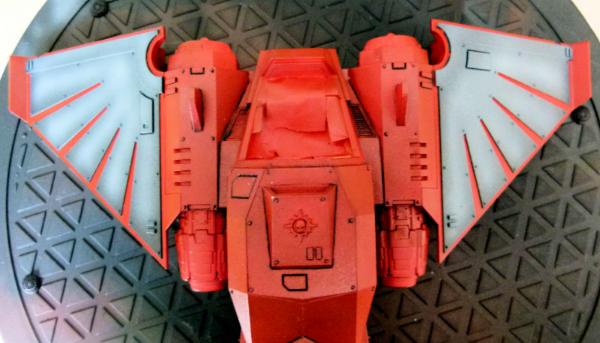 I think overall, it turned out well.
There is a small amount of leakage and a small amount of edges missed by the airbrush, but I sprayed the whole area with watered down Gloss Varnish again to protect my work.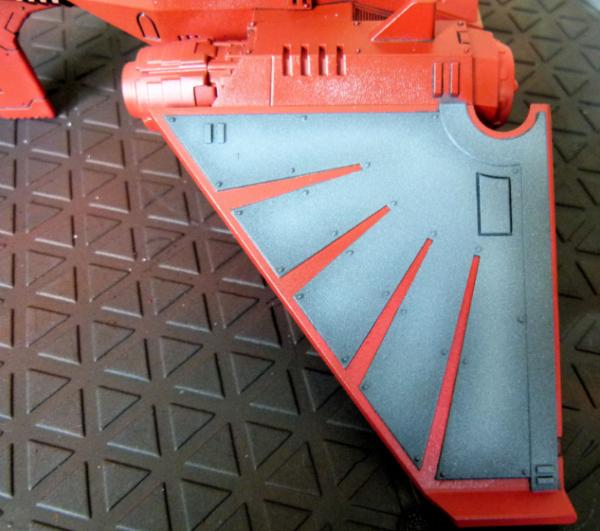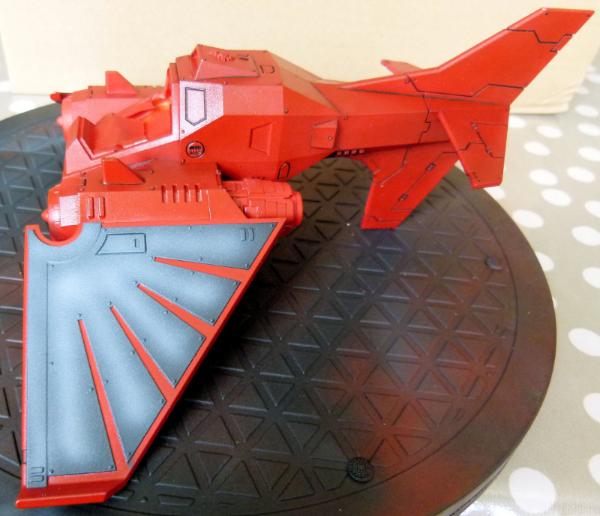 I have been purchasing a lot of AK Interactive weathering products recently and want to try out a few of them on the Dark Talon, namely streaking grime from all of the rivets and rain marks for Nato to be applied from the rivets on the Aquila.
Before I do this though, I wish to try out some "sponge" chipping effects on some parts of the [Warning No Swearing]. I want the Dark Talon to be the start of my "Weathering" journey. I have tonnes of non painted vehicles that will look cool with all of the things Mig Jiminez does on a regular basis with his vehicles. If I can get my models to be just half as good as his, I'll be a happy man!
Over the next couple of days, I want to paint all the metal parts and the cockpit then weather these as well.
More updates to follow.
Regards, Phil.