See the document below. Very interesting. I'll let you read it, then if you want you can read my comments, below the document. It is very upbeat and seems to "assure success" and "lucrative profits" to the jewelers who participated?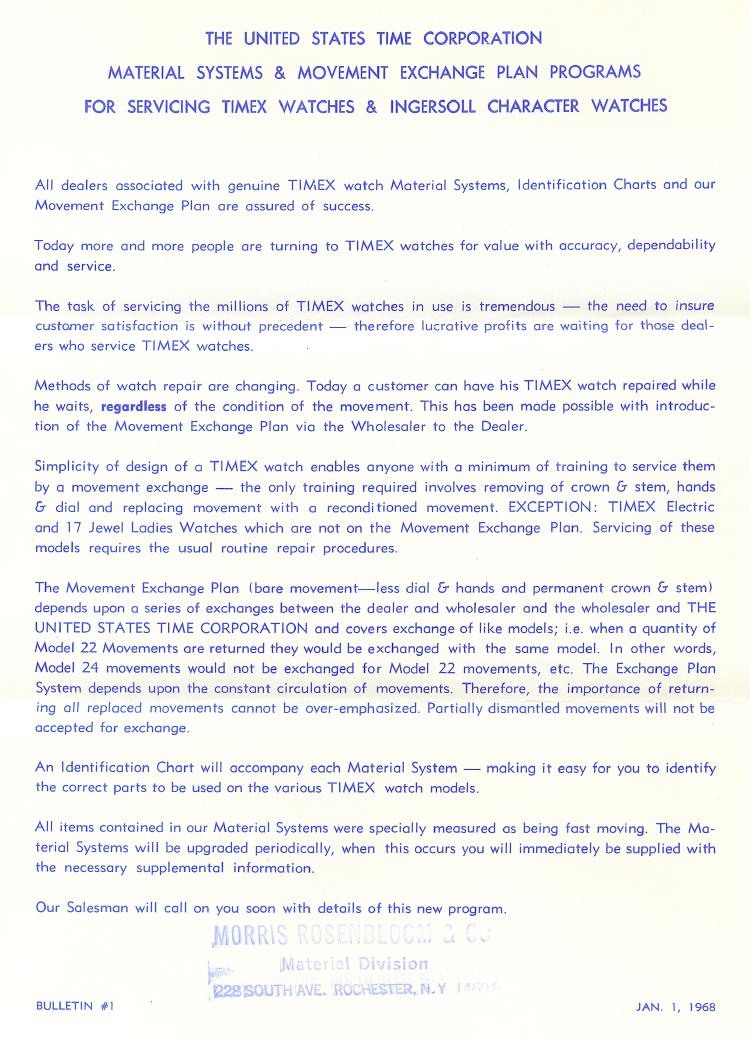 Does anyone have any bona fide inforation on this program? How long did it last? Did it begin in 1968, the date of this memo or earlier? Was it considered a success?
It's fascinating to me... the task of honoring the 1 year warranty, for Timex, must have become at some point overwhelming. People send in their watch, then they had to sort it all out, fix watch, send it back. Someone must have realized it might be more efficient to have the jeweler do it, as explained here. Jeweler gets a bunch of movements, and when guy's Timex is broken, he swaps the movement from that cache, and then when he accumulates enough broken ones, he sends back to Timex, they clean and condition them, and start the cycle over. It sounds brilliant. Did it work? Anyone have any concrete experience with this, bona fide information. Maybe most importantly, did it really benefit the watchmaker/jeweler, all the "lucrative profits" did they realize them through this program, or was this more of a "dump" of the repair problem and warranty, onto the jeweler, selling him on the deal with promise of huge profits. I wonder...