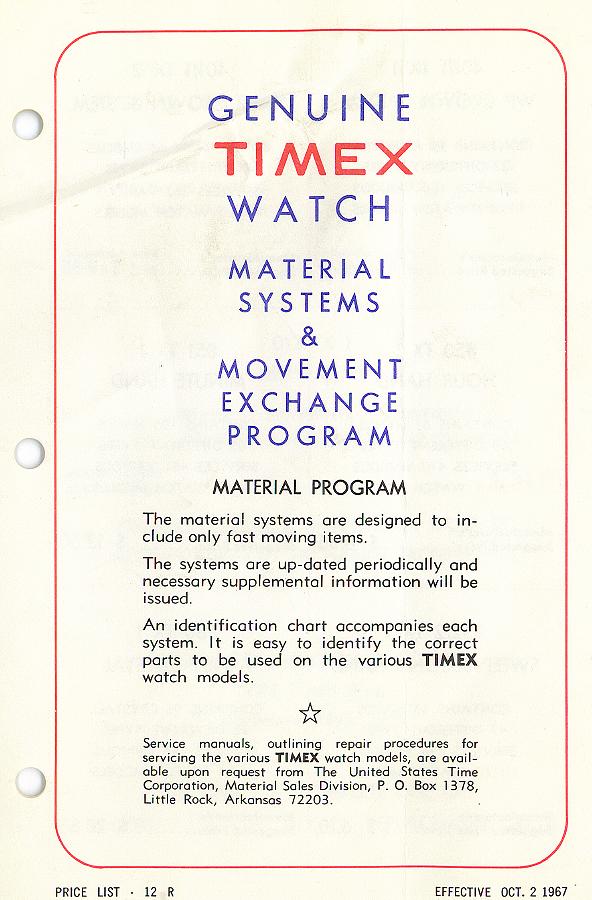 Two other documents below, see those first, maybe. This gets more interesting...Firstly it is from 1967 and the previous document posted a few days ago was from 1968, so now I'm not sure when the program started. The price list gives details on the cost of a batch of movements you get, provided you send in the broken movements. It also has batches of crystals, dials and hands.
This document, whether or not it was published and distributed by Timex, seems to be all about Morris Rosenbloom as he seems to be listed as the main contact to get these movements. Why didn't this go directly through Timex, but instead through this distributor? I suspect his distribution chain, communications, mail order setup was so smooth and streamlined an operation already, that Timex figured why bother ourselves with this monkey business, let's farm it out to Morris Rosenbloom? Maybe Timex didn't have the staff to deal with this, or didn't want to bother, easier to ship massive quantities of parts to New York and let them handle it, for a fee I'm sure. Morris wouldn't do it for free.
By the way, I looked online for any evidence for this company and found a little bit. It still exists 100 years later. The first is a history site.
http://www.nwmangum.com/Kodak/Rochester.html
It seems that Morris had a wholesale jewelry company, began in 1905, and he died in 1935. He was succeeded by his son Rufus, and obviously the company maintainted the same business name. That was a historical website above, but the next site:
http://www.wedcny.org/html/industrial/macedon.html
If you scroll down or CRTL F rosen, you will see the company occupying some part of this ugly industrial complex. Now they seem to make golf and sports products and sunglasses, as shown in this political funding site:
http://www.senatornozzolio.com/press_ar ... sp?id=5195
What does this all mean, probably not much. I doubt Rufus is alive, and unlikely that anyone at Morris Rosenbloom knows anything about the Timex Exchange Program. I just want to know if it really worked, or if these brochures I have outlined a program that was kind of lukewarm or short lived. Anyone know? Check your Timex Repair manuals, maybe there are more documents.