Sotheby's Geneva Auction is online, same as AQ's and Christie's.
While browsing my eye got caught by the 6541 Sotheby's offers
and describes as 'Tropical Honeycomb' but instead it's having a
flat surface, not honeycomb at all, see yourself..
in detail, it's flat, not honeycomb...
I've see a similar flat dial but with Milgauss at 6 o'clock, looks like early ( before 1965 ) second generation, service dial to me.
Then its described as from circa 1956?! That makes no sense as common 6541 batch is from 1958, the 6543's where 1956, not this one!
We see the clue at their condition rapport's there it tells us it's sold 1965, logically much later then '56.
For comparison, my first generation 6541 Luminous... with honeycomb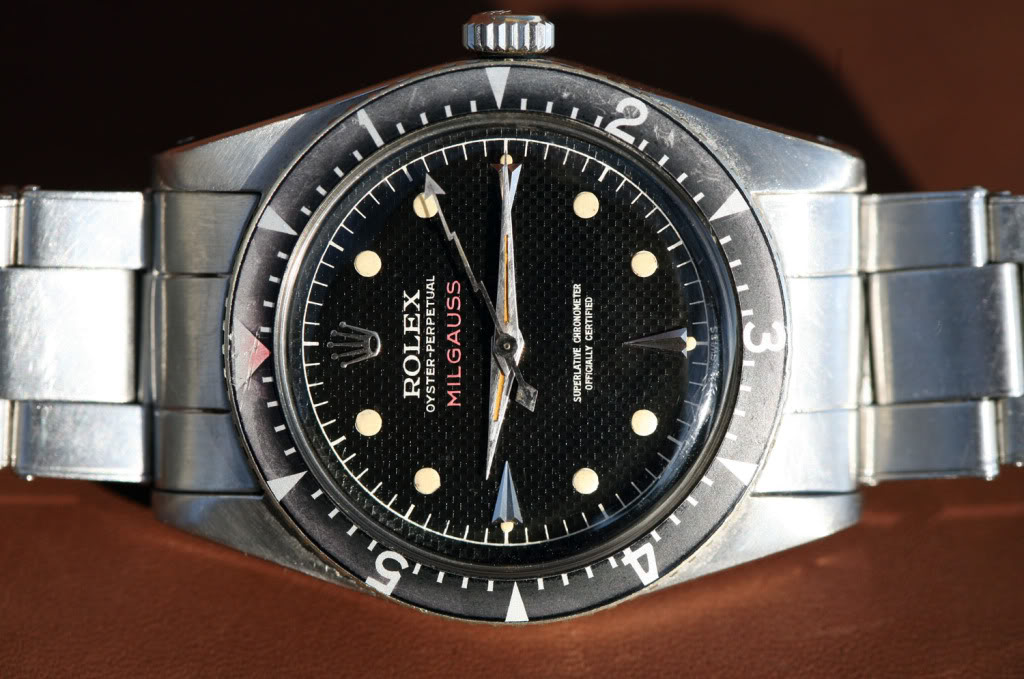 But nothing is impossible in the Rolex world of wonders, my 6541 with 1956 case back stamp & 1956 serial numbers & Honeycomb small Milgauss logo but
SWISS signed and was sold in December 1964 in Viennna a gift to him by his wife, it's showing us the new 1019 design in the dial. So for such a small batch
as the Milgauss ref 6541, Rolex did some unusual things to sell al their Milgauss cases & movements they produced back in those days..