These fly patterns can be purchased at
Orvis.com
Clouser Minnow
This fly is arguably the best all-around and most recommended saltwater fly ever tied.
The Clouser Minnow ranks with the Deceiver as the two most prolific and popular fly patterns in saltwater and warm water fishing. No box should be without a significant collection of Clouser flies in all colors and sizes. These two fly patterns should be the foundation patterns of any predator box. In black; sizes 6, 2. Length 2½", 3". chartreuse/white, chartreuse/yellow, red/white, olive/white, gray/white; sizes 6, 2, 2/0. Length 2½", 3", 4".
Moto's Minnow
A minnow fly pattern for all types of water.
Flash, movement, and the ability to go deep make the Moto's Minnow streamer a fly proven to get strikes from trout in most any type of water. It is a great fly pattern for getting down deeper in faster runs or in stillwater. Even the conehead on Moto's Minnow fly helps attract fish.
Sizes: 6, 8, 10.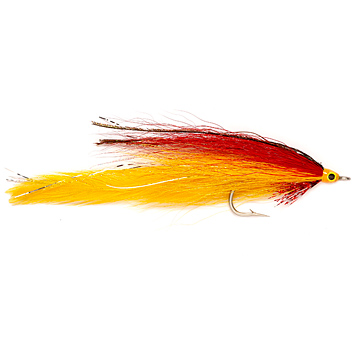 Lefty's Deceiver
This Deceiver fly pattern is a proven fish-catching machine.
Unquestionably the most famous and ubiquitous saltwater fly pattern in history. The Deceiver's profile matches so many baitfish and every saltwater fly box needs both sizes and all colors or it's not complete. Length 3½, 4½.
Sizes: 1, 2/0.
Blados Crease Fly
A go-to fly for anglers in need of a small profile surface fly.
Blados Crease Fly comes in olive, gold, blue/white.
Size 4, 1/0, 3/0. Length 2, 2½, 3½"
Eastern Green Drake
This drake fly is ideal for fishing ponds and lakes.
One of the great hatches you can ever experience. If someone tells you the green drakes are hatching, drop everything and run to the river. Big, visible mayflies attract big, hungry trout. The potential is always for the best day of fly fishing you'll ever have. Make sure you have these drake flies in your fly box. Color, Natural.
Sizes: 8, 10.
CK Baitfish
.....Color: white, olive, tan.....Size: 1
Clawdad
,,,,,Color: black, brown, tan.....Size: 2,4,6,8
Madtom Sculpin
.....Color: Black.....Size: 2,4
Trow Minnow
.....Color: White, Gold, Black Size: 2-6