The following fly patterns can be purchased at
Orvis.com
Clouser Minnow
This fly is arguably the best all-around and most recommended saltwater fly ever tied.
The Clouser Minnow ranks with the Deceiver as the two most prolific and popular fly patterns in saltwater and warm water fishing. No box should be without a significant collection of Clouser flies in all colors and sizes. These two fly patterns should be the foundation patterns of any predator box. In black; sizes 6, 2. Length 2½", 3". chartreuse/white, chartreuse/yellow, red/white, olive/white, gray/white; sizes 6, 2, 2/0. Length 2½", 3", 4".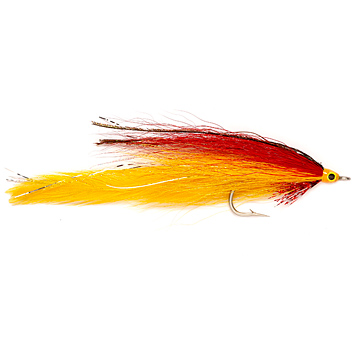 Lefty's Deceiver
This Deceiver fly pattern is a proven fish-catching machine.
Unquestionably the most famous and ubiquitous saltwater fly pattern in history. The Deceiver's profile matches so many baitfish and every saltwater fly box needs both sizes and all colors or it's not complete. Length 3½, 4½.
Sizes: 1, 2/0.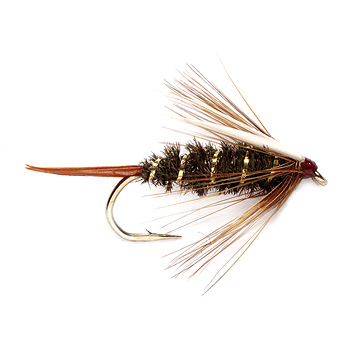 Prince Nymph
Achieve more success when you fly fish two of these nymphs.
Easily ranked one of the top 10 fly fishing nymphs of all time along with the Hare's Ear, the Zug Bug, and the Pheasant Tail. Very well-defined profile is unmistakable and fish take it with abandon. Generally used in fast water as a stonefly imitation, these nymphs are an attractor that can draw strikes anywhere and can be used in warm-water as well. Color, Peacock.
Sizes: 8, 10, 12, 14, 16.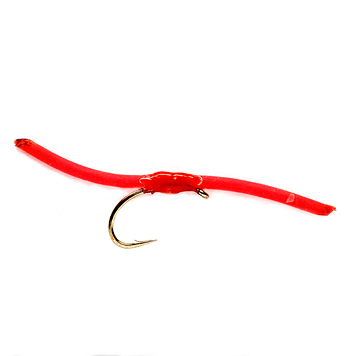 Shaky Worm
This trout fishing worm pattern will make you a believer.
This is not fly fishing heresy. The fact is trout eat worms and not just the ones we fish with. Worms exist in the stream and imitating a worm with artificial patterns is no different than imitating an insect. If it works, use it. Trout fishing worm pattern in red.
Size: 8.
Half And Half
These flies incorporate the best design aspects of the Clouser and Deceiver into one!
Take the two most famous saltwater flies, the Deceiver and the Clouser, and combine them half and half. An excellent deepwater pattern as the big dumbbell eyes and the large size of the fly drop it quickly into the water column. These deceiver flies are often fished best with a depth charge line in rips and around structure. Cast up current and fish it on the swing down through the rip, making sure it is well down in the water as it drops over the lip of the rip.
Sizes 1 (3½"), 1/0 (4"), 2/0 (4½") .
Gulley Worm
A go-to fly when fishing for warm water species
Action, color, and flash give this fly pattern the goods to attract bass, panfish, pike, and more. Strip it back while twitching and jigging it to elicit strikes. A great go-to fly when fishing for warm water species.
Size 1/0.

Living Damse
l.....Color: Olive.....Size: any
Double Barrel Sliders
.....All Colors.....Size: smaller
Generic Bead Head Nymph
.....Color: Flash back.....Size: 12
Tommy's Clouser
......All Colors.....Size: 6