No, not the Tide Pod challenge... I was addicted to those for a while, but I'm clean now.
If you've been reading the past few days, and my posts haven't bored you to tears, you'll know that I'm yet again working on shop machinery. The current escapade is one that's been brewing for a couple of years, with a friend of mine planning to make a trip to the States with a truck and trailer, in order to bring up the rest of his belongings.
He'll be hauling some of my heavy iron down to a shop that will be grinding it back to a fresh spec, which will help bring three of my machines back up to damn near new again.
I'm very much looking forward to that, as my shop is stuffed freaking full of unfinished projects- and while I have sadly learned to live and cope with that over the years, I still hate it.
The Nichols mill, once the parts return, will be easy. A day's cleaning, maybe a touch of painting, some lube, a reassembly, a little adjustment, and we're done. The rest of the machine is rebuilt and in top shape.
The Springfield will not be so easy. Most of the machine has been rebuilt, but I'll still need to do some nontrivial work to the carriage, including applying a castable low-friction plastic, repairing the oiling system, possibly scraping in the cross-slide, fabbing new way wipers, shimming the tailstock, etc. etc. I fully expect that to be an all-next-winter type project.
The Stockbridge shaper... Oy. That's a total project. I have fixed little or nothing on that since I got it, apart from stripping rust from a few pieces and some general cleaning. Once the ram is done, the rest needs little more than cleaning and reassembly- there's some repairs to be made, but they're trivial. I'm going to try and get to some of the painting before the parts come back, so i can get right to at least assembling the overall chassis. The rest can be tended to over the winter or whenever I have time.
And, of course, because I have brain damage or something, today I threw a
fourth
fairly major project on top of this whole dumpster fire. Long time readers will recall I have an older Wells horizontal bandsaw. It's been a handy machine over the years, but like most of the machines I get, I wasn't happy with the paint, and despite the machine being fully working, there were small aspects I wanted to fix, upgrade or otherwise attend to.
So, about 2:00 this afternoon...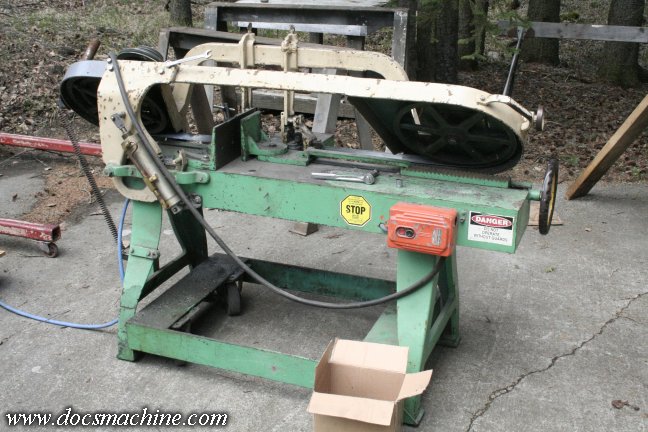 And by 2:45...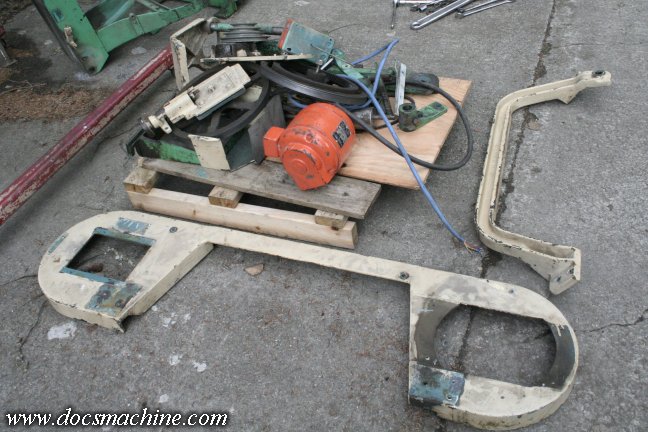 In this case, I'm not biting off TOO big a chunk, because about 80% of this will just be stripping the multiple layers of old paint, and repriming and repainting anew.The only actual repair/upgrade work, apart from the occasional buggered screw or cracked bracket, is that I'd like to add a 'drip tray' in case I ever desire to add coolant, and I'll be swapping the straight 3-phase control (I run it on my phase converter) with a 1HP VFD, so that it can run on standard 220V. (Or possibly even 110V, as you can now get 1HP 110V-in VFDs, that give you 220V/3-phase out.)
But, like many other things, it's a project I've been wanting to do for years now, so might as well jump at it.
Doc.