Hey, I'd been needing to take up a hobby, right?
As often as I might complain about 'em- which is only what, once, twice a year, tops?- there really is no such thing as too many projects. Well, unless you ever actually want to get any
done
, that is.
On that note, I've been trying to decide what to do next. I now have five running, drivable, more-or-less streetable cars, four of which still need work of varying degrees.
As noted below, the white Toronado now runs, and, I'm pleased to say, runs pretty darn well, actually. Apart from the fact it doesn't like to start when it's cold (and it's not just a choke issue, it won't even fire- as if a single accellerator pump stroke floods it) the engine now runs smooth and quiet. It could still use a little fine-tuning, as I have no idea how close the jetting on the random Q-Jet I stabbed on there was, but it's close enough to drive it for the moment.
Most of the lights and instruments work, save for the clock and ammeter. And the lights are, I'm sure, almost all just bulb issues.
The body also certainly needs work, but even that is cosmetic, there's nothing wrong that would keep it from being driven.

The main issue keeping it off the streets is the brakes. Besides the fact they're drums all around- which were the car's weak point even when brand new- it also has a single-reservoir master cylinder. Meaning that if any part of the system springs a leak (line rusts out, wheel cylinder fails, rubber hose bursts, etc.) the entire system fails.
And that's just too big a risk considering it's all some 45 years old.
At the absolute least, I'd need to convert it over to a dual master. That way, if something fails, you still have half the system. Point in fact, that actually happened with a Pontiac I had a few years ago. While sitting at a stoplight waiting to proceed, all of a sudden the pedal went to the floor.
The light changed, and I made it across with
some
brakes, but clearly something was wrong. I pulled over and saw a puddle right below the driver's door- the line going to the rear brakes had rusted through, and burst as I was sitting there holding the brake at the light.
Had something like that happened with this Toro, the only thing keeping me from rolling into the intersection would have been either the emergency brake- assuming it worked- ir slamming it into park.
Instead of just the master swap, however, I would prefer to do a full upgrade to disc brakes. Not necessarily the full 4-wheel discs like the black car has, but even just the fronts- and to do it
right
, is not a particularly trivial exercise.
A partial parts list: a new booster (the original is smaller that more modern ones, and thus has less power) a new master cylinder (natch) a proportioning valve, two new rubber hoses (or braided steel) a set of '71-up disc knuckles including calipers, rotors and spindles, and all the fasteners, fittings and new lines. Then there's bearings for the spindles, upper and lower ball joints, and while I'm in there, it couldn't hurt to throw in some tie rod ends.
Oh, and I need to rebuild and reboot both halfshafts.
And statistically, we're going to have snow on the ground within 3 to 4 weeks.
Of course, while I'm collecting parts for that one and preparing to scatter big chunks of it across the breadth of the shop, there's the
other
newcomer to my collection: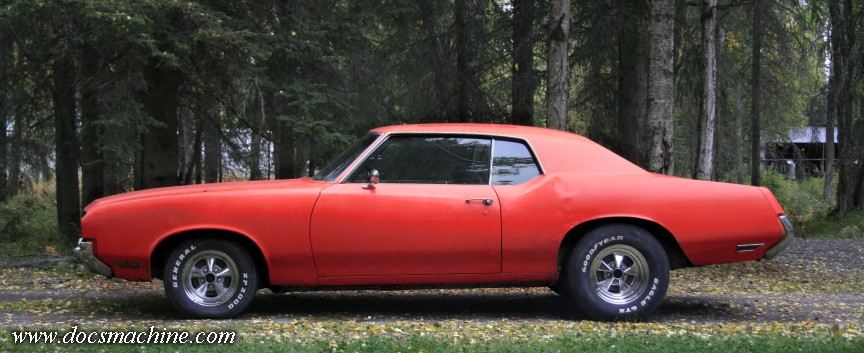 (Image may be
slightly
Photoshopped. It
is
my car, though.
)
This badboy is more or less equally "almost" as streetable as the Toro; in this case, she needs some electrical lovin'. No brake lights, only one running light at either end (opposite corners, too!) only one functional headlight, no horn, no wipers, no heater, etc.
It may be as simple as a few fuses, a couple of bulbs and cleaning a ground or two. I don't know, I haven't taken the time to look.
Apart from the electricals, she runs like a champ. Strong motor, starts easily cold, good trans, tight steering, nice rumble despite the fact it's an ex-smogger 307. Don't get me wrong, it has
lots
of issues- rust, a badly cracked windshield, leaky radiator (the black pepper's helping, though) more rust, a badly bent rear bumper, etc.- but most of them wouldn't keep it from being at least an around-town grocery-getter.
So, which one first?
Doc.