Sometimes bein' a Packrat pays off. If you have the space, and a high tolerance for squalor.
As I've mentioned below, I need- want?- to upgrade the brakes on the new-to-me white Toronado. It's a nontrivial mod in that it's fairly involved, even just from the simple number-of-pieces standpoint, but even still, it's a straightforward one in that it's largely a bolt-on. Remove old part, bolt new part in it's place. No welding, little or no fabbing, no sourcing exotic custom or aftermarket pieces.
But, of course, that presumes you do, in fact,
have
those replacement parts to bolt on.
And, since us Packrats tend to default to "I might need that someday" mode, it just so happens that I do, in fact, have those parts.
Opening up my McGee's Closet once again, I have this: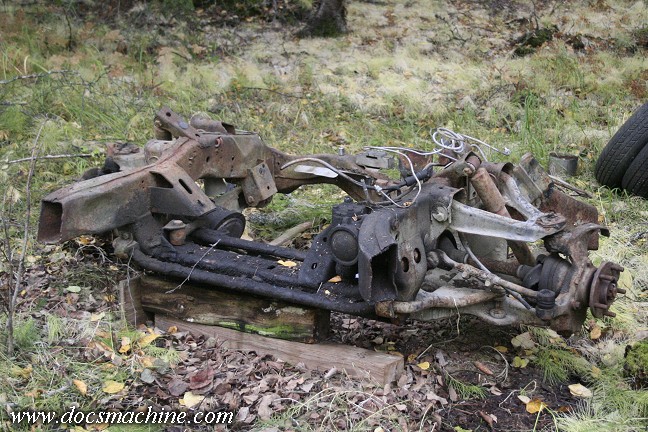 That's a chunk of the subframe from a mid-70's Cadillac Eldorado (suspension-wise, effectively identical to the Toronado) that someone had cut out with a torch, and then left in a junkyard for me to find and drag home. I've had it for at least five years, sitting out back under a rapidly-mouldering scrap of blue tarp.
"Packrat" still sounds better than "redneck", don't you think?
Now, technically all I really needed off this thing was the complete spindles and upper A-arms. Most of the rest would either be reused or replaced with new (like the tie-rods) or remanufactured parts (like the calipers.) But, since I was there with a bucket of tools, I went ahead and stripped it. Now you see it, now you don't: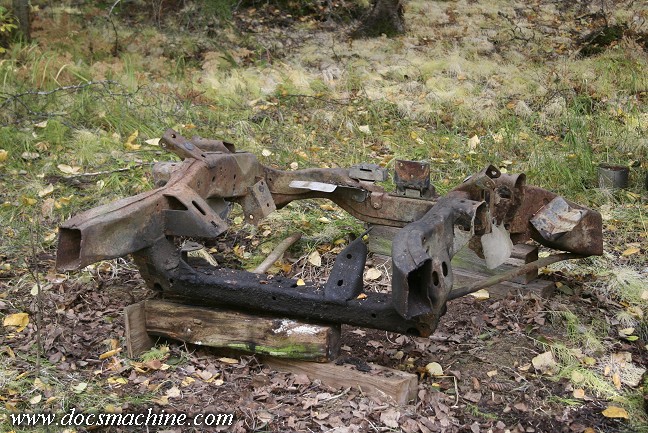 The extra pieces I don't immediately need, like the steering box and drag link, I'll just clean, label and store. The rest, I'll clean, rebuild, reassemble and paint, so when it comes time to do the conversion, it'll be a fairly quick remove/reinstall, instead of having the car sitting there dead while I wait for paint to dry or something.
Said it before, I'll say it again: there's a reason I'm a packrat.
Doc.