I was digging for some parts today, in one of several boxes I put away years ago, full of parts I figured were obsolete and in the way... and found a Tribal I'd forgotten I had.
I was never much of a Tribal afficionado, and really I've only worked on a bare handful- and the last such repair was many moons ago.
This one, I vaguely recollect, was a trade-in, swapped for some work on another marker or somesuch. And, as with most of my personal project markers, it got placed in a project tray and set aside to be worked on later. I seem to recall I had some plans to collect all the then-hot Tribal tidbits and mods for it, maybe drop in a Morlock with ACE, maybe do a little body milling, the usual.
On disassembly, it appears to be largely intact, with the worst damage being minor scuffing of the valve stem. I put a semi-fresh 9V to it, and the LED blinks and I can hear the solenoid click.
Now, here's a question... As I said, I was never much of a Tribal expert, even back in the day, and what little I knew I've long forgotten. Here's a pic of the back panel, along with the internal DIP switches: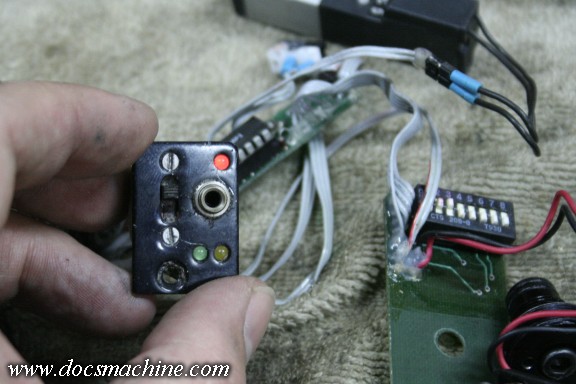 The upper-right red LED lights up and blinks when the trigger switch is actuated. The switch on the left is obviously the main on-off. But what are the other two LEDs and the phono jack for?
I saw the green LED blink once when I hit the trigger switch, but just once. The yellow one (the right-hand of the two) has not come on yet.
I'm assuming the jack is either a remote trigger switch, a control for a loader (the old "Intellifeed" mod that was popular in the pre-force-fed loader days) or a charging jack for the battery. The jack doesn't seem to connect directly to the 9V connections, but that's not a dealbreaker.
Anybody know? It sure looks factory, rather than a homebrew "Intellifeed"... 'Course, the whole board assembly looks somewhat aftermarket- all the wire connections are strain-relieved with hot glue, and there's a hand-written sticker on the IC chip that says something like "VEB" or something like that.
Finally, anyone know what the DIP switches do? I'm assuming things like dwell, ROF, and/or various fire modes like FA or "Turbo" mode. Presumably I can do some trial-and-error to find out, but there's lots of combinations- a proper instructional would be a real time saver.
Now, what's the scoop on the hardware? I seem to recall the built-in LPR was barely adequate even when new and properly lubed; is it rec-play adequate, or stable-HPA-pressures-only adequate, or is it don't-even-bother?
Similarly, what's the poop on the foregrip reg? This one seems to be in good shape, the piston isn't badly marked up from the adjuster screw, the main seal looks okay... Is this another one that works okay if fed fairly stable HPA but doesn't like bouncy CO2 pressures?
I was kind of thinking I could just gut it- reversibly- and use it as a gas-thru for another Max setup like I have on the mech 'Cocker... What's a stock-valved Tribal like to see, probably about 350 to 400 psi or so?
And, of course, any other tips and tricks I ought to know about?
Doc.