As I was
cleaning up the shop
and preparing to swap the Cutlass axle, I had to clear out the junk that had been stashed behind the other project car (again, not mine, but will be getting it's own posts at some point.)
One of the things parked back there was this old Millermatic 200 wire-feed welder: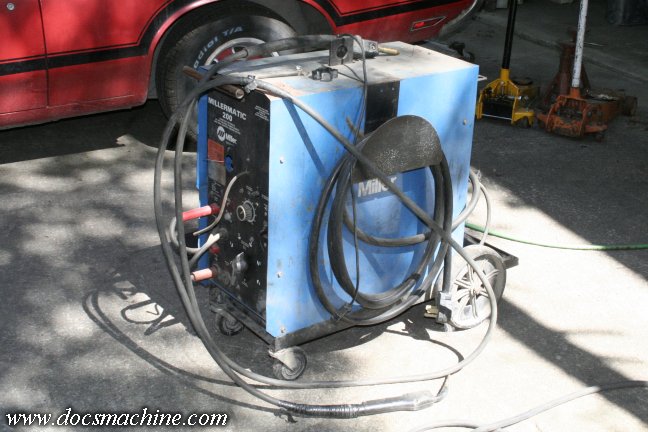 This had been given to me several years ago, by a guy that didn't need it anymore, and he said it had issue or needed to be repaired in some manner, and didn't think he could get anything on Craigslist for it. I happily accepted it- hey,
packrat
, y'know
- but neither needed it right away nor had the time to fool with it.
Moving things around today- especially as it was such a nice day- I rolled it out on the apron and figured I'd give it a quick look. As I said in the other thread, I have some welding and fab work coming up, and a second MIG would be handy- assuming I don't have to pile a bunch of money into it.
Fortunately this isn't a "big rebuild" type job, I basically just needed to determine if the thing even worked, and what, if anything, might need to be fixed. First up, there were two big honkin' lumps of black electrical tape at a couple points on the stinger lead. I unwrapped the mid-cable one and found this: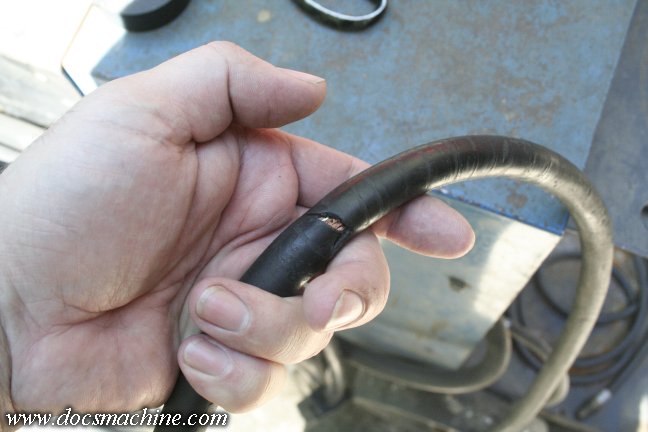 I don't think that goes through to the gas line, so it's really just a possible short to the main conductor. Not ideal, of course, and I'll look into a replacement stinger later, but for the time being, we need to see if this thing will work first.
So, I just threw a fresh coat of black electrical tape on it.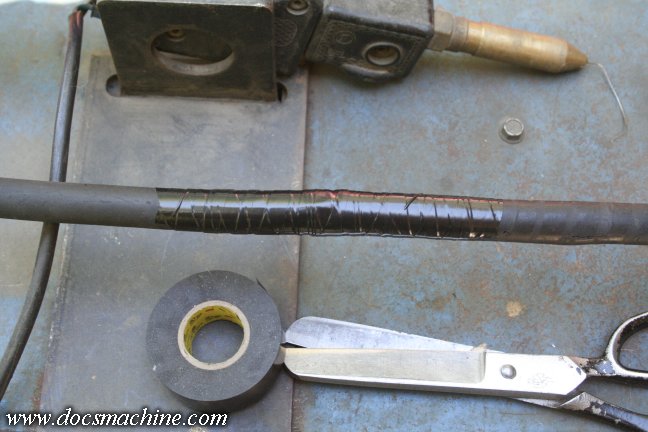 The other huge lump was under the gun: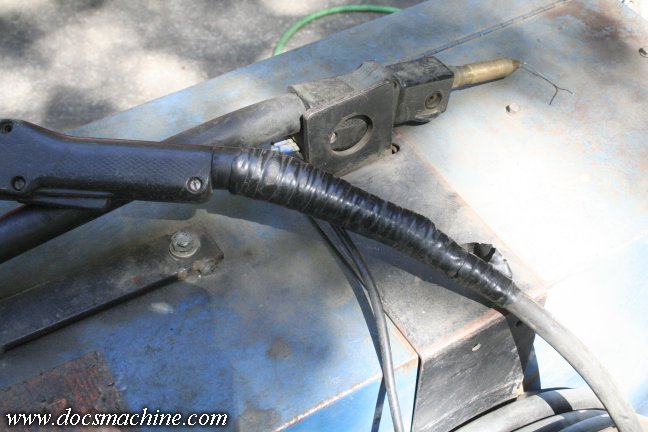 I worried about this, as that's an awful lot of tape, making me think the insulation has been broken or burned back or something. Thankfully, nope- it's just the strain-relief sleeve has cracked and is no longer releiving strain on the lead.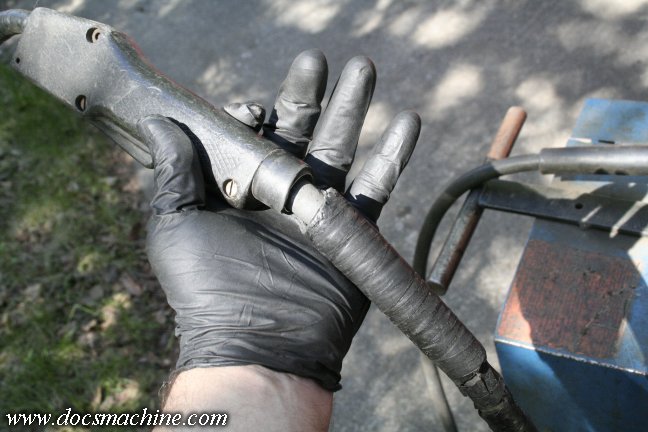 If I keep using this stinger, I'll have to make up some kind of replacement strain relief, or see if a replacement can be bought, but again, for the time being, it'll work for testing purposes.
Next up, there was a bunch of tape on the gooseneck of the gun, but that proved to conceal nothing more than the original plastic coating of the neck, badly worn. The tip is, as the Binky guys say, rather perished, and the rest of the nozzle isn't all that stellar either.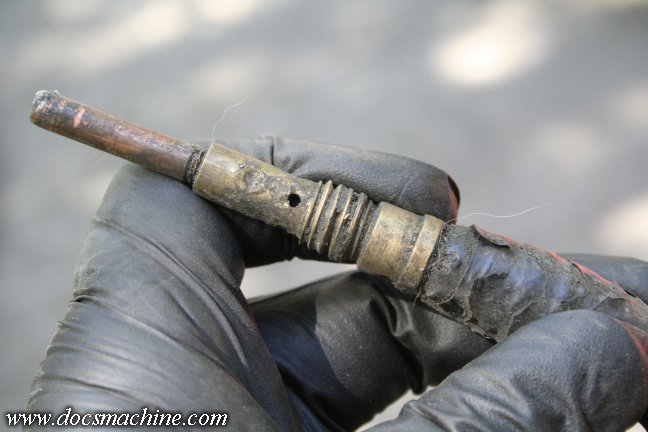 The threads turned out to be fine with a bit of cleaning, but I have neither a replacement tip nor any sort of cup at all, so those will have to wait 'til Monday for replacements. (If any can even be found here in town for a gun this old.)
The power plug was wrong for my shop outlets- and of course also wrong for my "conversion dongle" which we made up years ago so  my neighbor and I can swap machines as needs be- so a quick trip over to Homey-D gets me a replacement.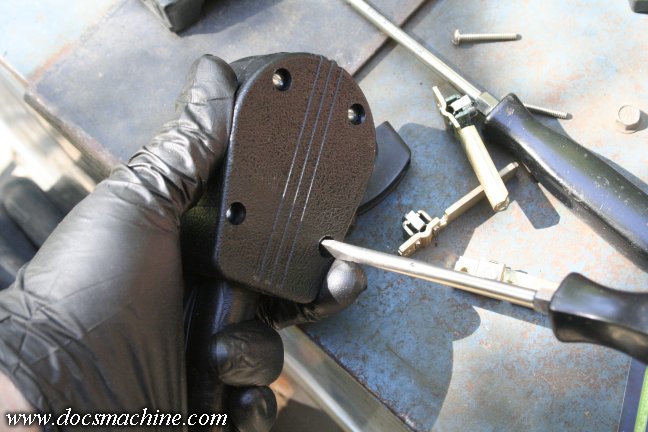 Plug in the gun trigger cable...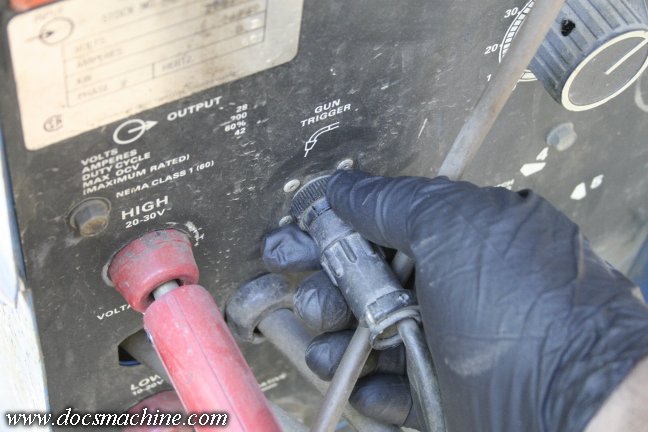 ... Flip on the power (hardly any capacitors blew out, and no fires started right away, always a good sign) and pull the trigger. Wire fed smoothly and properly as expected.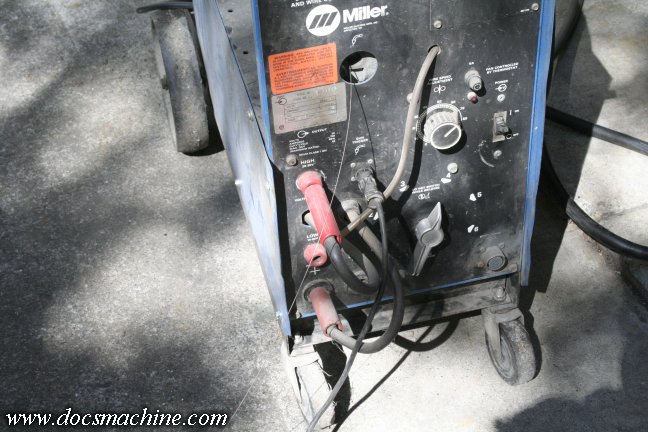 So, I yanked the old wire out of the stinger, plugged it into the welder, ran some wire through it- seems to move smoothly, looks like the liner is in fairly decent shape- and finished it off by wrapping up the trigger cable and securing it out of the way.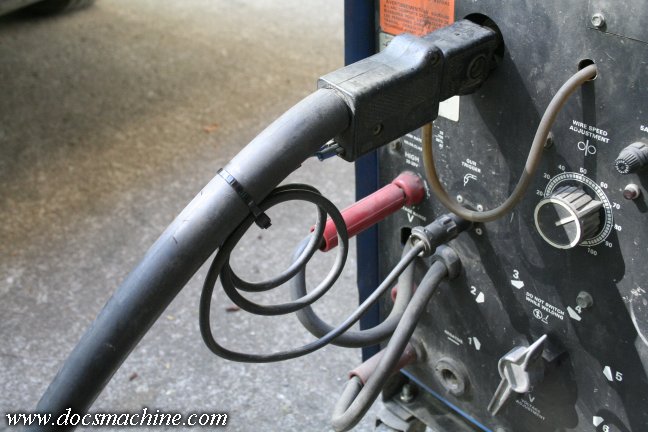 Since I can't actually weld anything with it without a tip or cup (or flow meter or tank of gas, etc.) actual testing will have to wait 'til later in the coming week. For the time being though, I figured I'd attend the chassis a bit before I put it away. The top handle had once been attached with simple sheetmetal screws, which had long since stripped out, so at some point somebody had tack-welded it to the housing.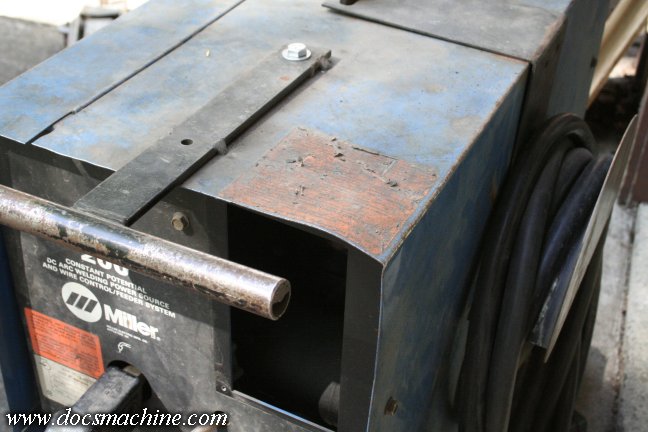 Someone had tried to repair one hole by attempting to force a regular bolt through the hole, which really didn't work.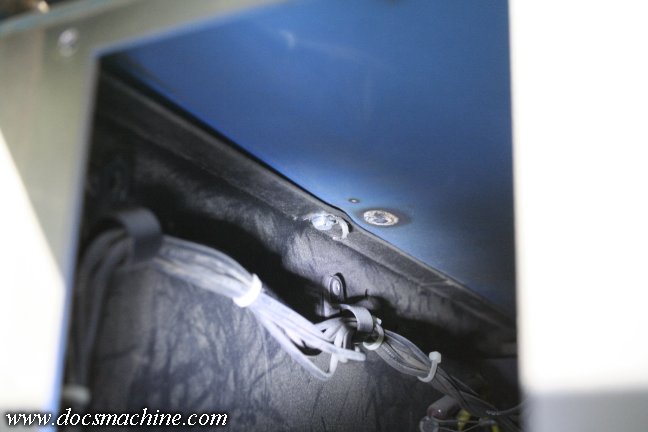 Two properly fitting bolts, with nice wide washers and proper nuts, and a little attendance with a rubber mallet and some brute hand strength gets that all sorted out and back to reasonably solid and straight.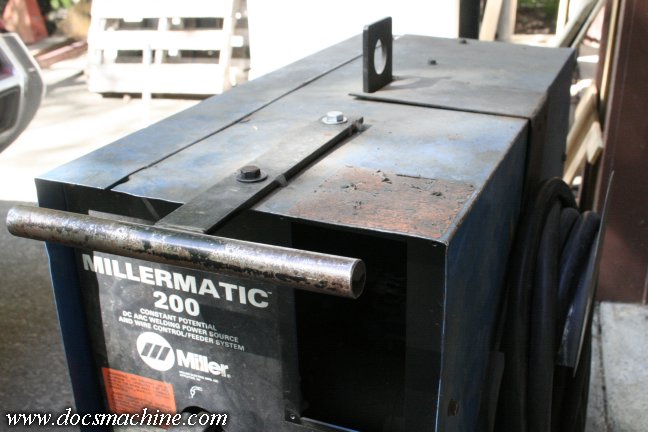 And finally, a couple of the missing- and stripped- side panel screws are simply replaced with the next size up screw, which tightened everything up considerably.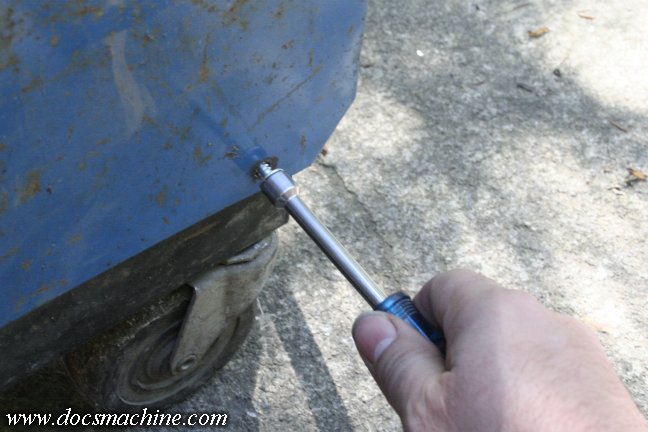 Aaaand.... that's about it, really.
I can't do anything else 'til I get at least a cup and flowmeter- although I'll likely borrow the reg off the other MIG before buying a new one, just in case it turns out this machine doesn't work. But still, positive results for a little less than an hours' work- including a trip to the store- and I have no reason to believe the machine won't work.
The sad part is, it has a nearly-full roll of 0.035" wire- something like a 20 lb roll-
which has a bit of surface rust on it
. I may try unwinding the first few layers to see if I can't save at least 3/4s of it, but I have to be really careful not to let it loose and snarl it.
We'll see how it goes.
Doc.