Yep, another log onto the fire that is what's left of my free time this summer!
However
, this one too had been planned for a while, and pretty much HAS to be done outside and while it's dry, so my window is pretty short.
Back in February
, I posted that I'd completed the new rear axle that I plan to swap into my Cutlass, and hoped that come summertime I could get it done.
Well, it's summertime, and regardless of my workload, our summers are
way
too damn short, and this one so far as proven to be cold and rainy. So I need to strike while the iron is hot.
Besides, the axle has been occupying my welding table
all bloody winter
, and it's been pissing me off. I have a welding table for a reason!
Worse, I have some client work coming in for which I
really
need a clear and open weld-and-fab surface, so it's time to get the damn thing done.
Thankfully, this should be quick. Barring the inevitable rusty bolt- hey, it's Alaska!- and having to run new brake lines, virtually all of this is a bolt-on. Unbolt old rear, bolt new one in. The only fab I have to do is I still need to "box" the rear control arms, and modify them slightly to allow the rear swaybar to bolt on. Easy-peasy.
But it'd be a lot damn easier
if I had a clear welding and fab table!
Y'see how this all ties together?
Anyway, all I've done to start so far is just clear off and sweep the concrete in front of the shop, and... well, parked the car on it.
Hey, I was lucky to get
that
far, considering the day I'd had.
Anyway, the two reasons for this are  to replace the old worn-out 40-year old drums, to exchange the wimp 10-bolt for a beefier 12-bolt, add a PosiTraction...
three
reasons, the
three
reasons to do this is to swap the brakes, upgrade to a stronger 12-bolt, add a PosiTraction, and install a rear-FOUR! The
four
reasons I'm doing this are to refresh the brakes, upgrade to the stronger 12-bolt axle, add a PosiTraction, and install a
comfy chair
rear sway bar!
Here's what we're starting with: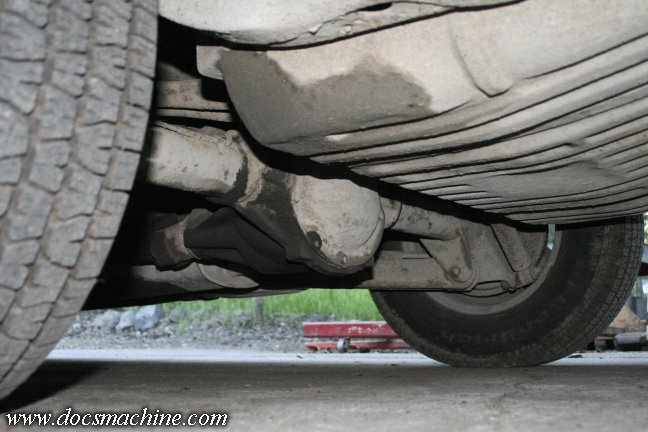 A 1972 "Corporate" 8.5" GM 10-bolt, with an "open" differential. Nothing to write home about, apart from the fact that, being in an Oldsmobile, it very likely has the 'bolt on' axles, and as such still apparently has some value to the occasional hotrodder.
Typical 10 and 12-bolts from this era of GM production use "C" clips to retain the axle at the center differential- if the axle breaks, the entire wheel and drum can leave the car. The "bolt on" axles retain the shaft at the brake end, so if the axle snaps, the wheel is still retained to the car. Mostly irrelevant to me, as I have no plans to race this thing, and even if I were to some day swap in a big-block (as opposed to this 130,000-mile-old smog-era small block that might have made 120 HP when it was
new
) it'd still be a mild big block and unlikely to snap an axle- especially with street tires.
Do I "need" it? No, not really. I could have saved a pile of money by just rebuilding the brakes on the existing axle and calling it good.
  But barring some unforeseen future turn of events, I plan to keep this car for a good long while, and improve it steadily as I have time and funds. Rather than racing, I want to simply try to improve its handling- to make it feel less like a worn-out forty-year-old musclecar and more like a modern car- or at least as close as a worn-out forty-year old musclecar can get.
Doc.