Right! Let's get on with it!
First, we chock the front wheels, jack up the trailing end and throw a couple good, sturdy jackstands under there.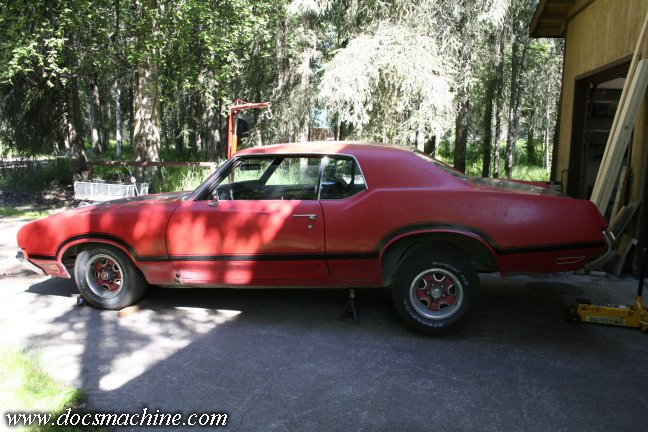 Then, start unboltin' stuff! The driveshaft, the control arm bolts, the shock absorbers, the turbo-encabulator....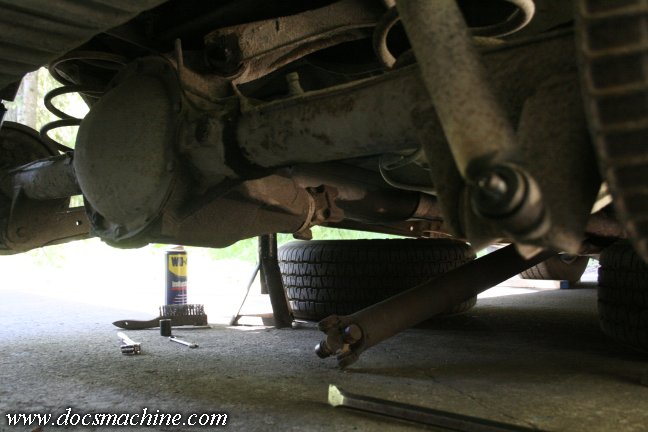 Run the floor jack back under there, lower the axle out from under all the linkages, unceremoniously snip the old rubber brake hose with a bolt cutter, and roll that puppy outta there!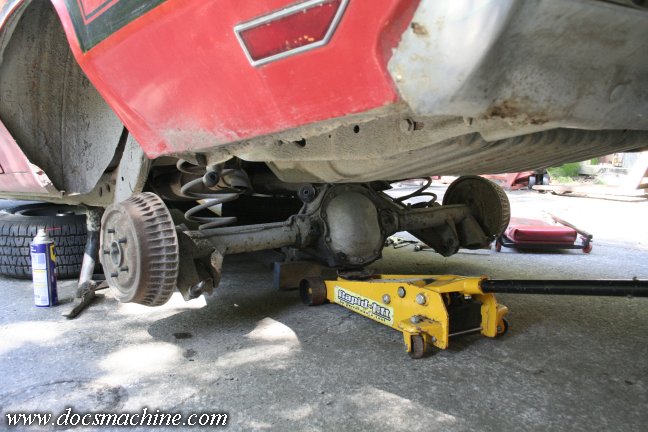 With the axle out of the way, remove the lower control arms, the shock absorbers and what's left of the brake line- and be frikkin'
flabbergasted
when the old brake line
breaks loose and unscrews properly, with the nut actually turning on the tubing
.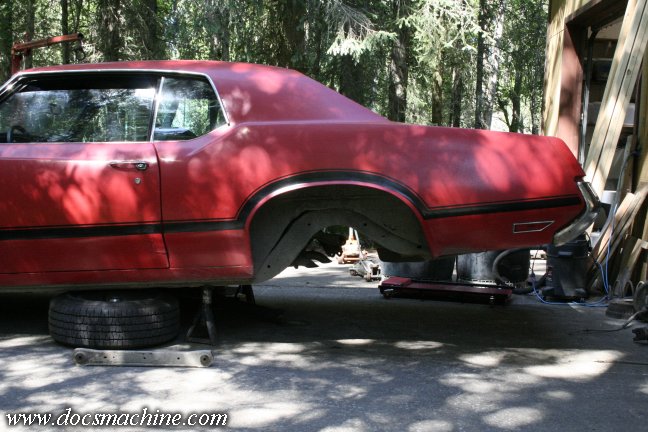 I'm not sure I've
ever
worked on a car and had that happen. I've lucked out and managed to break the nut loose with heat, Kroil and high-quality flare nut wrenches, but this one popped loose, without heat, without oil, and turned on the tube as neat as you please.
I'd say I need to go buy a friggin Lotto ticket or something, except both the rubber hose and the hardline are getting replaced, so... it's pretty much irrelevant how the two came apart.
Next up, we slip the driveshaft out and run it up to the local 4WD and driveline specialty shop. As I'm using the THM350/10-bolt driveshaft on a 12-bolt, I have to get a "hybrid" universal joint- it's an off-the-shelf item, I'm hardly the first one to do this kind of thing. But I figured while I'm at it, I'll have the front U-joint swapped too, and maybe even spring for having it balanced. Neither joint was giving me any problem, but the car's almost 50 years old and has 75K miles on it- it's cheap insurance.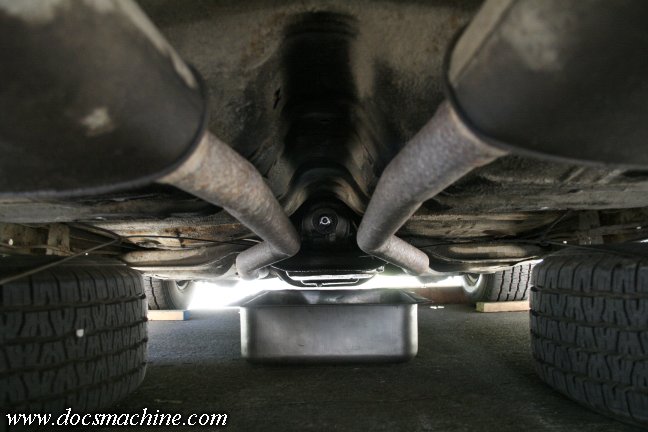 Longtime readers might remember back when I first resurrected this wreck back in 2012, that I had a bad gas leak first thing, towards the back. That turned out to be a dried-out-and-cracked fuel line at the tank, which I patched. Looking today, I see both of the vent lines are similarly cracking, so I'll pick up some fresh hose and swap 'em all before the axle goes back in.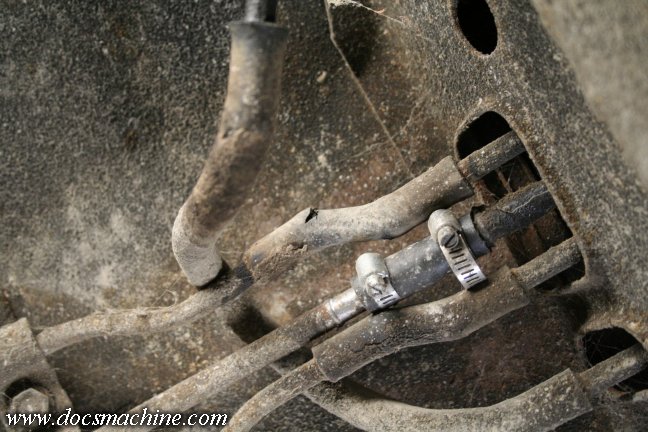 Going through my short checklist of other things to do before I jam that badboy back in there, sharp-eyed viewers might have noticed up there during the paint sequence the big green tag that said this thing didn't have any gear lube in it.
So, while I was thinking about it, I poured in two containers of gear lube, and one tube of Posi additive. (A friction modifier specifically for clutch-type positractions like mine.)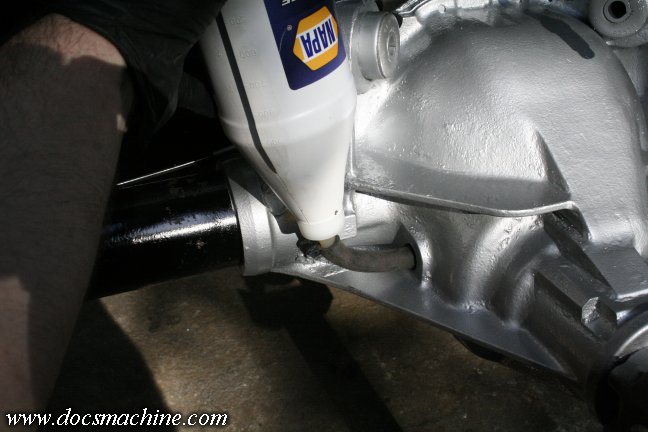 But then, suddenly, we had a problem. I'd mentioned earlier how I'd incorrectly mounted the brake line fitting, and had found the bracket to mount it correctly.
Well, I'd taken that bracket, wire brushed it and spray-painted it. And today, as I was checking off the things to do, I tried mounting it. Oops.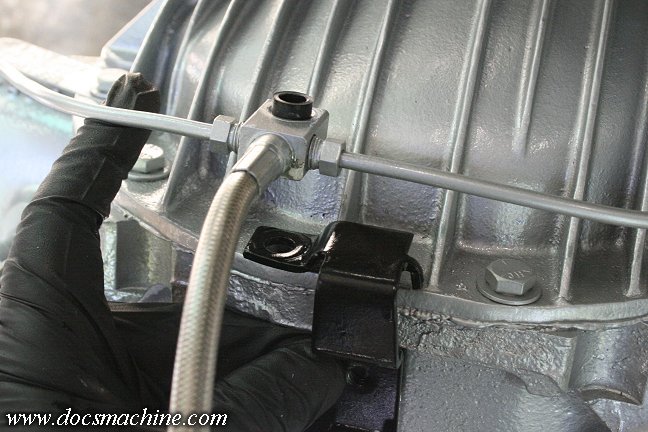 It's hard to see in that picture, but the cast-in fins are in the way, and there's no antirotation hole for that "finger" on the right side. Plus, it moves the fitting over an inch to the side, meaning I'd have to re-run at least one side of the brake line if I wanted to use it.
However, I could see now that I
can't
use the brake line in the "straight up" configuration I had it. So, it was time to modify it. I nipped off the existing bolt tab and the antirotation finger, belt-sanded it smooth, soaked it in two coats of black (helped along by a heat gun) and plunked 'er in place.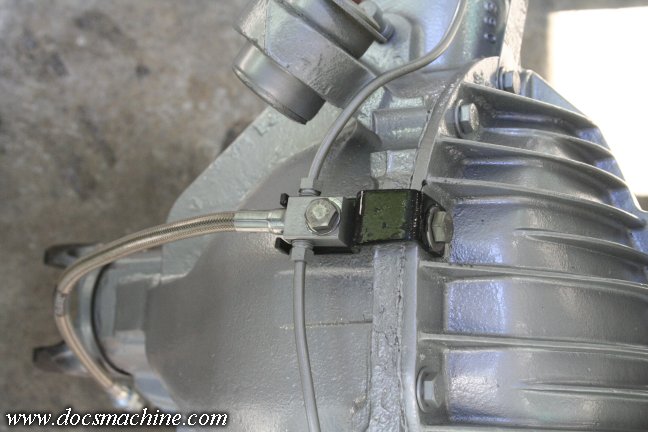 I had just enough give in both the hard lines to reach, and still leave 'em enough clearance that nothing rubs. A couple stainless bolts finish off the mount and she's good to go.
What with a couple other things I had to get done today, that was about all I had time for- and tomorrow, the 4th, will involve a bit of partyin' and possibly some explosives, so I probably won't get much done then. Stand by.
Doc.