Yep, adding more fuel to the fire!
Very nearly a decade ago (!) I downloaded some free plans for a DIY "KMG" style 2x72" belt grinder, intending to build myself one. I bought the steel from one of the local suppliers, and... well, let's just say I proceeded to work on it in my spare time.
I'd managed to assemble the main frame and mill part of the slack-belt platen by 2010, and a year after that had found a motor and made a pulley.
Apart from collecting a couple of contact wheels, snagging a bag of miscellaneous belts by lucky chance from the local secondhand shop, and moving the pile of parts around at least a dozen times in the intervening years, that's about as far as I got.
I have decided that, due in no small part to the happy circumstance of getting some of the big parts ground, finally, that I would spend some time this summer endeavoring to also complete (or at least make significant gains upon) several of these other half-finished projects of mine, that I'm in many cases truly sick and bloody tired of looking at.
The grinder, besides being a tool I could have used many dozens of times over the years, is also largely complete, just needing finish machining on several of the parts. And since I don't even have to "invent" anything, I just have to follow the instructions in the plans, it should be quick and simple.
So, this afternoon, after completing and mailing my customer tasks for the day, I sat down to figure out what needed to be done next. Here's how it looked, and how it
has
looked for five or six years now, sitting off in a corner: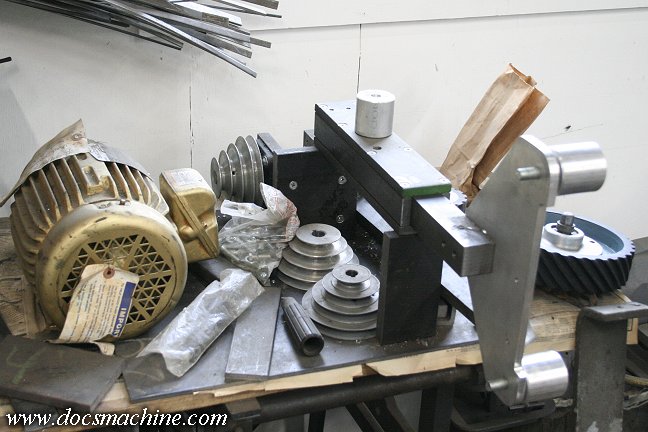 While I still had the plans printed out in the shop files, and a copy saved to my archive drives, it was lucky that I'd marked each piece back in the day- that helped me keep track of the pieces, and not wind up using them on some other project.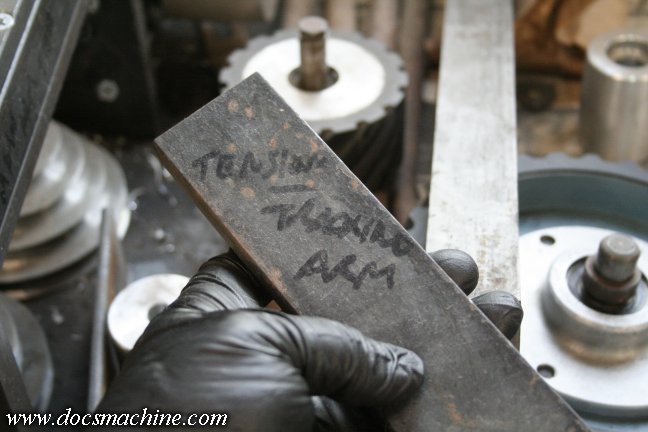 I only had a short while to spare (and even that only thanks to being 'stuck' while some paint dries) so today it was just the tensioner/idler arm. First, the upright support was slotted, drilled and tapped...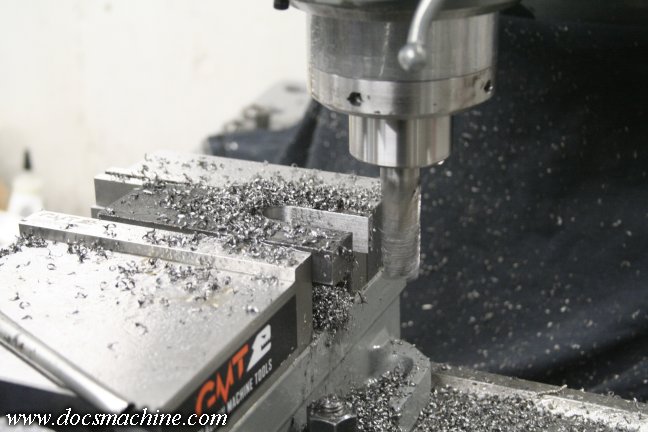 And what will become the arm itself drilled, tapped and countersunk.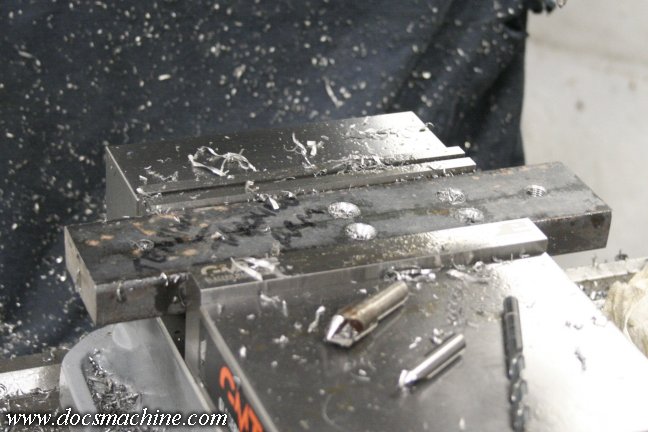 And assembled: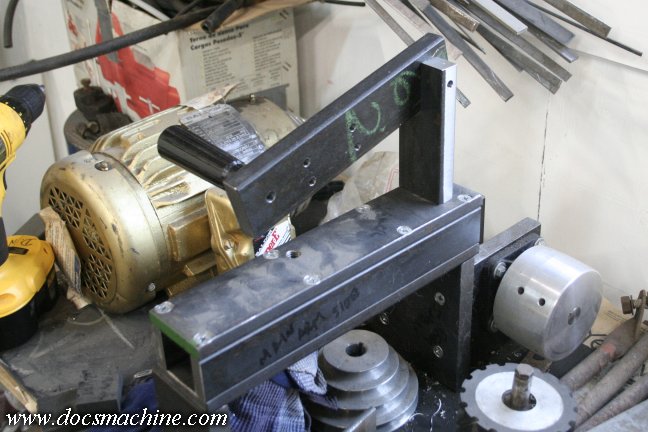 The four holes will hold an adjustable pivoting block which will control the belt tracking, and a spring underneath will put tension on the belt. (A common mod I recall from back in the day is to use a "gas spring" cylinder- I may try and pick one up if I can fins a short, stiff one. The regular spring apparently tends to pop out or kink.)
The black handle is something I spotted at that same secondhand store many years ago, and picked up specifically for this. The small serrated contact wheel was... donated? Or I bought from? A Guild regular, roughly half a million years ago. There's also a larger 8" wheel I bought last year, off another board.
Apart from possibly the gas springs (or a regular spring) the only thing I need is a VFD for the 3-phase motor. And I either need to buy a 'spensive sealed one, or I'll have to also get an enclosure of some sort for it, to keep the grinding grit and dust out of it.
Doc.