Luck, fate or coincidence. You be the judge.
I've mentioned before I regularly explore the local secondhand shop, sometimes to look for a specific cheap, used tool (generally to modify) but mostly just to see what they have that I didn't realize I couldn't live without until just then.
I've also mentioned that the 'success rate' is something like one in ten- For every ten trips, one,
maybe
, will produce something good.
Today was my day.
In the back, where they keep the heavy furniture near the loading door, I came 'round the corner and spotted this: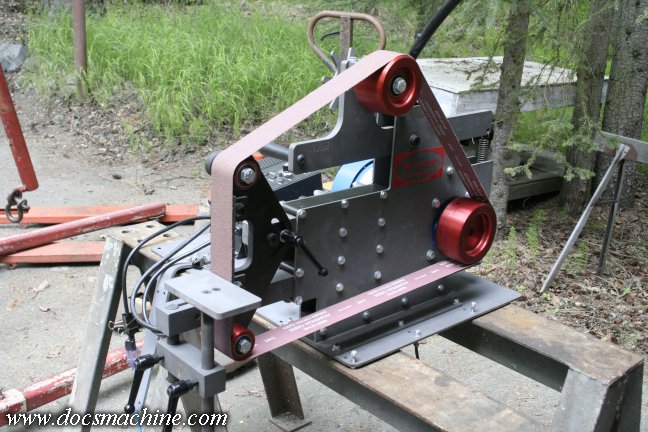 A complete,
brand new
, never-even-ever-had-a-belt-on-it Wilmont variable speed direct drive 2x72" belt grinder. Effectively
the exact same thing
I'd been working on, like, yesterday.
The price was not quite "screaming deal" territory, but it was very good- in the ballpark of half what I vaguely recall from looking years ago, and as it turns out, about half of what this particular manufacturer asked for the machine
without the motor or drive
. Also, it should be noted, without paying shipping up to freakin' Alaska.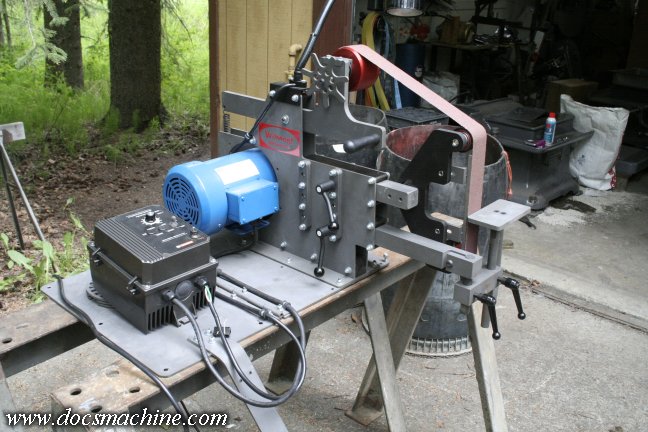 Basically, all told, I got it for about a third of the real, actual cost of what a comparable machine, if I shopped a bit, would have run me, delivered. It hurt my budget pretty badly, and I have to admit I waffled a bit- I mean, I'm within a few days' work of having one already, and I have plenty of other things I could use those funds on. (Like, y'know, food.
)
But, I figured I'd badly regret not getting it, and it does have some features mine doesn't have, and better still, it's almost plug-and-play, and I have plenty on my plate already.
And it's
brand new
. It has
never been used
. I doubt it ever even had a belt installed. The workplate shows no signs of anything ever having been scraped or rubbed across it...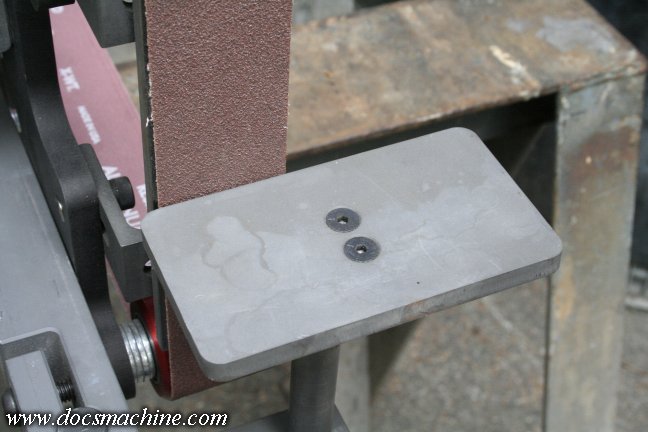 The red-anodized pulleys and rollers are pristine, showing zero wear, zero scuffing.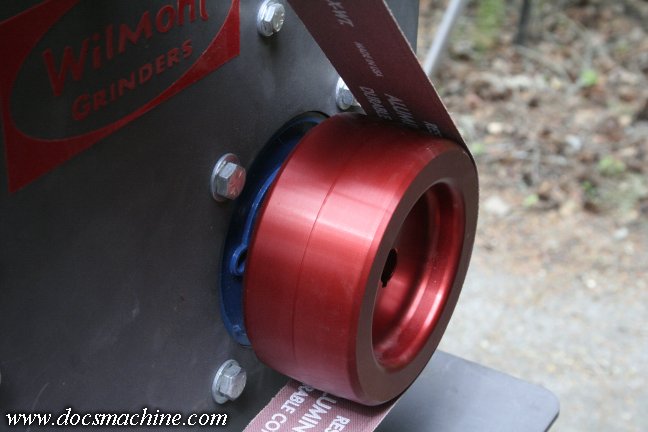 And the TEFC motor, shows
zero
signs of dust being pulled through the fan housing.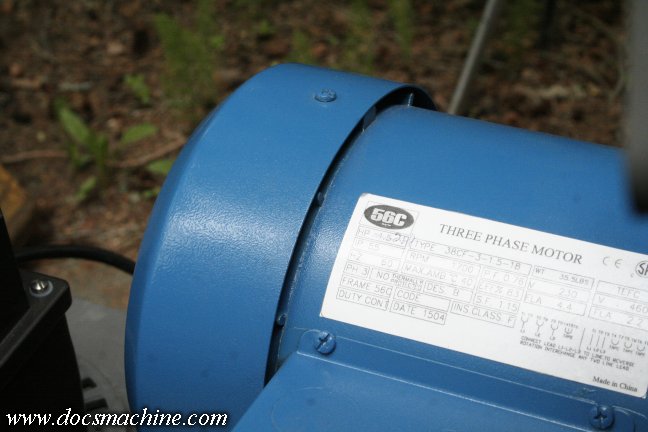 Now, looking online, it seems Wilmont Grinders were made by a small garage-shop type, as a variant on the usual KMG style that has become so popular with the knifemakers. It's pretty well designed, the plates all appear to have been water-jetted, the rollers are fairly well machined, and the overall quality is good, with both the steel and aluminum parts all having been anodized or zinc-oxided for protection.
However, their domain name is defunct and is being squatted. The maker has apparently closed up shop, after only having launched back in 2011 or so, but that's hardly a problem. The motor is a standard C-frame 3-phase, the power supply is a typical sealed Genesis, very commonly used for this kind of thing, and the tool arms are identical to the more-or-less-standard KMG style arms, including those I'm currently building for myself.
There may be no "factory support", but who cares? I was making my own- I AM the factory.
And fortunately, being essentially brand-new, very little needed to be repaired- one was that the power cord had somehow gotten pulled out if its strain-relief at the VFD: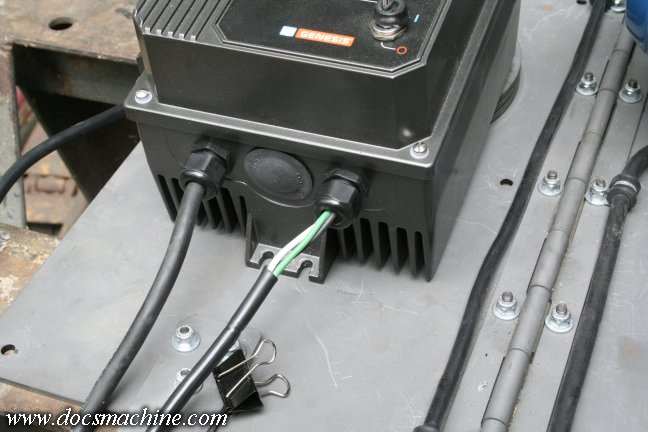 After was that the tracking knob, while it still turned, had been bonked against something- or something bonked against it- and had bent the screw.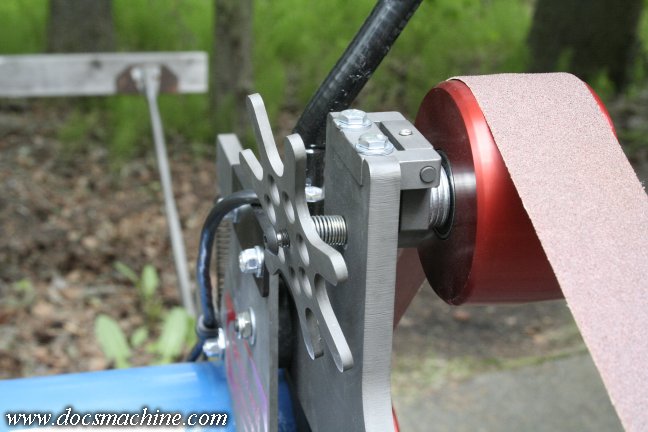 And the last, the arm used to mount the VFD/control box had been bent somehow- hard to see in this pic, but it's twisted to the right noticeably.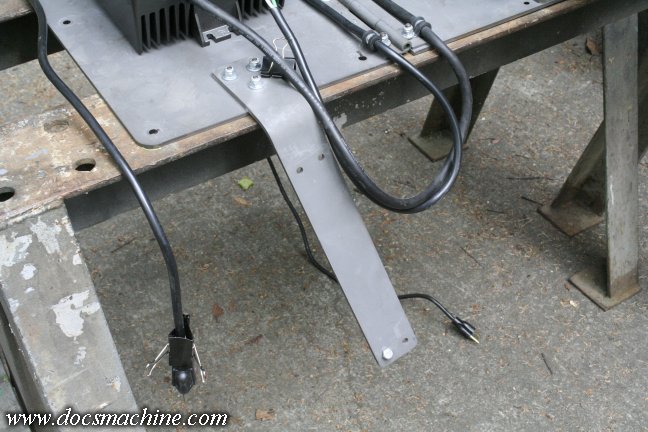 The cable was an easy fix. After cracking open the control box, the wires were just fine, and still solidly connected, so all I had to do was just push the cord back in, and reseat the locking nut.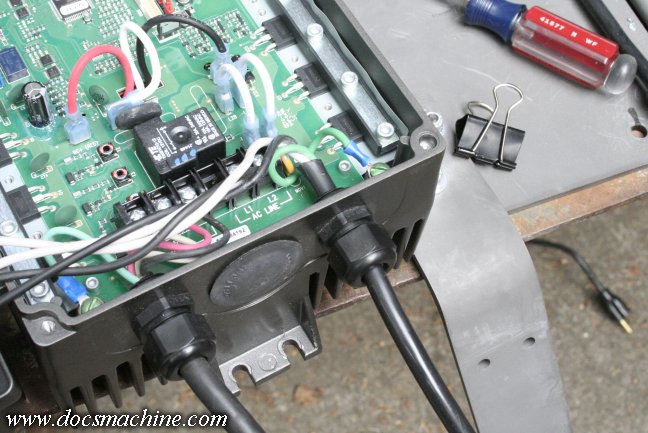 The rest of the inside of the control box looked pristine, with no traces of dust, dirt or contamination. There was this worrisome bit of corrosion on the speed potentiometer, but absolutely nothing else inside the case showed anything similar. I assume the pot was already lightly corroded when it was installed?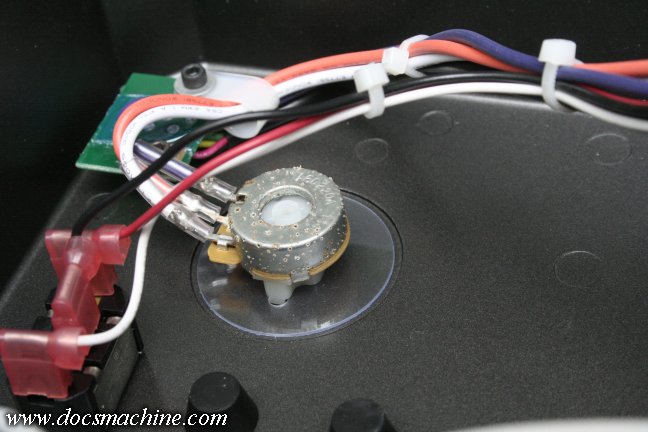 (Continued Next Post...)
Doc.