Now you guys know why I always seem to be behind.
Come last Monday morning, I had about fifteen things planned for this week, and so far, I've gotten exactly four of them done.
On the other hand, the wholly unplanned project is now almost complete.
Fair warning, there's a lot of necessary detail bits coming up, so if you have an unhealthy aversion to welding, I suggest you go lie down.
Oh, and for those of you wondering if I'm keeping up on my customer work, yes, indeed. I
have
had four customer projects on the table as of Tuesday morning, and of this afternoon, I'm down to two.
Anyway, while the new grinder is now basically back up to 100%, this kind of machine is designed to bolt to a workbench. I have
zero
workbench space onto which to bolt it, and besides, I want to be able to roll it outside for major grinding jobs, so as to not have to fill the shop with grit and gunk.
I'll be fitting a scoop to attach a shop vac or bigger dust control system for the occasional indoor grinding of small jobs, but again we need to pay attention to mixing iron and aluminum dusts.
So the main trick will be to simply roll it outside and let the dust fall where it may.
So I need a stand with wheels. As noted, I don't want to go with simple locking casters, because the wheels aren't big enough. I have a nasty step between the shop concrete and the apron concrete, and even hand truck tires need a bit of a run to make it up those, if you're carrying any kind of a load.
Also, in the not-unlikely event of wanting to do some grinding outside during the winter, the wheels also need to be able to do a little off roading, and go over at least a modicum of ice or snow.
In that light, I envisioned a stand with two wheels and a handle, like a hand truck. You tilt it back, walk it around, set it back upright. Once it's down, it's on solid feet and stable.
Earlier this spring I'd bought an armload of 1" steel box tubing, specifically for a stand for the KMG grinder, a stand for the T-shirt press, and a couple other things. So it was a simple matter of cutting to length, squaring up, and welding.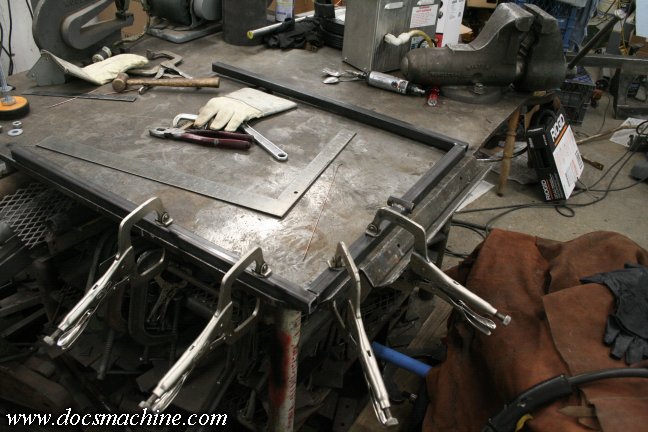 Now, as this is intended to be a mobile stand, I decided to throw convention out the window and try something new. This will be a
three point
stand, not a four point. Three, as we all know, like the typical bar stool, will sit flat on almost any surface- that is, all three legs will make contact, and it'll sit fairly stably, even if the floor isn't the greatest.
Four won't necessarily do that, and you always seem to have that one leg that doesn't touch the floor. I built my buffer stand this way, and as virtually none of my floors are smooth and level, often it's easiest just to set it up out in the grass, otherwise the rocking as I'm polishing drives me nuts.
So, for the back lower crossbar, I found an ideal cutoff in the scrap bin, and milled a notch for it...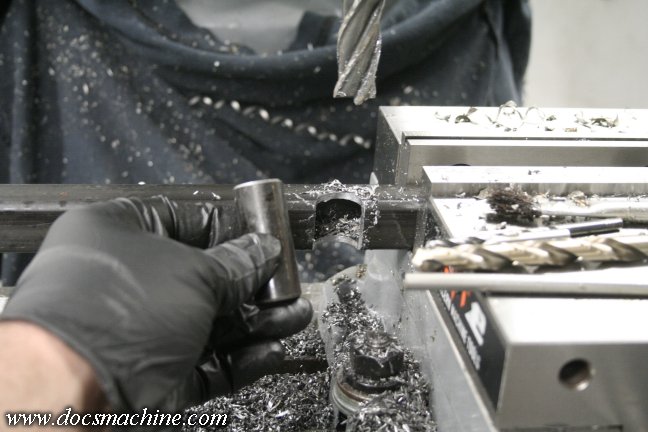 That, suitably welded into place, accepts this levelable machine foot- usually meant to be mounted to the base of a machine so you can level it, and rubber so it won't go sliding across the floor.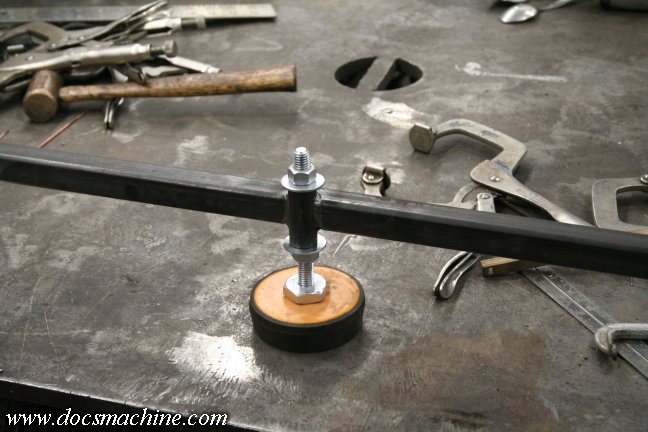 It's worth noting that one of the many handy things this belt grinder can do, is sand the ends of this kind of box tubing square and true. Clamp two of them together, and you can precisely finish them to the exact same length.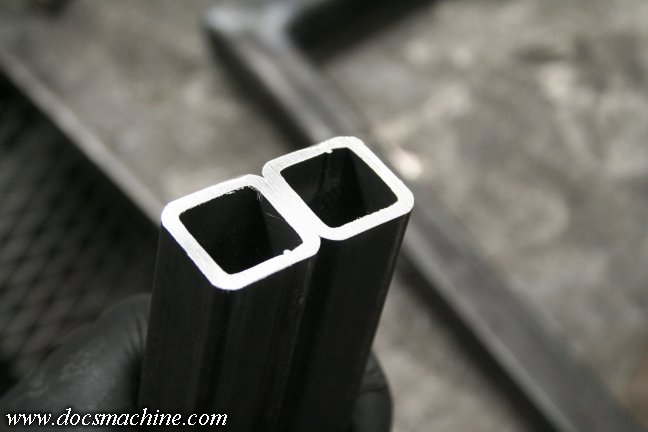 Yes, you can and I have done the same thing over the years with a milling machine. It's just one more option.
Anyway, after a couple of hours of measuring, cutting, cursing, cutting again, sanding to fit, tack welding, more cursing and
tea
Dew, it's coming nicely together.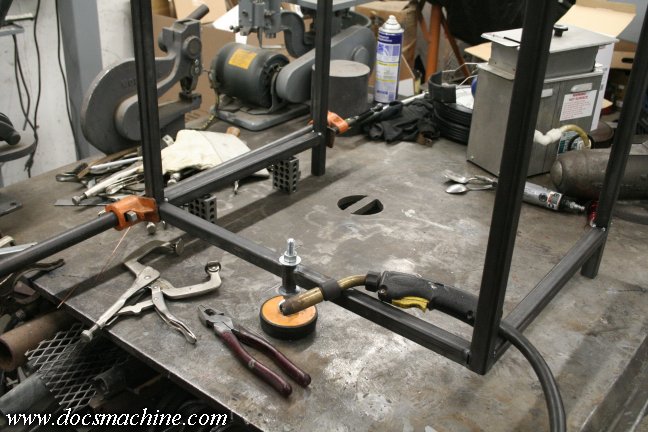 Once the main frame was complete and fully welded, it was time to add some wheels. My first idea was this:
Which, on reflection, stuck them too far out from the center of gravity, and would have made it "heavier" to tip up and balance. A better idea was this: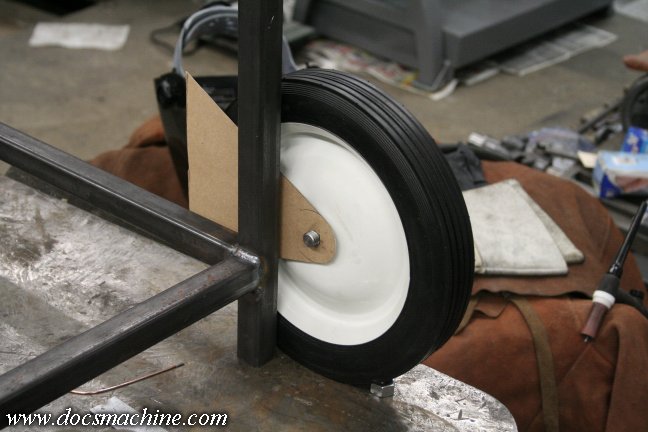 Incidentally, I was doing the "cardboard aided design" thing long before the Project Binky guys.
They owe me royalties.
That design got the wheels closer to the COG, and I was initially planning to use thin plate for the mounts. I thought that might be a bit wobbly, so I came up with something else. I started by lopping several chunks out of a cut-off of the box tubing.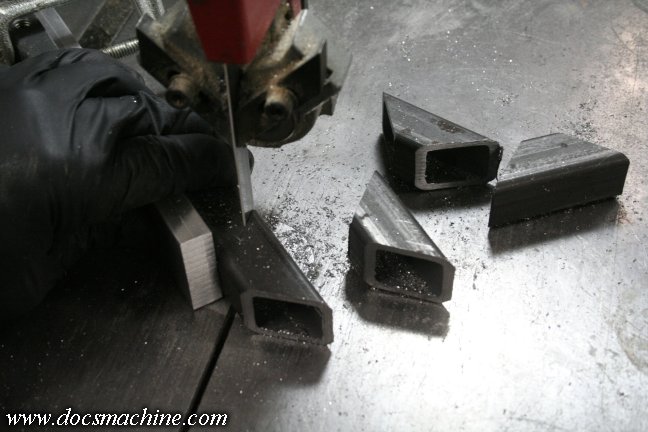 TIG welded them into paired triangles...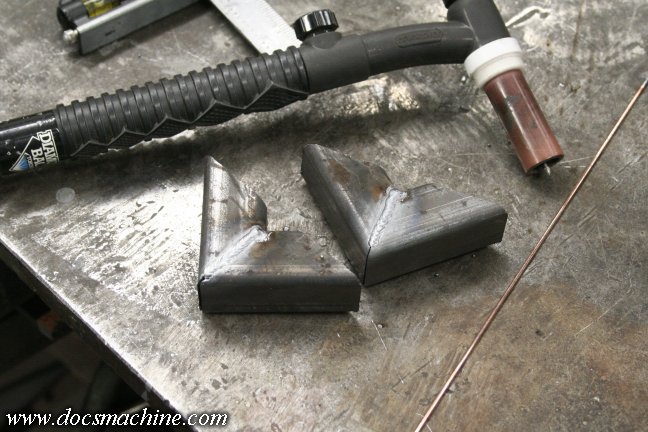 And bandsawed, faced, drilled and tapped these two sprogs of 1" steel.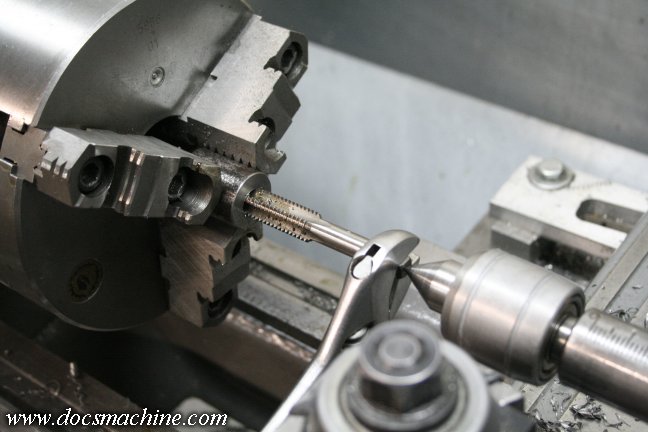 I marked it 'bout thar...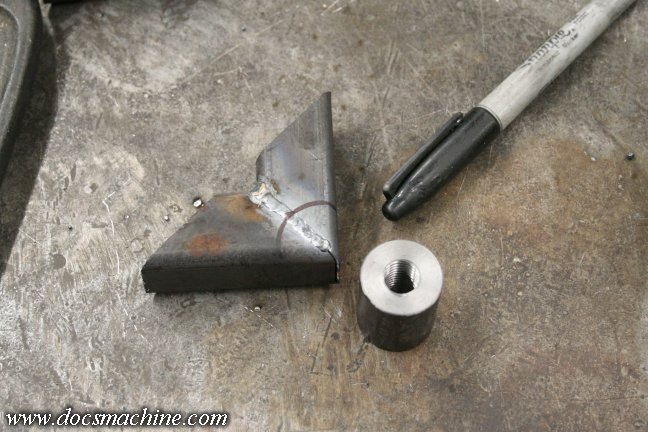 And milled a round seat in its place.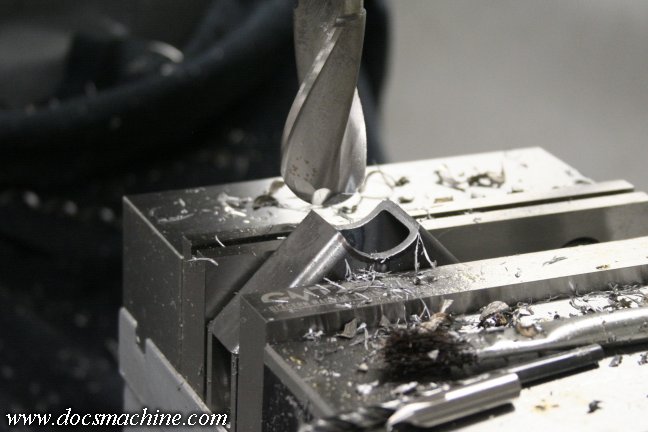 Due to the almost unclampable shape of the piece, I was forced to use a ball-end mill. This would have been a perfect application for the horizontal mill, but some knob seems to have run off with some important parts of it.
(continued next post....)
[/img]