While I've been fairly busy recently- hey, hammocks don't just set
themselves
up on the beach, you know- I'm getting towards the bottom of the list, and most of the time-sensitive stuff is pretty well caught up. The shop's a wreck, but things are progressing.
On Saturday, I wandered over to MCB to see if I could find some parts in their classifieds, and as I was looking around, I noticed they had a quicky contest they call a "Pile of Poo build-off". Basically take a cheap, presumably nonfunctional marker, or a parts gun, or what have you, and rebuild it into something cool for a budget of $100 or less.
While I hardly needed another thing to do, I
did
kind of need a personal project. Something for me. As odd as it sounds, sometimes I take a break from shopwork... by doing more shopwork.
The rules, as I understand 'em, are pretty open and loose, and I'm not sure any actual prizes are even given out, but what I do know, is that I have
lots
of boxes of... er, poo.
Those
Carbines
I put back together a few weeks ago were just one of many such projects-in-a-box. Those, however, needed very little besides just cleaning and reassembly.
One box, however, I'd started thinking about, again, recently- two semcomplete but disassembled Montneel Icons. I've had a Mega-Z for many years now, and while it's a cool gun, it has several aspects I'd like to upgrade. But, rather than cut up my Z, I bought this boxful of parts several years ago, so I could make a Z copy the way I wanted it.
This is a prefect project for MCB's little contest. It'll take some work, some fab, and some customizing to make it how I want, but it won't take so much work I'll have a huge amount of time and money into it.
I sorted out the box, and as I said, there's two incomplete guns in there; for example, I have three bolts, but only one valve, and even that one valve is missing most of it's internals. Here's what I'm officially starting with: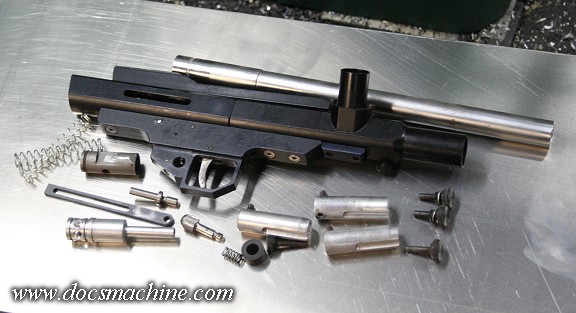 Now, one of the main things I tend to dislike about the Z is that Lone-Star "M-16" grip. I have somewhat large hands, and those kinds of grips always tend to be too skinny and never shaped right. I was at one time going to just put a Phantom 45 adapter on there, but even those are- in my opinion- too small. I wanted to fill some of that space at the base of the thumb to make a fuller grip.
Point in fact, many years ago, I bought a TASO Spartan- basically a Bushmaster pump clone from back in the day, and it, too, had a Ram-Line style M-16 grip. One of the first mods I did was use Bondo to make a mold to make the grip a little beefier.
Here, I wanted something a little more sophisticated, so I basically needed a 45 grip block but with an extension. By the middle of this afternoon (Sunday) I had this: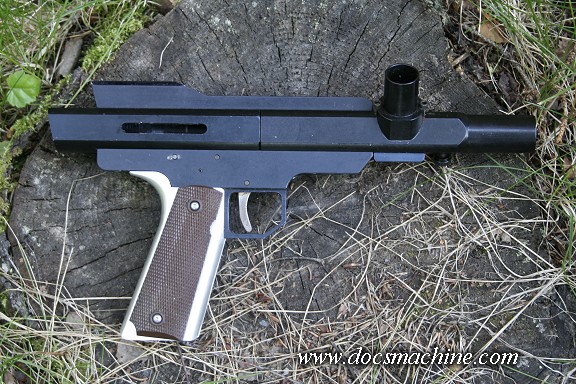 Milled from one piece, the "tail" fills that space where the base of the thumb goes, and gives a much beefier grip. It feels very comfortable, and there's no weird angles or corners- the grip block is a touch wider than the trigger frame, but again, I wanted the thicker feel.
It certainly wasn't one of the things I'd been planning to do this weekend, but I'm certainly happy with the results.
Doc.