I see there wasn't much Guild traffic over the weekend... Was there no one tinkering in the shop while Grandpa got the charcoal going? No one had distant relatives show up for the free food, and then get cornered in the garage as you tried to excitedly explain how your gas-operated laundry-trebuchet worked?
Or did y'all just take the weekend off?
I didn't get much of note done, what with the barbecues or get-togethers scheduled for each of the three days... (burp! Lotsa leftovers though...)
I did do
some
tinkering, including some bodywork to an oil pan, which was certainly something new and interesting... Saw the half-assembled '35 Hudson Terraplane I made some parts for a few weeks back, finally had a chance to check out the old Cincinnati tool-and-cutter grinder I now have access to (not mine, but I can use it pretty much anytime, though it looks like I'll have to roll my own tooling) and nearly hit what I'm pretty sure was the same moose, with two different cars. (Pics of all the above forthcoming. It's 3:00 am, gimme a minute!)
One quick pic to get the thread rolling, though: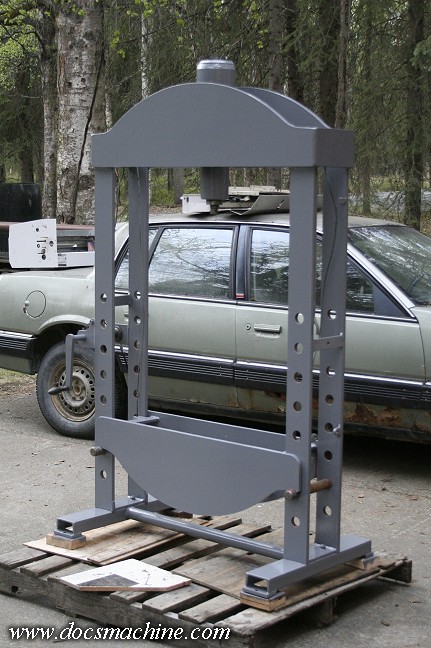 I'd pressure-washed most of the paint off a couple of weeks ago, and I was finally able to spend a few minutes each day over the weekend giving it a couple quick coats of paint. Looks 100% better, but as usual, it's still not done. Yesterday (Tuesday) I got it moved into the shop, slapped on a set of my now-ubiquitous hockey-puck feet, moved three smaller machines, and got it set up near the wall.
Now what do I do with the three machines?
That upper arch is just screaming for one of my wolfskull stickers.
Most of the rest of my tinkery over the weekend was slavin' over a hot lathe. Barbecued pork rib made it all worthwhile though. What'd you-all do?
Doc.