We haven't done one of these in a while...
For those of you that played this weekend, show us what you were shooting. Bone stock is fine, but bonus points, of course, for modded.
And, if you didn't play, but spent some time working on something, show us what you were tinkering with!
I didn't get to play myself, but as I posted below, I (re)discovered an old Tribal I'd forgotten I had. Well, actually,
two
Tribals I'd forgotten I had.
Both were trade-ins on parts or service years ago, and like many of my personal guns, were set aside to be tinkered with later, and eventually buried under all my other gear.
One's a red-black splash/fade that HB thinks is a BBT, the other's an all-black, plainly-milled Mephisto. The Meph is practically new- the sticker on the ASA is still in near perfect condition, and there's virtually no scratches or wear. The BBT was a parts-box special, given to me already partly-disassembled.
The BBT has been proving to be a headache, with multiple leaks and issues. The Meph, on the other hand, just needed a good cleaning, a bit of grease, a "bumper" for the valve (as several Tribaloids recommended) and a better air system.
Actually, near as I could tell, the stock foregrip reg was working fine, but I didn't want to tempt fate.
I rooted around in my box-o-regs and found an old-style vertical-mount Max Flow (I'm still a fan of old Maxes) which would be prefect for running the gun on CO2.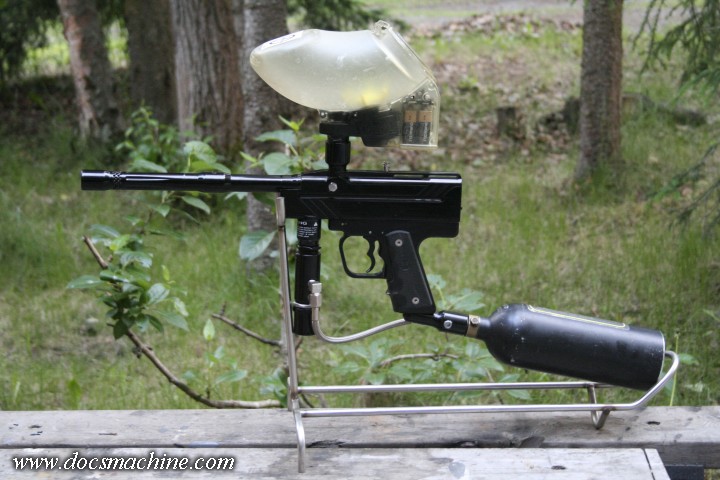 Nothing particularly spectacular, but not bad for a few minutes' tinkering. Not a big fan of the aluminum bolt though, I might have to whip up a new Delrin jobbie for it...
Then the question becomes what do I do with it? What's a good low miles Tribal worth? Twenty bucks? Thirty if I leave the 12-year-old Revvy on it?
Doc.