Had a chance to play again this weekend, and not only that, but on yet another new field. Some locals bought six acres specifically for a PB field, and while they're shooting for an official opening next spring, they've got a decent playable area already.
I cleared a couple of hours off my schedule for it despite the weather not really cooperating, and all in all, it wasn't a bad day.
Wasn't a
great
day, but like the T-shirt says, a bad day at paintball still beats a good day at work.
The first time I played this year- a bright, sunny, 70+ degree day- I packed the car. Multiple markers, spare barrels, a full set of tools, extra jersey, gear to sell, my full bag of camera equipment, you name it.
This time, however, I had planned to just show up, shoot a couple games and then get back to a couple of semi-time-sensitive projects. As such, I had planned to bring one gun, my SCUBA tank, some paper towels and just enough gear to play.
I decided, however, to this time take my E-Cocker. It's still in great condition (though I had to clean the Stabilizer out, as it was creeping) and I haven't used it in quite a while. I took the Etek as a spare, just in case, and on top of that, I took my Phantom pump.
I thought trying a pump game or two would be fun- another thing I haven't done in a long time- and I'd remembered that I had a direct-feed breech for it. Said breech I think I can be excused for forgetting about, since I haven't used it since about 1998. I'm not sure I've
ever
actually played a game with this gun
NOT
set up with the stock class feed...
And while I was dusting things off, I wound up using two other things I haven't used in a very long time: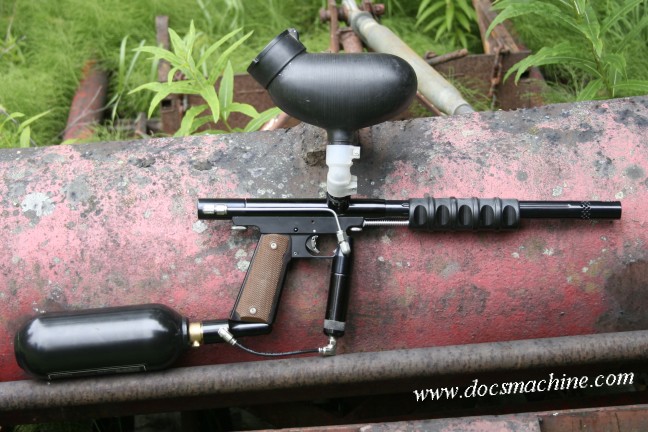 That loader is an ancient Nasty Boys 150-rounder I bought back in '92 or so to go with my TASO Spartan. I doubt it's even been fitted to a gun for
display
purposes in at least fifteen years. I even still have the camo cover that velcros on.
And the tank is a 16-ounce "pineapple" tank that I bought new in '98 specifically for my Carbine, which was then- as now- one of my "grab it and go" markers. But having switched largely to HPA by that point (I'd had my own compressor since about '97) I never actually got around to using it.
In other words, it's been out of hydro for eight years,
and I'd never even filled it
.
Somewhere around here I even have an early Smart Parts "Smart Valve" I was going to put on it....
So anyway, I get to the field. I brought exactly two tools- a 3/16" allen wrench to adjust velocities on both the 'Cocker and the Etek, and the Phantom velocity rod. I brought nothing else.
First thing out of the gate, it turns out the fill nipple on the Flatline on the 'Cocker, won't fit the SCUBA full station. It fits in, but won't "latch". I only have about 500 psi left in that tank, which even with our small groups and quick games likely won't last long.
Technically the field operator could probably have filled it, but the tank is also technically out of hydro. (Don't yell- I technically haven't used the gun since 2004.)
Okay, fine, fall back to the Etek, which worked beautifully on a previous game day. Except it chops a ball almost immediately, and refuses to feed properly.
I fight with it for a while, over a couple of games, before I discover the problem isn't the gun (except for issues with the gooped eyes) its the recently-reshelled HALO. The drive cone is now spinning freely on the shaft- I suspect the plastic has disintegrated just as the shells did.
Anybody got a Rotor they want to sell?
I switched to the HALO off the 'Cocker, but the 'Tek still kept chopping. Admittedly the paint wasn't the greatest, and the occasionally drizzly conditions weren't the best, but that was way more chopping than I've ever dealt with on the field since I broke a wire nubbin in my Automag.
I suspect the goop on the eyes was at least partly the culprit.
I finally decided to try the Phantom. And here, while the gun worked perfectly- what can go wrong on a Phantom- I still couldn't hit anything. Unlike the 'Cocker-threaded guns, I only had the one barrel for the Phantom. In fact, that's the only Phantom barrel I own, save for one I modded to fit the Sovereign years ago.
Combine the rather damp conditions- including the goggle fog, to say nothing of it's effect on the paint- with the already pretty old and somewhat lumpy paint, along with the poor barrel fit, and I couldn't hit squat.
Now, don't get me wrong, it wasn't all doom and despair. I still had fun, I did get a few eliminations, and I got to be one of the first on a brand-new field.
But geez... I make a living working on these things and I needed a third backup gun?
Maybe I should have brought one of those Carbines I built a couple weeks ago...
Still, all told I'd have rather been there than flipping burgers somewhere.
Doc.