Over the weekend I was digging through several boxes of parts, in what turned out to be a fruitless effort to find one specific part. I know I have one- several, actually- but I have yet to find it.
I did run across a bunch of other things I'd forgotten I had, like an entire, unassembled PVI Shocker, a complete Level 10 kit, and a boxful of Parker solenoids, but I didn't find what I was looking for.
However, I did find two things that reminded me of an evil thought I'd had a while back, and, ADD-monkey that I am, I promptly forgot what I'd been doing and went to try it out.
The key is, as with most fun pastimes, explosives.
A few years ago, I was given this: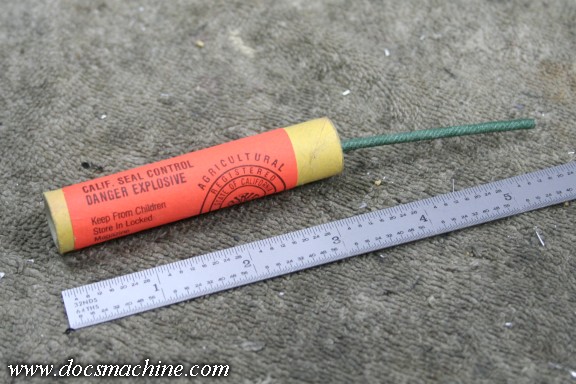 The local fishermen call them "seal bombs", and they're used for just that- to scare seals out of or away from commercial drift-fishing nets, so they- the seals- don't either get tangled up in the net, or eat the fish out of the net.
Despite their size, they're not hugely powerful. They're just noisemakers, really, but still, it's a bloody great firecracker, and as such, treat it with respect lest people start calling you 'stumpy'.
The other key component, like chocolate to peanut butter, were these: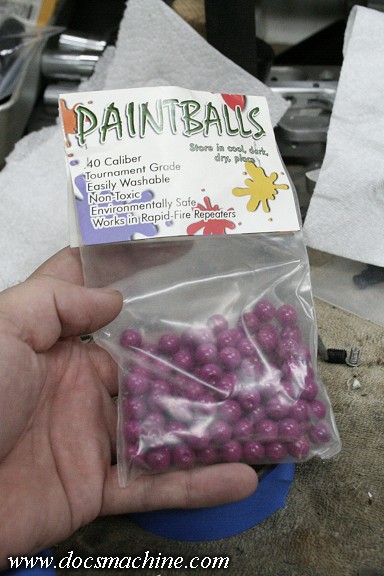 I bought a dozen bags of these .40 cal blowgun paintballs many years ago, when I had, briefly, two complete ParaOrdnance Model 85 paintball machine pistols. (
Vintage Rex
link.) The M85 used a primer-fired cartridge, that held a .375 caliber ball. It originally came in preloaded cartridges, but it was possible, back in the day, to reload fired rounds if you had the reloading tools (which I did) a supply of primers (easy enough) and a handful of .375 caliber paintballs. (Virtually nonexistent even ten years ago.)
I'd hoped that, with the deft application of a .400" reamer, I could open up the barrel (plastic) and the cartridges (a lexan variant, as I recall) to use the then very common .40 cal blowgun paint.
Fortunately, I didn't. I'd have ruined (or at least damaged) a collectible marker, and the already-fragile plastic cartridges probably would have disintegrated or cracked upon firing.
I eventually sold the guns back off to a collector, and the bags of .40 cal sat in a box for many years, getting moved around as things progressed. I remember thinking, the last time I ran across the box, that I ought to just toss them, since I had no blowgun, and they were all getting badly dimpled anyway. But I figured nah, what I should do is finish up that "shotgun" idea I've been tinkering with for a decade, and use these as loose birdshot.
But, in the meantime, here's a good way to get rid of a whole bagful all at once.
One of the drawbacks of the smaller paint is that the shell is more or less the same thickness as a full-size ball. That makes the smaller balls "tougher", and harder to get to break on your target.
This proves to be a benefit when you're going to be wrapping them around an explosive.
But still, we need a way to cushion the balls from the direct blast, so that hopefully we can get the charge to propel a more or less intact ball, and not just reduce them all to a fine purple mist.
Digging through my junkbox, I found this cutoff section of thin foam pipe insulation. It was a bit large for the seal bomb, so I cut it down a little.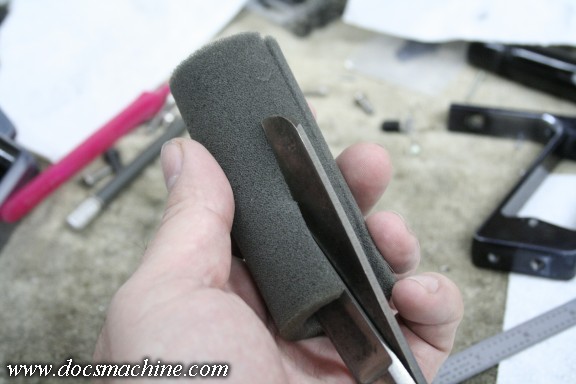 And a bit of loosely-wrapped blue masking tape holds it in place.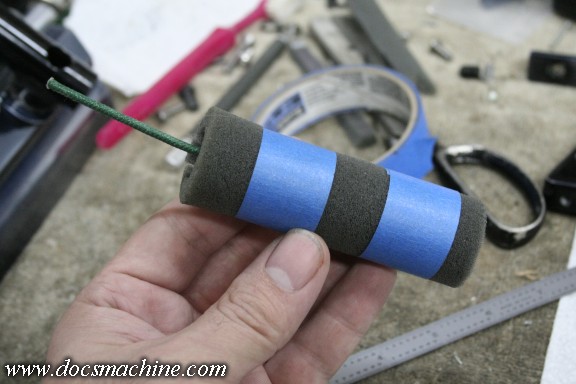 Now for the paintballs. Looks like good quality stuff, huh? Highest and best use of this stuff is to blow it up.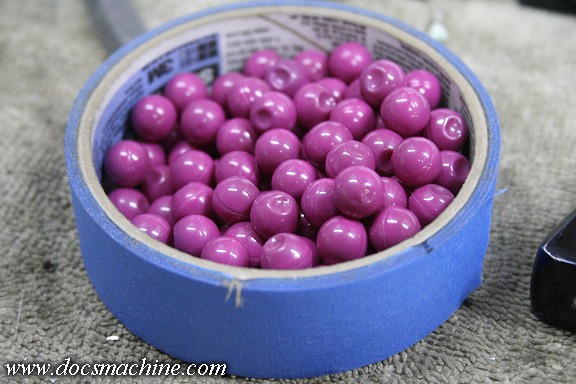 So now, to hold the paintballs, we need a very thin sandwich bag: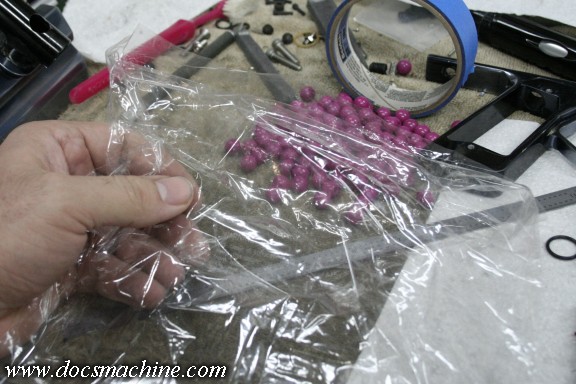 You want it thin and fragile, in the hopes it'll rupture consistently. I'm winging it here, but hey, it sounds good.
Just pour the balls in the bag, and arrange 'em in a single layer, about as wide as the charge.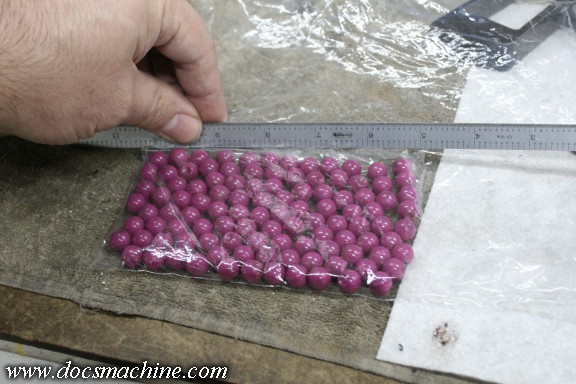 Fold the bag over...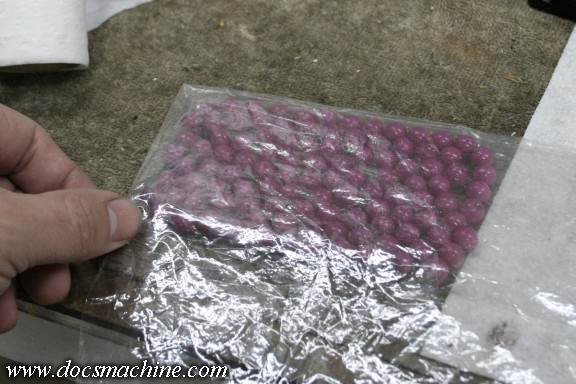 And then over again.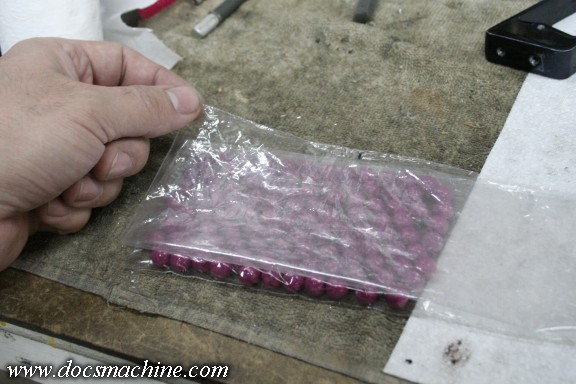 Snip off some of the excess, leaving a tag end...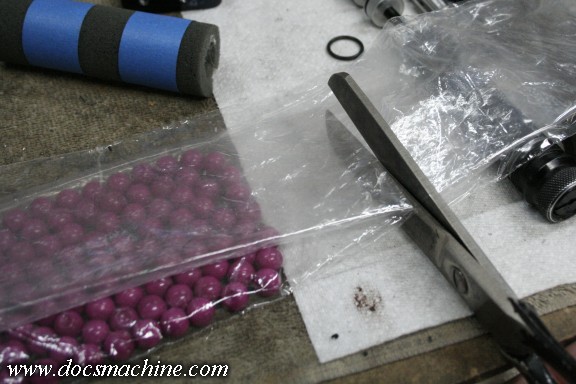 Gently wrap the flat layer of balls around the charge, leaving the extra layers of plastic bag on the inside. That way, only the single outer layer has to rupture to let the paint fly. Another loose strip of masking tape holds it in place.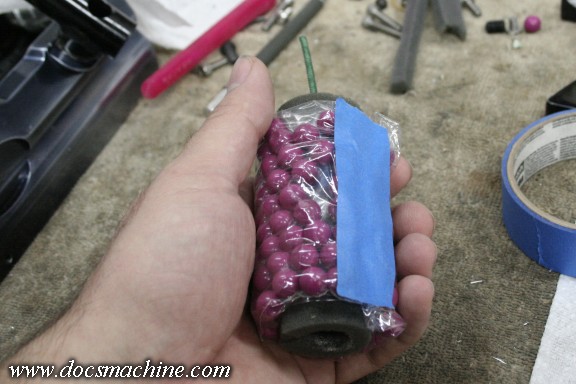 And done! Your complete paintball grenade!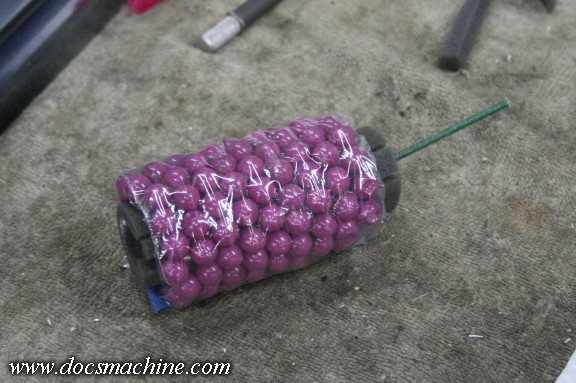 Now, I haven't tried this yet. It was too late in the evening by the time I got it wrapped up to go out and try it. I'm going to try to arrange a video camera in the next day or two, and some sort of target to see how effective it is. I figure I'll just stake out some large sheets of cardpaper at different distances, and see what our blast pattern- if any- looks like.
I also only have the one charge.
I might be able to get more, but I don't know. If I could, I'd love to try a double-layer version (use two different colors to see which one survives better) and for that matter, try one with full-size .68 cal paint.
And if I do get a video, yes, I'll YouTube it.
Doc.