Several weeks ago, I had a guy come by and bring me some big parts. Big
broken
parts.
He said, "I need one just like it".
Naturally, I replied, "Exactly like it? Why don't you use that one, then?"
Every machine shop, repairman or heavy-equipment guy has heard the old story, where they (or a friend of a friend, etc.) were doing this job off in some distant locale in a foreign land. It was some tough repair of some big old equipment, and during the process, a part is found to be damaged, but no suitable replacement can be found.
So the boss/foreman/machinists mate/etc. takes the part to the local indigenous people's blacksmithy/knifemaker/machine shop. He hands it to the guy at the smithy and says "make me a new one of these". The smith, who has barely a passing knowlege of english nods, smiles, and says "yes, sir. Come back in two day."
The foreman returns in two days to pick up the new part, only to find the smithy was as good as his word- he'd duplicated the part
exactly
, right down to the stripped threads and wallowed out keyway, including copying the scoring on the shaft precisely.
I've heard one version or another of that tale a hundred times. Sometimes it's the ships' machinist mate who disappears into the engineering spaces to produce an exact copy of a broken mixer part for the galley, other times it's an oil or logging company out in the South American jungles who gets a perfect copy of a winch-drum shaft from the local blacksmith.
But I digress.
Anyway, this fellow brought me the remains of a planetary geartrain that turns the cab of an older excavator. Replacement parts can be had- at a price. That price is high enough we're making new ones, and even after heat-treating, he'll still be thousands ahead.
But, they're big enough and tricky enough that these are "get to them when I can" parts. They're also 4140, meaning HSS tooling doesn't last long.
So far I've blanked out the three big gears and now the shaft...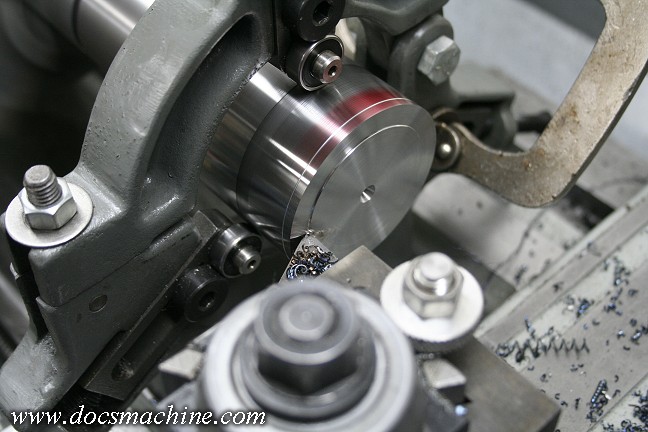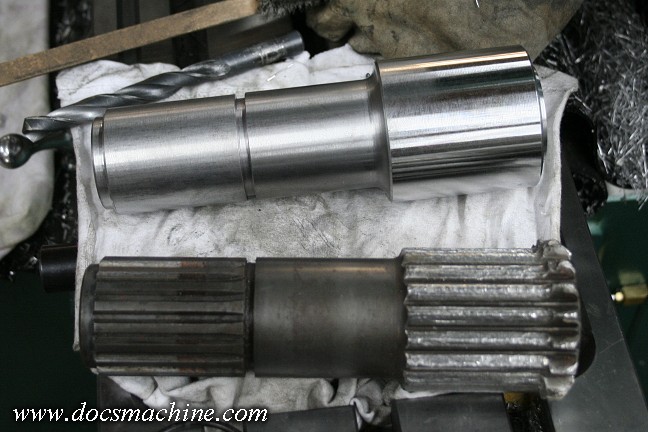 In both cases I had to sort of extrapolate what wasn't there.
But, now the fun begins. The last time I had to spline some 4140, I had to make a cutter specifically to do it- HSS just didn't hold up. These teeth are mighty large (comparatively) and that might not be possible- or at least, as easy.
I went and looked at a tool-and-cutter grinder in the hopes I could possibly grind one of the dozen or so spare carbide-faced cutters I got in that big horizontal-cutter stash a while back, but it looks like I'd have to buy a pretty expensive diamond wheel and make my own fixtures to do it.
Neither of which is impossible, of course, but as always, I'm trying to come up with an easier- or perhaps just different- way.
Doc.