Ladies and gentlemen, I am proud to present a small project I've been working on recently, that I have dubbed
The Duke
: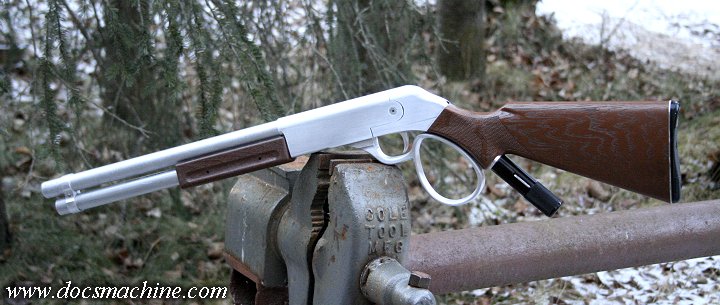 Named, of course, after John Wayne's nickname.
This was, of course,
Project X
I posed about a couple of weeks ago- those links are now obsolete; the full, uncensored writeup
can be found on my Paintball Projects Build page
.
A brief synopsis: I've been thinking about trying to build something like this for a very long time (
link to a 2002 Tinker's Guild post
) and kept jotting down notes and drawings. I sat down to really chase down a few of the designs in 2013, but never got around to any actual machining.
Last fall, a buddy of mine and I were chatting about it, and pitched a few ideas around. I'd gotten pretty well caught up with customer work at the time, and decided I'd finally give it a try.
I started on November 1st of last year, had a "
proof of concept
" within a few days, and a
fully functional prototype
by Thanksgiving.
Unfortunately (at least in this case
) customer work and other projects had to take precedence again, and I basically sat on it 'til a couple of weeks ago.
The original plan was to keep it quiet until, if I was lucky, I was able to produce a short run. We all know how preorders and airsmith promises go around here, and I really didn't want to commit another one.
But, I decided I needed a kick in the pants to get back on track. I am once again nearly caught up on customer work, and I'd like to spend a good chunk of August working up a more-refined "Mark III" model. So I decided to "go public"- I'll be posting regular updates as I work on the next prototype, and we'll see where it goes from there.
However, please keep in mind THIS IS NOT A PREORDER! I only have, at best, very vague and preliminary plans to try and produce this, and as we all know, lots of things can go wrong between now and that often-mythical future date. I am neither asking for nor accepting any money. If you would like to help make this project succeed,
consider joining my Patreon
- at least there you get extra comics and artwork.
I have some funds set aside specifically for this- IF (and that's a BIG "if") I can pull this off, I will be financing it entirely out of pocket, and no money will change hands unless and until I have finished, tested, ready-to-go product in hand and ready to ship.
Now, details on the Duke itself: It's a Phantom-based lever action with a 15-round underbarrel feed tube, and run on 12-grams. The prototype has seen considerable testing, including actual gameplay: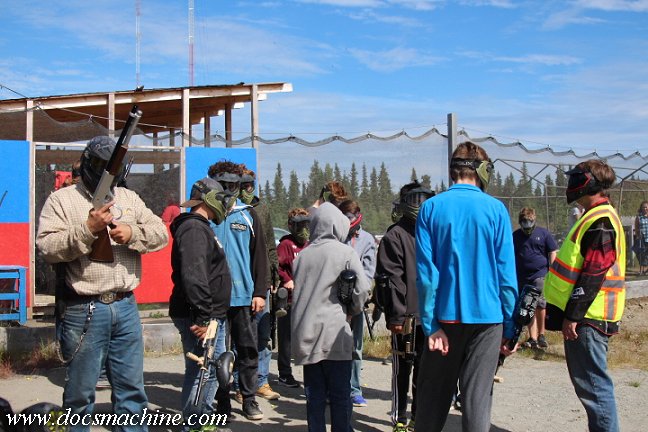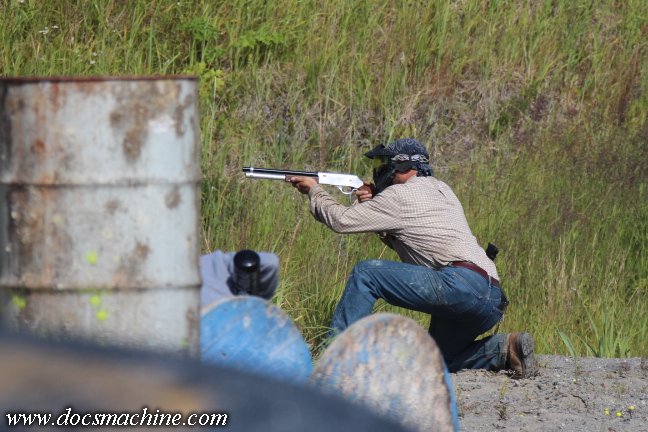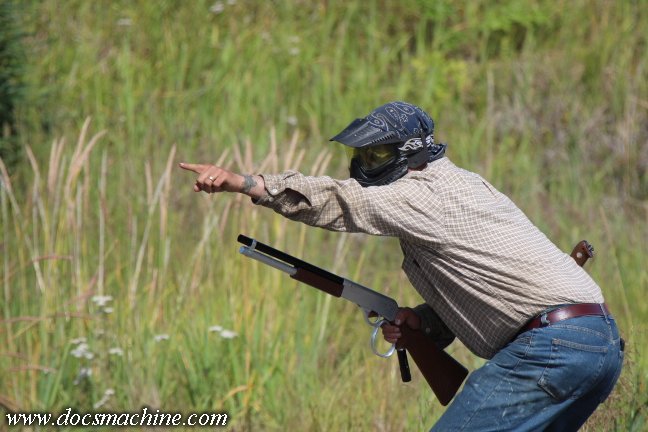 And to answer the one question everyone is asking right now,
yes
, you can flip-cock it.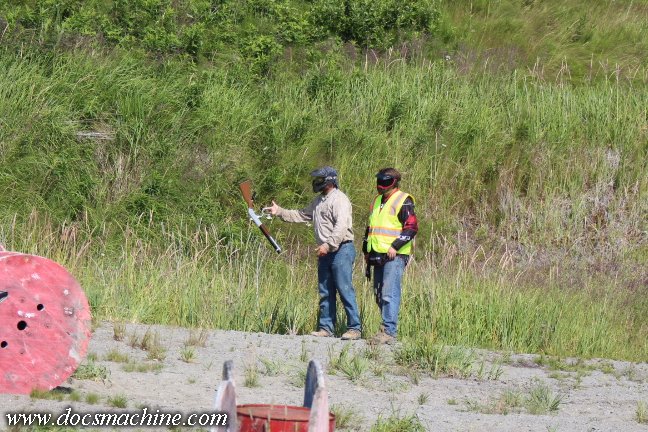 That was one of the first requirements I had in mind- I wasn't going to make it if you couldn't flip-cock it.
Really, I flip it more than I work the lever normally.
The marker is fairly lightweight, and I made the lever and cocking mechanism very stout- and the 3rd gen prototype will be stronger still.
The only real drawback to the current prototype is the feed- right now, you have to use an allen wrench and disassemble the feed tube to load it. My buddy up there went out on the field with 20 rental newbies and a couple of local tourney wannabes with just ten rounds, and no way to reload. (That's why you see the Nel-Spot as a backup in the 3rd picture.
)
I'll be spending a lot of time on the feed system on the next-gen prototype, as well as several other major refinements like a wooden stock, better foregrip, built-in 12-gram changer, and so on.
I hope you'll follow along!
Doc.