Last month, I was having some work done to my truck, and stopped in a small mom-and-pop auto parts store several miles outside of town. I hadn't been in there more than a few times since it IS so far out of my way, but in this case, it was near the shop that was doing the work, so I swung in to grab some gaskets.
After getting my parts, I noticed a bunch of old paintball guns hanging like sides of meat from a couple pegboard hooks. There was about a dozen, the proprietor said he'd bought them from a friend to help the guy out, and was selling them off to anyone interested.
There were a little over a dozen- a couple cheap JT stacked-tubes, a Gryphon, an F4 Illustrator, a Model 98 and an M98 Custom, a couple of others I didn't bother to identify. The one interesting one was an old pre-'98 Autococker. Virtually zero mods except for an ANS 3-way and an old Clippard "mini" ram, standard flat black and right-hand feed. Not for sale, that was "his" marker.
No biggie, I hardly need another 'Cocker, and I wasn't going to waste my limited cash on any of the others.
I did look them over a bit though, and spotted something at the back of one rack- an old Tippmann 68 Carbine.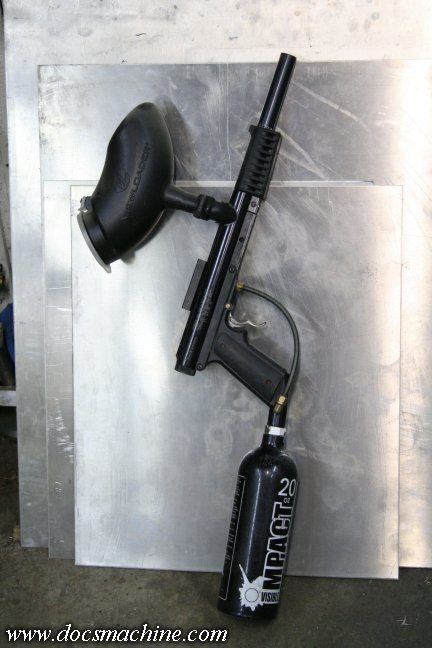 What caught my attention, however, was that it had a 2-finger trigger. A
metal
2-finger trigger.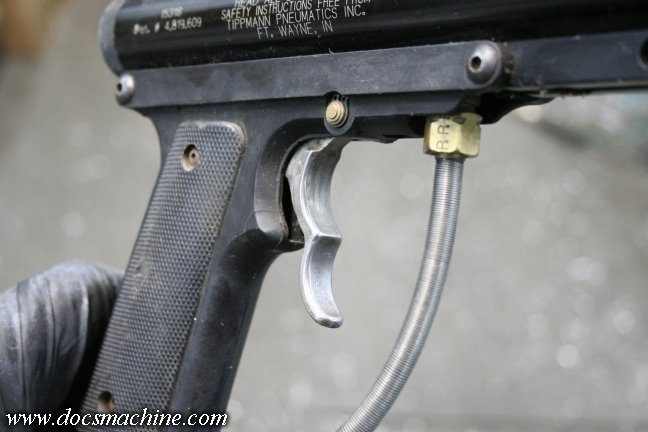 Wait a second, that's
MY
metal 2-finger trigger!
Now, for you young pups, the Tippmann Carbine never came with a 2-finger trigger, or a 2-finger trigger guard. And back when they were relatively new- about 1997 or so- no one made any aftermarket triggers either.
They were, however, metal- specifically, I think, MIM steel. That is, Metal Injection Molded, a fancy low-temperature casting method. Being steel, I was able to weld on a chunk I'd cut from a section of steel tubing, to form a second half of a 2-finger trigger.
I started doing these, in limited numbers (I'd bet less than a dozen, maybe only about four or five) even before I hung out my airsmith shingle. I started out modding my own, and every time a customer at my paintball field wanted one, I'd just swap out my frame for theirs, complete with trigger, and then later, when I had the chance, I'd mod the frame again.
The early ones weren't too pretty. They were solid and smooth, but with my income at the time, Dremel sanding drums and even just sandpaper were often luxury items.
Shortly after I opened Doc's Machine (July 1 of 1998!
) in fact that same summer, as I recall, I bought a Caswell electroless nickel plating kit, and after that, every Carbine trigger I modded got bright polished and nickel plated.
So this one is one of those pre-'98 ones. As I said, one of maybe as few as 4 or 5 that I did back then. I had to have it. He charged me $20.
Meaning that, after very close to 20 years, the old soldier has finally come home.
Doc.