In the
Airlines Project
thread, I spoke of putting a compressed air outlet on my workbench, close enough for easy access to my main work area. This particular area was a short section left over from when I rearranged and rebuilt my bench several years ago, to mount the wide map drawers.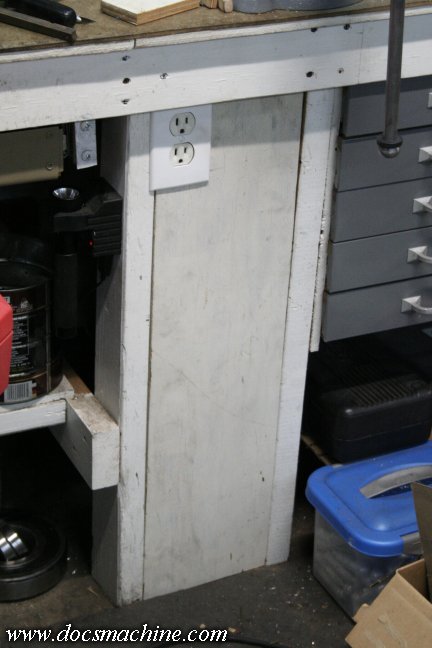 It was too narrow for shelves or drawers, I didn't have anything tall and thin I needed to store in there, it was too small to stuff a trash can into, and so on, so it just sat. yesterday I made the plywood cover to enclose it, and the plan is to connect the new compressed air system to that cover, via a bulkhead fitting of some sort.
Now, the trick is, I wanted to keep the quick-disconnect kind of out of the way, as the vise directly above is a busy spot on the bench. I didn't want a QD sticking out that might interfere with something long and thin clamped vertically in the vise, I didn't want it oriented so that swarf from any sawing or filing activities might foul it, and just generally keep it out of the way so I didn't bash a knee on it, or snap it off with an errant hammer swing or something.
So after pondering it for some time, I came up with something i though would work, and then painstakingly modeled it in wireframe CAD: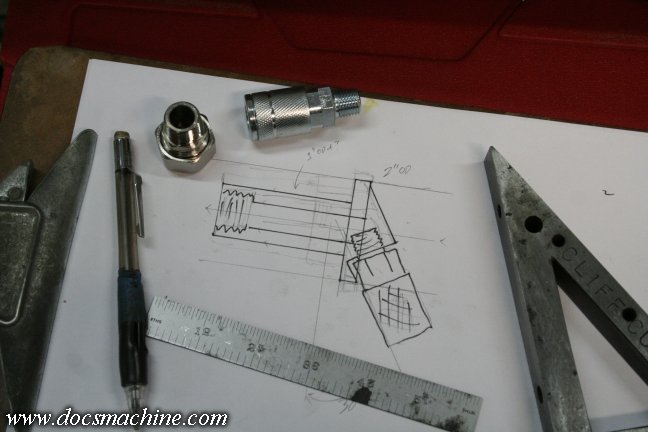 I wanted to make it so the threaded junction was basically as close to the plywood face as I could get it, and angle it downward at 60 degrees, rather than the normal 45 degrees, for that little bit of extra clearance.
So, I went and bought 3-1/2" of 2" OD aluminum roundbar...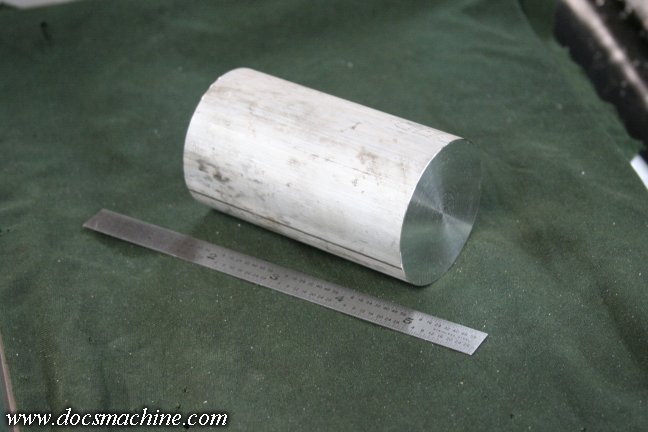 Milled approximately 2-1/2" of it down to 1" thick and centered...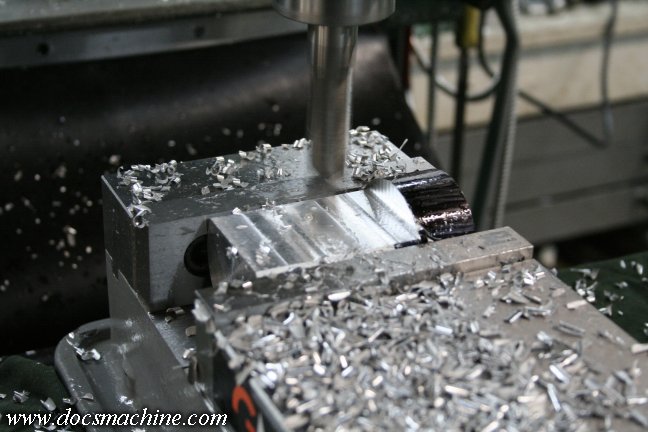 And flatted the short sides in case I need to clamp there.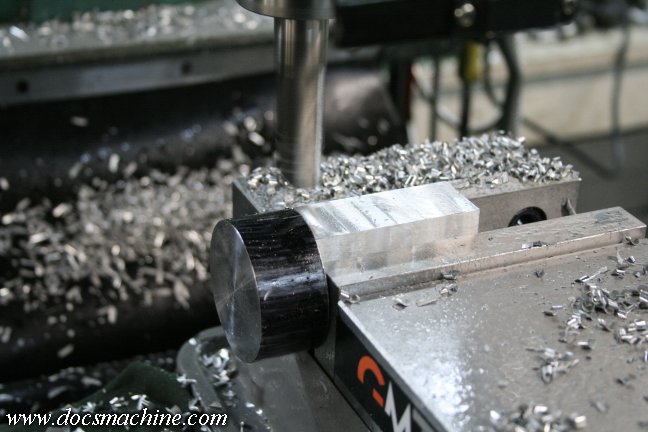 Using a 30-60-90 triangle, I set the thing up in the vise and milled a centered flat 'bout thar.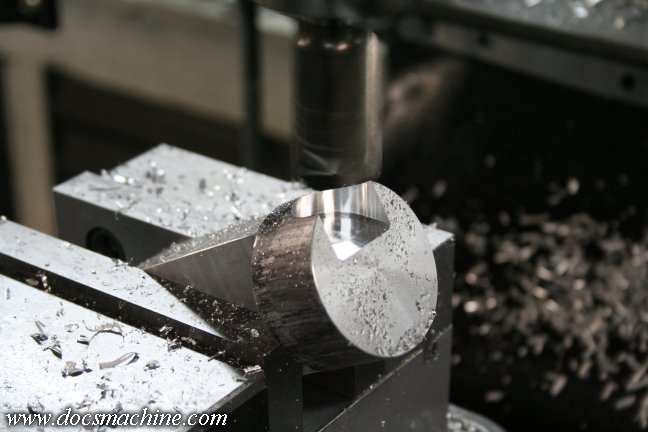 That got a blind hole drilled and tapped to 1/4" NPT...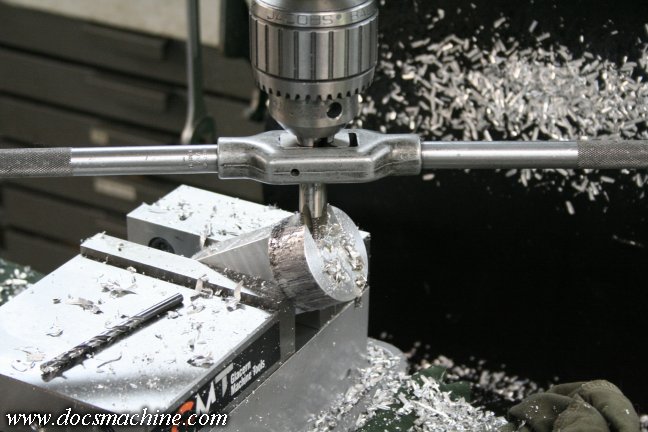 Which was checked for depth...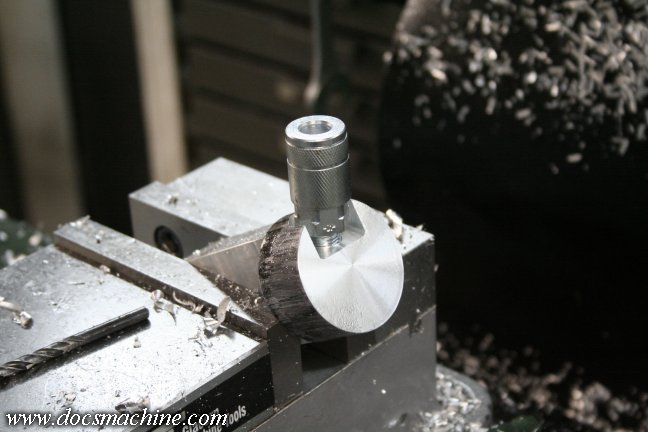 And then milled flat and true to the axis of the fitting.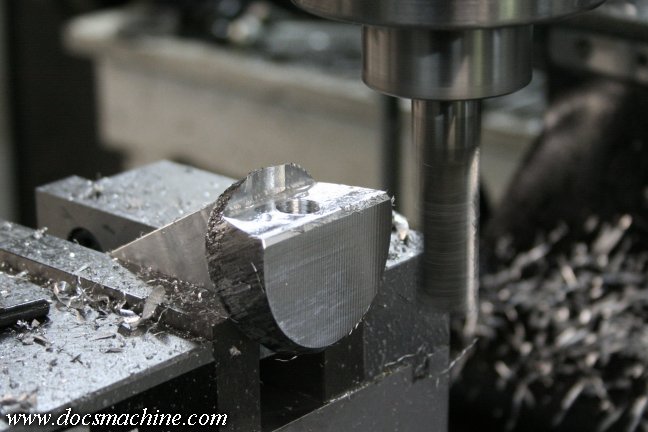 Rotating the part back to vertical, I then flattened off the sides of the boss, also to 1" thick.
(Continued next post)