It's not much, but geez, I've been spending so much time on the books lately I think I was forgetting how this stuff works.
Anyway, I
really
need to get my Shapeoko router up and ready to do some work, which means three things: A dust enclosure, a dust-collection system, and a new spindle.
I could have kept using the DeWalt router it came with, but those are loud, and usually die in flames in anywhere from 100 to 200 hours. I'd picked up a 1.5KW (2HP) high speed water-cooled spindle off of eBay, but as I mentioned not too long ago, I'd outsmarted myself- the 2HP version was too big and heavy for my machine.
I sold that off to another Guilder, and bought myself an 800KW/1HP version. I'd started on a set of mounting brackets a while back, and as I was trying to remind myself where the heck I was in the shop before being so rudely interrupted by this whole book thing, I found the half-machined blanks.
An hour or two of finish machining...
And
voila`!
(Which I'm pretty sure is French for "hey, come check
this
sh*t out!"
)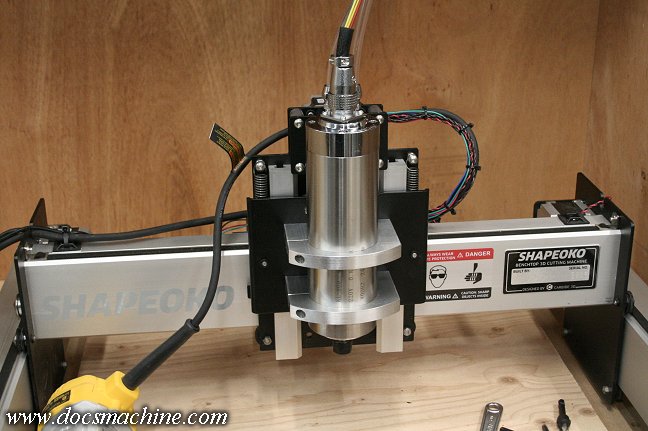 They're pretty basic mounts but strong and functional. I'll need to undo/redo all the cables, as the router cord is firmly zip-tied into place, and then figure out something to do with the water-cooling hoses.
I'm now accepting recommendations on what sort of water pump to get, too. Anybody know if there's a one-piece reservoir type container with a pump built into the lid, or something, out there? That doesn't cost an arm and six of my eighteen toes?
Doc.