Since we don't have an official page for them yet...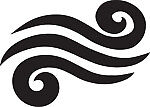 Tenrai Ocarinas is an American ocarina company founded in 2010 that currently makes 6 hole pendants and 8 hole extended range pendants.
The 6 holes have a short windway, allowing easy fipple bending, and the 8 holes actually have subholes, which is rare for a pendant and makes them fully chromatic. Despite their high pitch, Tenrais sound sweet rather than shrill. They are also small and light enough to be worn as a necklace. They come in a variety of glazes, from simple to flashy. In the future, Tenrai will also be making 9 hole "hybrid" ocarinas, and standard 12 hole transverse ocarinas.
They sell off of their Ebay page:
http://myworld.ebay.com/tenraiocarina/
You can also contact them for special orders through their email:
info@tenraiocarina.com
Facebook:
http://www.facebook.com/tenraiocarina
Website:
http://tenraiocarina.blogspot.com/
Reviews:
6 hole:
http://theocarinanetwork.com/topic/7016253/1/
http://theocarinanetwork.com/topic/6984548/1/
8hole:
http://theocarinanetwork.com/topic/7028944/1/