Map and info on MDP for Hyak -
Joined: January 1st, 1970, 12:00 am
---
Joined: November 29th, 2005, 9:21 pm
First item to note, since when did the run at the lower chair become an intermediate run? In the article in todays paper there was mention about consolidation of base services to central and summit, will we be without guest services at Hyak. I have hiked this new area above rampart run and I do not see the necessary steepness for ski runs. Also, I would think a re-opening of the backside of Hyak and lights would create more excitement than the lifts off to the right. Remember the days when night skiing on Friday and ssaturday night at Hyak, packed both parking lots....I like the ideas of a lift servicing Blowdown, etc. maybe if we could get some brush clearing on lower blowdown we could ski that area again.... plus some thinning of the woods to the left of lower blowdown, would make what is a fun run, into a great run....

The big question and what keeps me making payments on my condo...when will this wonderful plan take effect....maybe my kids will get to enjoy a return to glory at Hyak, with their kids!

On a side note I heard evrything but the lower face was in decent shape, maybe they could open and keep the lower face closed to skiers....I can only hope!
---
Jack, can you post a similar zoom-in for Alternative 1 (no action plan) so folks can see what's there now for comparison with this one?
You can get quite a good bit of speed at the top of the lower run and it has a couple of (very low) rollers so it's not a true "never-ever" beginners slope. Hence a blue.
Lack of an easy return plus the long hike up to the K chair are common complaints given to expain why Hyak gets so little business...
The existing cross-back is a major pain for snowboarders and usually involves some skating for us two-plankers.
The proposed Creek Run chair would offload quite a bit higher up the hill above the existing Millwaukie Road/Serpentine/Creek Run (trail 55) instersection. It would be even be above the existing road/cross-country trail that comes out there from the top of the Silver Fir crossover. I've also taken some tree runs in there and agree with you that the steepness would be marginal, especially if they only went as high as the roadway, but with a cut & or groomed glade i think they would make fine low-angle blues.
This would allow access to the NEW 65A + 71 trails that make up a new cross-back trail to Silver Fir chair. Note the dark green covering the existing cross-back? That shows a revegitation of the old route is planned.
I believe the concept of wider gladed runs wih the large trees left vs. narrow clearcut ones is starting to take a place in hill design.
Reopening the backside and turning on lights would require a LOT more man-hours for operation, there's that cost to be offset by mayby no increased income. I think a big reason Hyak/Pac West used to be packed was due to the cheaper lift tickets when it was competing with the other 3 outfits operating at the pass. Now that there's no price break, Central with it's huge park, Alpental with it's steep and gnarly, and both with dramaticly inproved uphill capacity via HS chairs they get most of the business.
As to when it will all happen, it's all "in the works" and has been for quite some time.
Some things (like the Silver fir HSQ & Dino/Kechelus replacement) will happen pretty fast if they have a decent fiscal year. Some (like the Alpental top Gondola & resturaunt) will never happen but are barganing chips. Plus, if they don't ask, they won't get.
---
Joined: January 1st, 1970, 12:00 am
---
Run #49 coming into the creek run up load could draw a lot of skiers from silver fir. Run # 71 is radically better than the existing run. The difference of Mill Creek to Backside is more subtle, but it looks like it will off load a bit higher on the hill, and that the users won't cluster so badly. Plus, it looks like it extends a bit lower on the bottom, which would help a lot.

As for me and my ski-plans for the next few (up to 15) seasons, they have just about finished-off my patience. While Booth fiddles, Crystal is building, and they are doing a very nice job. The new lodge is already HEAVILY used, and makes a HUGH improvement for families. Even if it is mixed rain and snow at the base, you can stay 1000 feet above it all day AND have a ton of kid-friendly terrain while there. Crystal has also learned to winch-cat, and that has completely changed the character of Green Valley. Now there are (generally) almost no rocks on the upper-ridge, plus the HSQ means it is pleasant to stay in the valley for an extended time.

After a few days at Crystal, we came back to Central and as we got to the bottom my son asked "Is that it?" Grow 'em and lose 'em continues to be the theme at the Summit.
---
Joined: January 3rd, 2006, 4:56 am
if the gondala at alpental were to happen where would it unload? at the top of eddelwiess or in the near back country

Last edited by
steepndeep
on January 4th, 2006, 2:39 am, edited 1 time in total.
---
Joined: January 1st, 1970, 12:00 am
It would be installed to unload at the mtn top resturant that would be built somewhere near where chair 2 unloads.
---
it seems like there's not much room up there

---
---
Joined: January 1st, 1970, 12:00 am
I've enhanced the photo a bit so you can see it better. I would guess the building the Gondola unloads to is the mtn top resturant.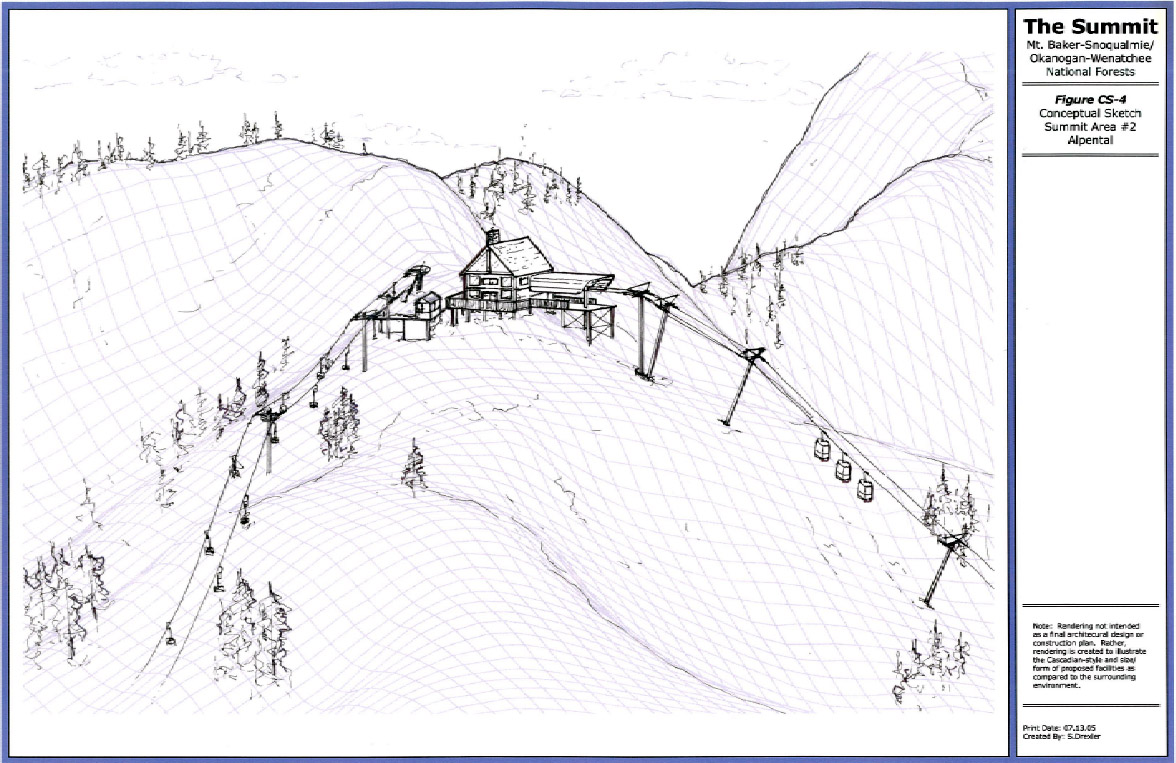 ---