Master Class 1
Clanrat: Start to Finish
with Hannanibal
Lesson One
Model Preparation and Assembly
INTRODUCTION
In this first lesson, we will cover:
Snipping the model from the sprue.
Cleaning off the unsightly mould lines.
Removing any grease from the components.
Gluing the parts together.
I'm aware that nearly all of you will know exactly what to do here, but for the sake of completion, I'll go into as much detail as I can about how I do it. I will be using the body and weapon arm outlined in red from the Skaven Clanrats box set, as shown above, but feel free to use any Clanrat model, either from the Clanrats box set or from
The Island of Blood
.
MATERIALS NEEDED
Plastic Clanrat model with base
Clippers/snips for plastic clipping
Sharp modelling knife
Warm (not hot) water from tap to wash model
Tea or coffee cup in which to soak model
Washing-up liquid (liquid dish soap)
Toothbrush (use one of your old ones, and keep it just for models)
Kitchen roll/paper towels (toilet roll is not recommended, as it tends to tear and add fibres to the brush)
Thin polystyrene cement (thin plastic glue) (I use Humbrol precision poly)
MODEL
The first thing to do is clip the components from the sprue (plastic frame). Take your plastic clippers, and clip the Clanrat body and weapon arm from the sprue. When clipping try not to clip too close to the component, as you risk taking a big chunk out of it. It's best to snip off a bit of the frame along with the component, and clean the excess off once it's free.
Once your components are free, snip off any excess frame.
REMOVING MOULD LINES
For the cleaning of mould lines, you will need to use a straight-bladed modelling knife or scalpel like this one.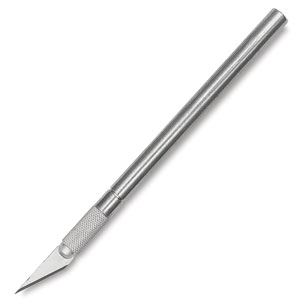 THE BLADE MUST BE SHARP. I can't stress that enough. Blunt blades catch and slip, and are much more dangerous to use than sharp blades. Also, if you use a dull blade, you will end up gouging the model rather than finely slicing off the ultra-thin mould lines.
Take the blade in your dominant hand, and your component in the other.
Scrape away the mould lines from the model by using the tip of the blade, and scraping towards yourself just a couple of millimetres at a time. Many tutorials, for safety's sake, recommend scraping away from yourself, but in my experience, this makes the blade jitter and slip, causing unsightly gouges on the model. I also scraped away the studs at the bottom of the loincloth and filed the area flat. This isn't essential. The studs on my model seemed slightly miscast so I chopped them off. Feel free to keep them if you want.
Follow the mould lines around the component, being careful not to cut too deeply, and using only the tip of the blade, especially over textured areas like fingers, toes and bandages. The idea here is not to cut into the plastic, but to glide the blade over those tiny lines, and separate them from the component.You may find small curls of plastic deposit in grooves. If they do, simply use a stiff bristled brush to dislodge them after all the mould lines are removed.
WASHING
Once you are satisfied that your components are free from mould lines (and it's best to be extra critical here), it's time to wash off any grease that may have adhered to the components. It's best to wash the model after mould line removal, as grease and oils from your hands may have been deposited on them unintentionally. Paint or primer will not stick to grease, so this stage is pretty important.
Make up a cup of warm (not hot) water. Add a drop of washing-up liquid (liquid dish soap) to the cup, and stir until it foams slightly. You will only need a drop, as a little goes a long way. Drop the components in, and leave to soak for a minute. Take them out, and rub them lightly with a wet toothbrush, getting into all the cracks. Once they have been cleaned all over, rinse them off in warm water, and leave them to soak for a minute in a cup of clean, warm water just to sure all the detergent is gone.
It's probably a good idea to wash your hands at this point just to make sure they are free from grease and dirt. From here on we want the model to stay as clean as possible.
Take them out, dab them dry with a piece of kitchen roll (not toilet roll as it will leave fibres and dust on the components), then place them on another piece of kitchen roll to dry completely. Make sure that the parts are completely, insanely dry before gluing them together. Try to touch them as little as possible from now on.
GLUING
When dry, take the body component and a base, and dab two small dots of polystyrene cement (plastic glue) onto the feet. Less is definitely more when using this glue, and just a tiny dot will work much better than a big blob. Place the body onto the base, and press lightly for a few seconds, allowing the glue to bond slightly.
Leave to dry for at least two hours before attaching the arm. If you want to be extra safe, leave the glue to cure for a day, securing the body to the base.
When gluing the arm, just add a tiny dot of glue into the body socket, and place the arm in. Try not to move the arm much, as it will cause the glue to string and spread to unwanted parts of the model.
PHOTOGRAPHY
Leave the model to dry for a day, and then take a good, close-up photograph of it, using a macro setting if you have one. Make the photo clear and bright, and upload it here for comment and criticism before
17 May 2013
.
Other than this photo shoot, try to touch the model as little as possible so as not to risk getting it greasy. Keep it out of the way of dust by storing it in a box or a drawer until the next lesson, which will cover how to prime the model with spray primer.
---
LESSON COMPLETED BY
Git-Git
Skaven Rich
Rahotep
Euryales
Skritrik
CapAmr05
Olorin the Ancient
Ghaznub
Jona
Nazarath