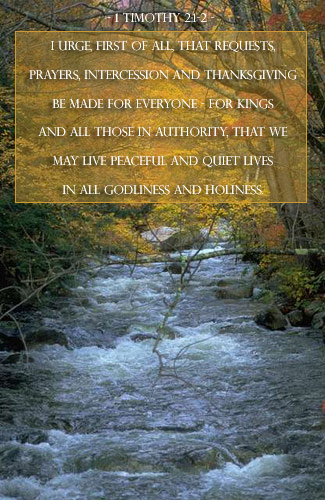 James 5:13 ~ Is anyone among you suffering? Let him pray. Is anyone cheerful? Let him sing Psalms.

Is any one lost and needs salvation? pray for them that they may know and receive Jesus as their personal Lord and Saviour.

Here's a sample of a prayer List. It is very important that we pray for one another, that we pray for the needs...Pray for anything that you want changed. Pray for someone to be blessed or be released from any addictions or fornications or any situation.

There are numerous concerns out there that we can bring to our Almighty God in prayer, and as we pray expect for HIS intervention and wait for His miracles! Be thankful for whatever His will for you.

Some of the Prayer List:

1. Pray for the Nations -
Philippines
USA
Canada
Israel and any of the countries you
are burdened to pray for.

2. Pray for the Leaders - for honesty and sincere service
of every Gov't leader in all the nations

3. Pray for the unsaved, lost and confused.

4. Pray for the poor, the helpless and the oppressed.

5. Pray for the unwed mothers, unborn children and every orphan out there.

6. Pray for the safety for all of us.

7. Pray for the alcoholic and for their healing

8. Pray for the drug user and their restoration

9. Pray for the drug dealers to be caught and be changed for the better.

10. Pray for the Prostitutes, pimps and all sinful activities and their redemption.

11. Pray for the Schools.

16. Pray for the Teachers and the Principals.

17. Pray for the Students.

18. Pray for the Churches.

19. Pray for the Pastors, Evangelist, Ministers, Praise and Worship Leaders, Sunday School Teachers.

20. Pray for the women and men, and youth that are incarcerated.

21. Pray for the Prison Guards and Counselors

22. Pray for a closer relationship with Jesus.

23. Pray for the idolators to be set free.

24. Pray for the truth to prevail and to set the captives free.

25. Pray for deliverance of those who are being used
and abused.

26. Pray for the celebrities to be saved and be positive
role models to the youth.

27. Pray that the Word of God be spread around and for a
spiritual revival all over.

There are multitude of prayer concerns...speak out your personal
needs and concerns.

There is Power in Prayer so never stop praying......
There are great needs in this world and we need some
Serious Prayer Warriors for God.