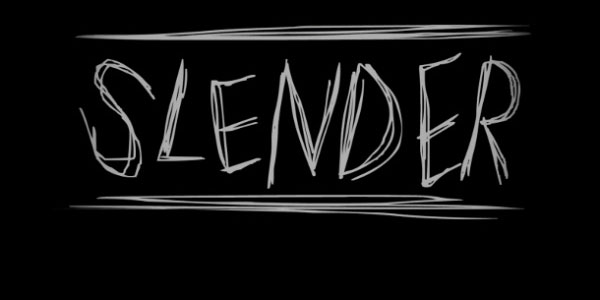 Slender is a free indie horror game designed for the player to piss his pants by the time he's done with it. The controls are simple:
W S A D: Move
Left Click: Pick up a page
Right Click: Turn flashlight on/off
Left Shift: Sprint
Your task is to navigate through the woods and find eight pages. That's it. However, there's a catch. One, it's very dark, and you're all alone with nothing but the sounds of the woods to comfort you.
You can download the PC version
HERE
, and it's best to play it in the dark with headphones on. Good luck and godspeed.
Okay, so did you wander around aimlessly? Lost? Get caught fast without knowing what was going on? Fear not, there is a bit of strategy involved with this...



First of all, notice that the map is circular. The best way would be to go left upon starting and get the page from the tree, then move up the road and get the one from that truck and shack. It's better to go into the house and get the one from the tanks outside next to it next because the more pages you get, the more the Slender Man gets aggressive about chasing you. The house is a death trap with narrow hallways and places you HAVE to pull a 180, and the tanks outside are right after that. Then I'd go to the tunnel and then to the pillars and work my way around. Also notice that there are 10 spots and only 8 pages. That's because the pages never spawn in the same place every game. You may find a page in one spot one game, and don't find one there the next.

If you find one page, then the Slender Man takes notice of you, he is now looking for you. If you find him before hand, it's purely by accident. Notice the base drum sound effect.
Page 2: He begins to advance
Page 3: New sound effect, he begins to get aggressive
Page 4: Gets even closer
Page 5: This is when things start to go down. A massively creepy sound effect starts playing and you have to constantly sprint in short bursts or else the Slender Man will spawn directly behind you, resulting in an instant game over. Really, you're walking along when you TURN AROUND BY YOURSELF and he gets you. Yeah.
Page 6: This was as far as I have gotten so far. I assume he gets a little more aggressive.
Page 7: I dunno what happens here. New sound effect, and I assume that Slendy here is pulling no punches. He is out to get you.
Page 8: You win! The creepy sound effects stop and you're free to roam around.

Except that he does get you anyway.

Anyway, once you beat the game, you unlock the daytime mode, which as the name implies, you get to play in the daytime. The game otherwise is unaffected. After beating daytime mode, you unlock $20 mode, which plays this ridiculous song when Slendy gets close. It's rather humorous and takes away virtually all scariness.

Anyway, hope this helps you all out and let me know if you have any more questions about it.