Number 10
Okay....now wait a second hear me out! Chibi-Robo looks semi-babyish, but it's really fun. Any game that can make cleaning up around the house, such as cleaning up spots, taking out trash, or fixing dinner addictive, is the sign of somethin good. Aside from doing daily chores the house is seemingly an adventure for a tiny robot and exploring new places proves to keep your interest.
Number 9
At first I was skeptical when I first heard about this game. All Kirby was going to do was race? I mean seriously?
But actually besides just being a racing game, KAR actually has a lot of elements and manages to give it a Kirby feel regardless of the genre this game fits in. Kirby can swallow various enemies off the track and copy the ability of course, but the way the abilities are used for while racing make for a fun Race/Battle formula. Gliding is another feature not usually in racing games, letting the player soar through the air for a period of time either onto alternate routes or over other player's heads.
On top of that there is a second mode called "City Trial" where you are given an amount of time to explore a big open area. You can collect boost and defense items into a vehicle of your choosing. This will give your machine an edge when competing in the final challenge at the end which pits you in various races or battles.
All in all Kirby Air ride is one of the most fun racing games I've ever played.
Number 8
Even though many people consider Animal Crossing to be another baby game as well, there may be a few here who understand the appeal and the addiction of this game. Animal Crossing is basically a weak "Life" simulation game but the game isn't weak at all. I actually got this game expecting to be semi-bored, even though I figured it would be a little interesting (There was a sale and I needed a third game to get one free.
) and came to find out Animal Crossing was a neat little world where things were happening pretty much everyday. Running chores and errands became addicting, so was fishing and bugging, mailing letters, shopping, house interior decorating, picking fruit, finding fossils, gossiping with villagers, entering the raffles, playing NES games (Oh yeah. You can play old NES games like Donkey Kong and shizz), getting rare wallpaper from a starving artist, participating in Fishing tourneys....
Oh yeah. ALL THAT. And I wasn't even done.
Needless to say I was totally hooked on this game. Ironically I ended up trading the other two games I had purchased after a while and Animal Crossing was the only game from that batch I kept. Sure it got boring to me after a year or so.....but when first played....Animal Crossing is a seriously fun game. =p
Number 7
What pulled me into this was playing Smash Bros. I knew Samus and that she was a female bounty hunter in space, but I had never played any of her games. So I decided to start with this game and being somewhat stupid, I never even bothered to really read the back and see it was a First Person Shooter. (FPS's never really agree with me.
) So I was somewhat disappointed when I took it home, but decided to play it anyways.
God, was I glad I did that.
Granted the first few seconds bored the hell out of me, but as I progressed further into the space station I starting scanning things. I realized it was sort of like a mystery....I had to figure out what attacked the place. After I ran into the first weak pirates my nerves got a little on edge....I wondered what was around the next corner...and since it was my first time playing....I didn't know....
I was SO hooked after that. I found out despite the FP view, Metroid Prime was a true sci-fi adventure. It kept you on edge, you explored a planet full of hostile aliens, had epic boss fights, solved puzzles. It was awesome! Along with the signs of being a classic GC game, Metroid Prime also marks the beginning of my being a Metroid fan, making this game quite priceless in my eyes. :3
Number 6
What could have possibly been better than Metroid Prime? Metroid Prime 2 of course. Along with the features I loved in the first game, Metroid Prime 2 had some new likable features, such as the Dark Aether world, (which was a new thing for me in a video game. I had never played
Link to the past
) multiplayer, and the badass new villain Dark Samus.
Number 5
The ONLY game that could beat The Prime series in terms of Fear Factor....can be the one....the only.....RESIDENT EVIIIILLL! *cackles*
Seriously. Metroid Prime had it's scary moments mixed with puzzle and action, but Resident Evil had VERY scary moments with some realistic puzzle gameplay. The elements, the enemies the lack of MUSIC in some areas, were all designed to SCARE THE CRAP OUT OF YOU.
And of course I loved it because of this.
Number 4
The first Starfox game where Fox was finally coming out of his Arwing. People bitched about it sure, but how do I feel about it?
I will not lie....I believe Adventures could have been one of the best things to happen to the SF series. Not only did it introduce ground exploration to the later games, but it was one of the best Adventures games you could find at the time. The graphics were awesome and sometimes I STILL think it's slightly on par with the Wii.
Now sure, it broke away from the classic arcade shooting for the most part. But the game was so fun you really wouldn't give a crap if you played it. The story IMO isn't as messed up as some people would have you think, even though there are a few plot holes here and there. And even though it may have it's similarities, Adventures still has a different feel from the Zelda games especially with the inclusion of many Sci-Fi elements.
Finally this is the game that got me hooked. After I beat this game I became a Starfox fan. It's a classic SF game, even if it doesn't have classic arcade shooting.
Number 3
I don't care who scolds me, I will stand by my statement when I say I thought this was the best Zelda game EVER.
Zelda is a Adventure game and it gives you exactly that feeling: You sail to islands, climb mountains, sneak into places, fight monsters in climatic battles. Then you can even indulge in side-quests that are actually pretty interesting unlike most side-quests, such as following the "rich girl-gone-peasant" at night around the island. (Man that was fun ) The story is awesome, and the end boss is so climatic I was LITERALLY 2 feet from the TV screen, my heart pounding, something a video game doesn't do for me often. I thoroughly enjoyed Zelda: Wind Waker and it will be always be among one of my favorite games.
Number 2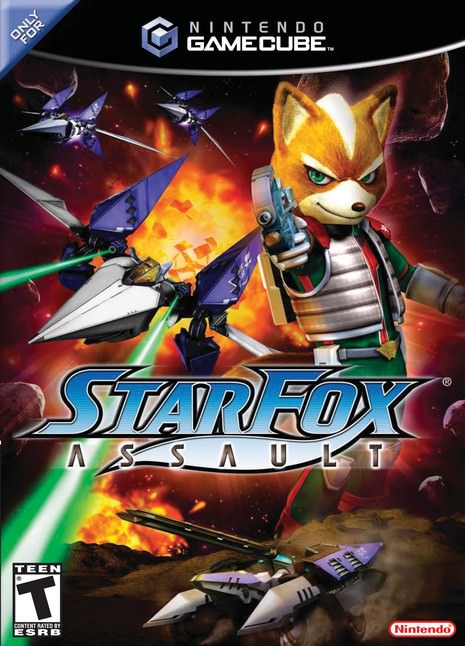 The best Starfox game so far. I say that because as far as the Starfox series go I think some things could be improved, but it's a fun and awesome game nonetheless.
The multi-player is awesome to play with friends, you'll spend hours on it. Arcade shooting mixed with the now kickass Rambo style gunplay on the ground make the missions even more fun than before. The Landmaster received a upgrade it being a semi-indestructible tank that can plow through enemies. The game is really it's title: It's Starfox assaulting some ass and that's what makes it so fun.
Number one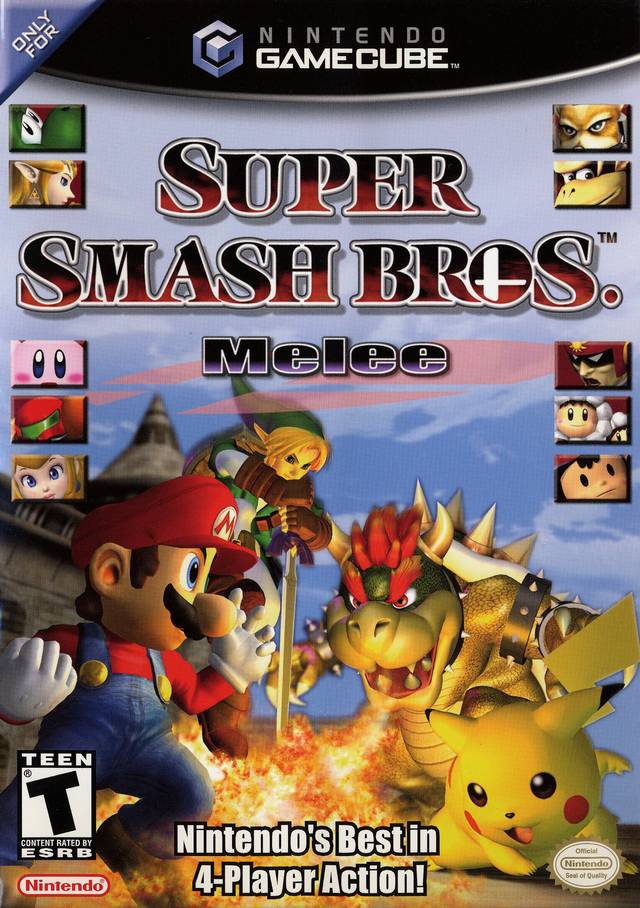 The reason I wanted a Gamecube so bad in the first place. XD
This game rocks ass. I play it into the wee hours of the night to this DAY. Of course Brawl is out now, but Melee still has some things that still make it worth your while. It's fast paced, with tons of furious fists. One aspect I miss from Melee that was never put into Brawl was how the screen shakes as you slam a opponent into a wall. The classic music is too good. The Melee Menu theme has become a popular music piece in the video game music circle and for good reason. Character's were introduced that kicked ass: Falco, Mewtwo, Marth, Gannondorf! I personally think that Brawl is the better of the three, but I have to face it, Melee just has that something that will never let me let it go.