In a remote spot in Mexico's Sea of Cortez, an 82 foot schooner was approaching the drop spot. Apart from its crew, sixteen high school students were in attendance, each one in a varying state of excitement or nervousness. About half a mile from shore, the boat stopped. The looks of apprehension on the faces of the teenagers were understandable, but unnecessary. There were no problems with the boat. They had simply reached the drop point. Quickly, the crew tossed the surprised cast members various flotation devices and ordered them off the side of the boat – they were to swim to shore, following the boat that was headed over to their destination. Gradually and reluctantly, the contestants jumped into the water, and started swimming behind the schooner towards land.
Meanwhile, at the shore, the two hosts, one guy and one girl, looked out to the ocean, as they received a call from the boat crew. The contestants had disembarked, were on their way to shore. As the camera started, the hosts nodded to each other, and the male started.
"Hello, everyone. I'm Zubin Wadia …"
"… And I'm Claire Monaghan. Right now, eight guys and eight girls are swimming here to the desert of Baja Mexico. It's hot, it's dry, and it's miles away from any civilization. They will be isolated here and have their willpower, strength, and stamina tested."
THE CONTESTANTS:
Zubin continued. "Once they get here, they will be isolated here, with no TV, Internet, or music. They will have to face the climate, the competitions, and each other, until one team proves they have the greatest ENDURANCE."
---
The sixteen contestants finally stepped ashore and were able to doff their life preservers as they approached the hosts of the show. One was a short mustachioed young man wearing glasses, a collared shirt and a fedora hat, the other was a young woman wearing a T-shirt and a beret.
"Hello, everyone. I'm Zubin Wadia …"
"And I'm Claire Monaghan. Welcome to Endurance and congratulations. You are the final sixteen out of a pool of thousands of contestants to be here. But just be mindful of this: in order to make it to the end, you will have to beat fourteen of the people standing alongside you, and that's the start of it. I mean, no version of Endurance has required anyone to swim half a mile from the start." Her chuckle elicited some laughs from the crowd. "Once you've dug deep and faced down the challenges in your path,
then
you'll know what it means to have true Endurance. But where are my manners? Let's start this game."
The eighteen people walked over to the two huts by the beach.
"These right here are your living quarters." Zubin motioned to the huts. "Now just to note, we're out here in the middle of nowhere, so we had to make things a little basic. There's no running water, no electricity, and your bed is a sleeping bag on top of a wooden slab. In short, you're living the life. Let's keep going." They left the huts for the time being and walked over to eight colored poles by a sawhorse with fourteen triangular pieces on it.
"These here are the fourteen pyramid pieces of Endurance." Claire stated. "Each of them represents a quality you'll need to show to win this game. They are:

DISCIPLINE

HEART

FRIENDSHIP

LUCK

COURAGE

LEADERSHIP

TRUST

STRENGTH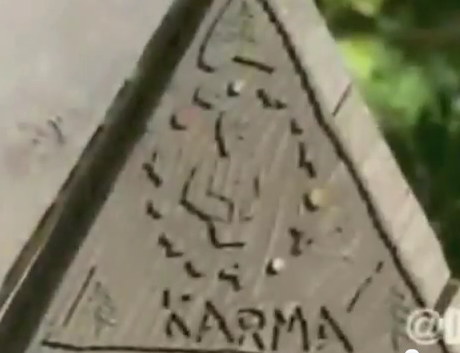 KARMA

COMMITMENT

KNOWLEDGE

TEAMWORK

INGENUITY
and

PERSEVERANCE.
The team that collects all fourteen pieces will be Endurance champions. There's two types of missions: ENDURANCE MISSIONS, that will be for these pyramid pieces, and TEMPLE MISSIONS, where one team will be sending two teams over there." Claire pointed to a structure some distance away, floating in the sea, in the shape of a tetrahedron. "The TEMPLE OF FATE. Two teams will paddle out there, but only one team will come back. So a hint of advice: if you want to win this game, you'd better stay as far away from there as possible." Claire and Zubin moved on, the contestants in tow, stopping at the beach, where some distance away in the ocean, there was a trebuchet anchored to a platform.
"Now, Endurance is full of surprises. You like surprises?" Zubin asked.
"Yes!" Nina shouted.
"You do? Well, you'll
love
this one, then. Normally, this is the part where I would tell you that four of you would be going home today, as a result of our Right to Stay game. We've decided to change it up a little: there will be
no
Right to Stay game. At all. You will
all
get to participate in the team portion of this game." A palpable aura of relief washed over the contestants as Zubin grinned, a devilish look in his eyes. "Now, I hope you've made a good first impression, because you will be picking partners … right now."
Claire pointed to the trebuchet out in the ocean as the contestants did an immediate double take. "That trebuchet over there is going to launch balls numbered from one to sixteen in that order. Your job is to catch the first ball you can, because the lower the number of your ball, the better the chance that you'll get the partner you want. Get the first ball, and you
will
get the partner of your choice. Get ball number sixteen, and you'll have to hope and pray that you get who you want. Let's get started!"
OOC: That's right, I kinda misled you there. Anyways, PMs will be sent out to you for your characters' picks. Please answer promptly. And one more thing: because you are doing this challenge immediately, there is to be NO in-game communication. Your characters will have to go based on what they know already, and nothing more.
Right to Stay:

Originally, we were going to do a Right to Stay game - but without twenty players to give eight teams, it seemed simpler to have no RTS game and just go directly to Partner selection.
At the time we decided to forgo the RTS game, the people who would have been eliminated were Jake, Joey, Aileen, and Cammy. I continued it for fun, and had it been sixteen to twelve, it would have been Jake, Joey, Aileen, and Yumi.
Originally, the saves were going to be every thirty seconds. Then the times trickled in and both heats ended before the four minute mark. So I doubled every applicable time and flipped a coin to see if I added one second.
Only five characters would made it all the way through the Right to Stay game without hanging: Aria, Gwen, Matt, Nina and Cassidy - and Nina, Matt and Cassidy only did so because somebody else fell before that point (I rolled each character as the stats came in - Cassidy would have fallen at 7:48, but Aileen was the next rolled, and she only went 5:17, and Matt was hanging at 6:06, but Jake only lasted 3:23, Nina would have been hanging, but Yumi dropped before Nina).
"Saves" - As I said, I rolled Right to Stay times as the stats came in. The result was that later drops "saved" earlier drops. As such, Aileen (5:17) saved Cassidy (7:48), who had saved Nina, and Jake (3:23) saved Simon (5:46).

Partner Selection:

The Brown team of this iteration of Endurance differs from its official counterparts in that our Brown team was an official team from the get-go. The two official Brown teams were "Second Chance" teams - Endurance 2's was Max and Jenna, who had been the Gray team from Endurance 1, brought back by a vote from the other players and an audience poll; Endurance 3's was Tom and Vanetta, whom had been eliminated in the Right to Stay challenge and brought back in a Second Chance challenge - Tom won and picked Vanetta.
Each person had four rolls for each of the fifteen balls launched. The first was a roll to catch the ball. If two or more people tied for the high score, then the tie would be broken by a dexterity-based brawl. If that ended in a tie, then it would be a strength-based brawl, and if there was still a tie after that, I just rolled a die for each player, and the person with the higher value won.

Miscellaneous:


Every player had a starting confessional. They were as follows:

Aileen - I am here to kick some serious ass.
Aria - W-while I have to admit that I'm not the sportiest person in the world, I would like to see how far I can get in this game. After all, it isn't all about strength in the end.... I hope.
Cammy - I can't wait for a chance to play the game and to get to know everyone. I'm so excited and I believe I can go far in this game!
Cassidy - I plan on making it far in Endurance with my athleticism and my positive attitude. I'll make sure nobody wants to see me go.
Craig - I'm here to show people that they can't show a book by its cover.
Gwen - I'm in this competition for the experience, mostly, to be honest. I like art and stuff, so *laugh* my game is going to be interesting.
Joey - I'm in it to win it. That's pretty much it, haha, do I gotta say more?
Matt - I am here to take on the ultimate challenge.
Maxim - This seems fun and I can't wait to take part. My school encourages physical exercise so I hope that gives me some advantage over the others. Just have to wait and see.
Stephanie - I'm pretty stoked for this game. I know that the guys might see me for my body, and I'm prepared to use it if it comes into play, but if they don't, then I could use my body in some other ways that the guys might not see me for.
Theodore - I'm really into strategy gaming and whatnot, and I've always had a soft spot for reality competitions. I really am excited for this. I'm going to play smart, and tactics will win for me.
Yumi - I want to try to overcome my own limits.

Also, I am controlling the Second Chances version of Craig, and I did receive permission from Aura Master Fox to do so.