I just got this resin radically chopped Fiat Competition Coupe from Fremont Resins off of eBay. It will be the basis vor my entry in the Competition class of the 1st annual Autorama contest over on the TRaK board ending on December 31st. I've already built one Fiat Competition coupe but the body was more moderate than this one. This body is clearly based on the second, more radically version of Pete Millar's (yes, of DragToon's fame) Chicken Coupe which he built using the body from, and the help of, Eddie Potter and his Sudden Death fuel competition coupe. A first look at the body shows a lot needs to be done to get it to where I'll want it. Here's the resin body as I received it (photos from Fremont's eBay listing):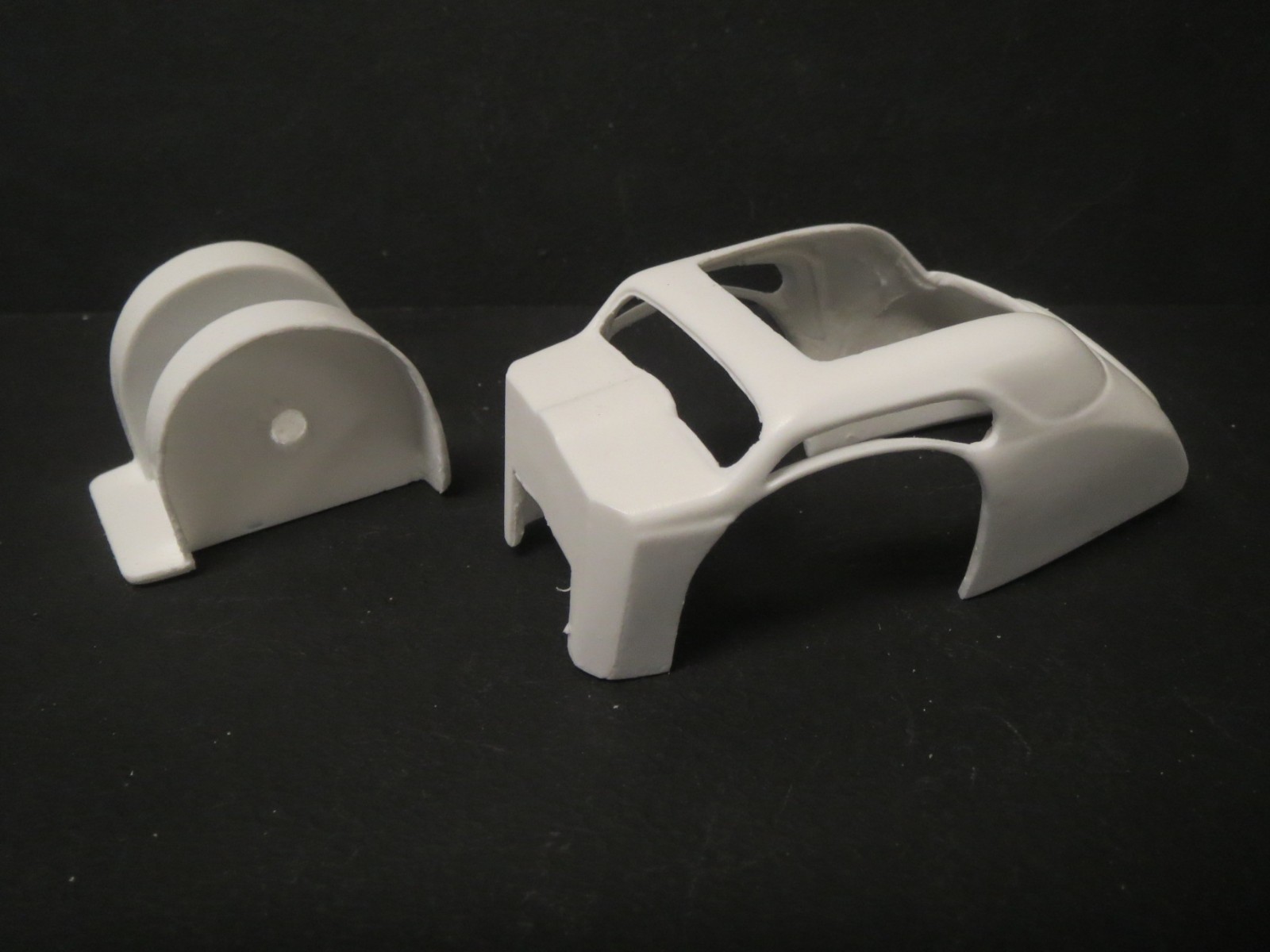 One of the things besides the body design that appealed to me was the wheel tubs. Unfortunately they are slightly undersized to the body wheel opening. Also I checked the wheel tub assembly with both of my go-to FED chassis, the 147" wheelbase Ramchargers dragster and the Ivo/Too Much 200"+ wheelbase digger. The Ramchargers chassis is my favorite - I prefer the moderately long wheelbase and the radically low legs-under stance. The Ivo chassis is a little long and lacks the near-perfect proportions of a circa 1964 Fuel FED. Unfortunately the space between the wheel tubs is acrtually too narrow for either chassis. So the wheel tubs will have to be cut apart and the tub sections molded to the coupe body. Also, I plan to fill in a portion of the open top and rear window area.
The original Fiat I did, the Terrible Toplino, had many of the features I like in a digger, but, with it's open-chassis front end, it lacks the nose piece that I want to include for a real show car paint job, perhaps in radical boat-flake. Power will be with a blown Hemi with Scott fuel injection like Sudden Death.
Eddie Potter's original Sudden Death: