So I keep hearing Triplets this or Triplets that. People keep hitting that peak to prove themselves. I don't feel like driving way out to Buckhorn to prove myself on a semi-known route, but driving to the West Fork, and trying out a beta-less (to me) approach sounds more appealing for some reason. I COULD do it from Twin Peaks, but I don't feel like it. Or something.
From earlier posts on this board, an approach from the South was said to be difficult, and on Monday I went out there to see what the fuss is about. Now that I've seen it, the fuss appears well warranted.
Looking at the topos, the aerial imagery and the (very useful) caltopo slope shading I decided the best approach would be the gully between the S and SE ridges of the peak. The plan would be to take the trail to Bear Creek, follow the creek a bit South until the gully comes in from the right, follow the gully until maybe 5000'-5200' of elevation or so, then climb up to the S ridge on the left, and follow that the rest of the way. It doesn't look GOOD, but the whole area is very brushy and steep, and that looked most promising to me. This should help:
https://caltopo.com/m/SC8V
The plan was to try to get as far as I could, and I didn't expect to finish. But I did want to maximize the chances, so I got to the trailhead super early, and started walking at 4:40AM. This was actually a bit too early, and I killed some time by goofing around with some long-exposure photos of the peak at night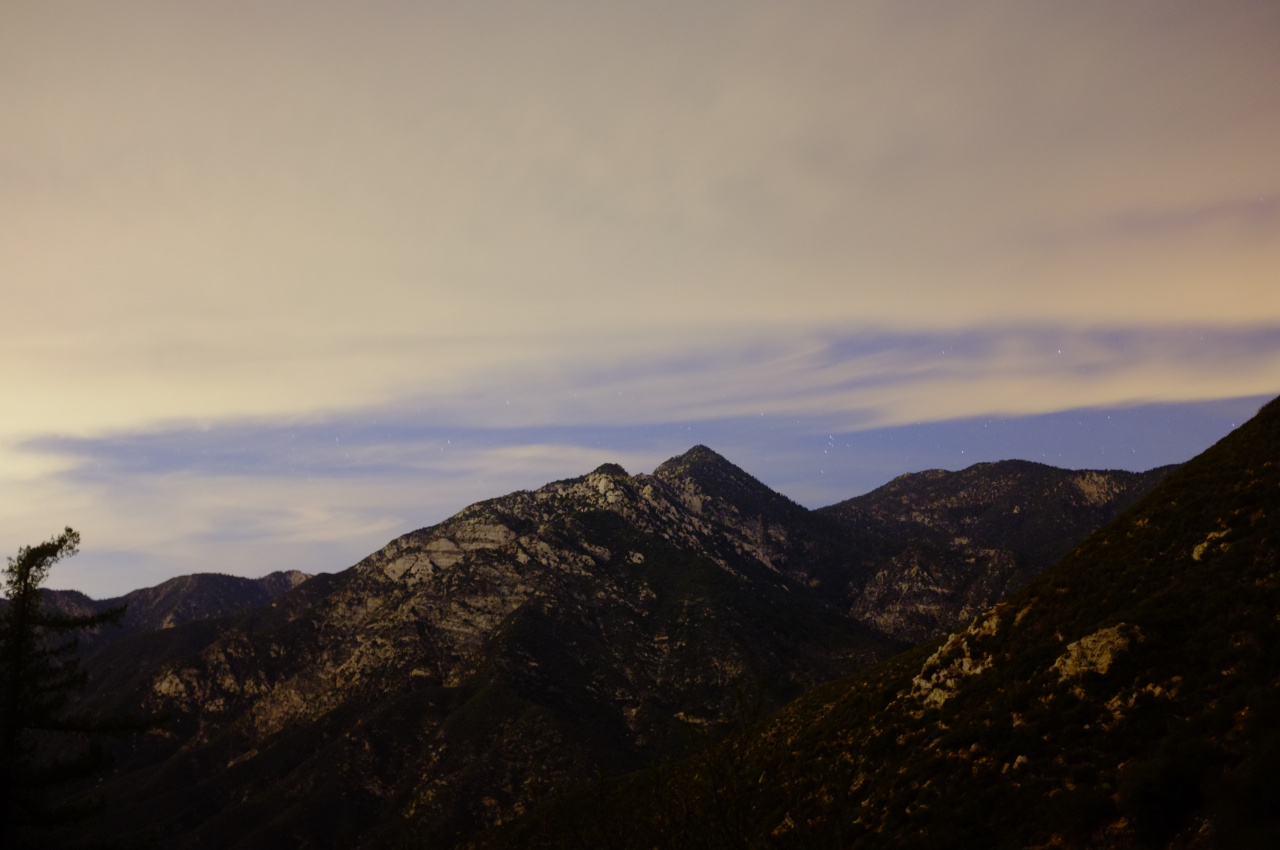 As intended I got to Bear Creek a bit after it was light enough to walk without a headlamp, at 6:40AM or so. The trail up to Smith Mountain saddle is in perfect shape. The trail to the creek is great in the upper half. The lower half has a bit of brush, but nothing terrible.
I walked the maybe 0.5 miles to the junction with the gully, and turned right. This gully is bone dry, but the lower section is full of dry brush. The going becomes painful immediately. I pushed through sections of it, then found some use-trail-looking things on the unstable left wall, and was able to make a bit of progress. This was quickly interrupted by a sizeable dryfall: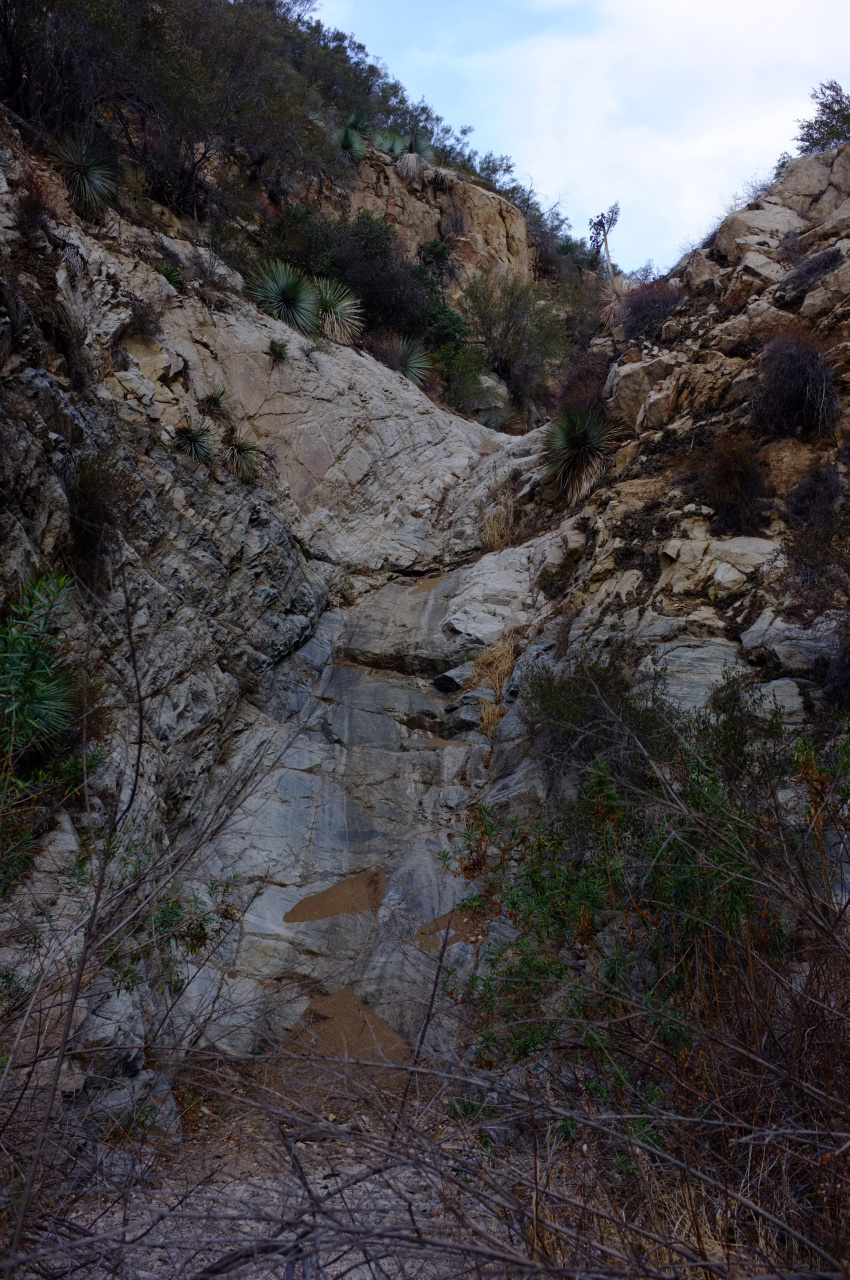 I tried out several wide bypasses. The ground here is particularly unstable, and nothing looked appealing. It was still early, so I ended up climbing directly up the face of this thing, with the understanding that I'd do something else on the way down. Soon thereafter is another large dryfall: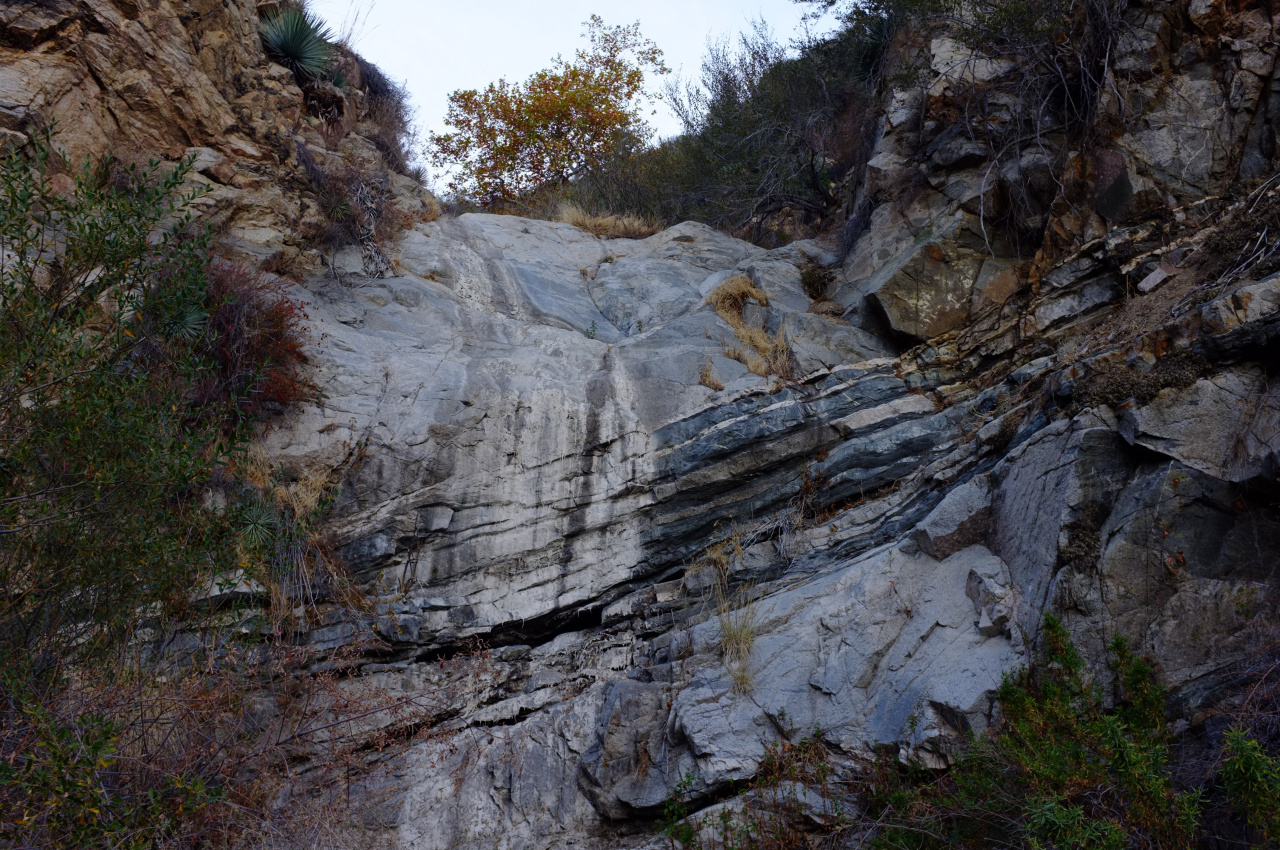 And another: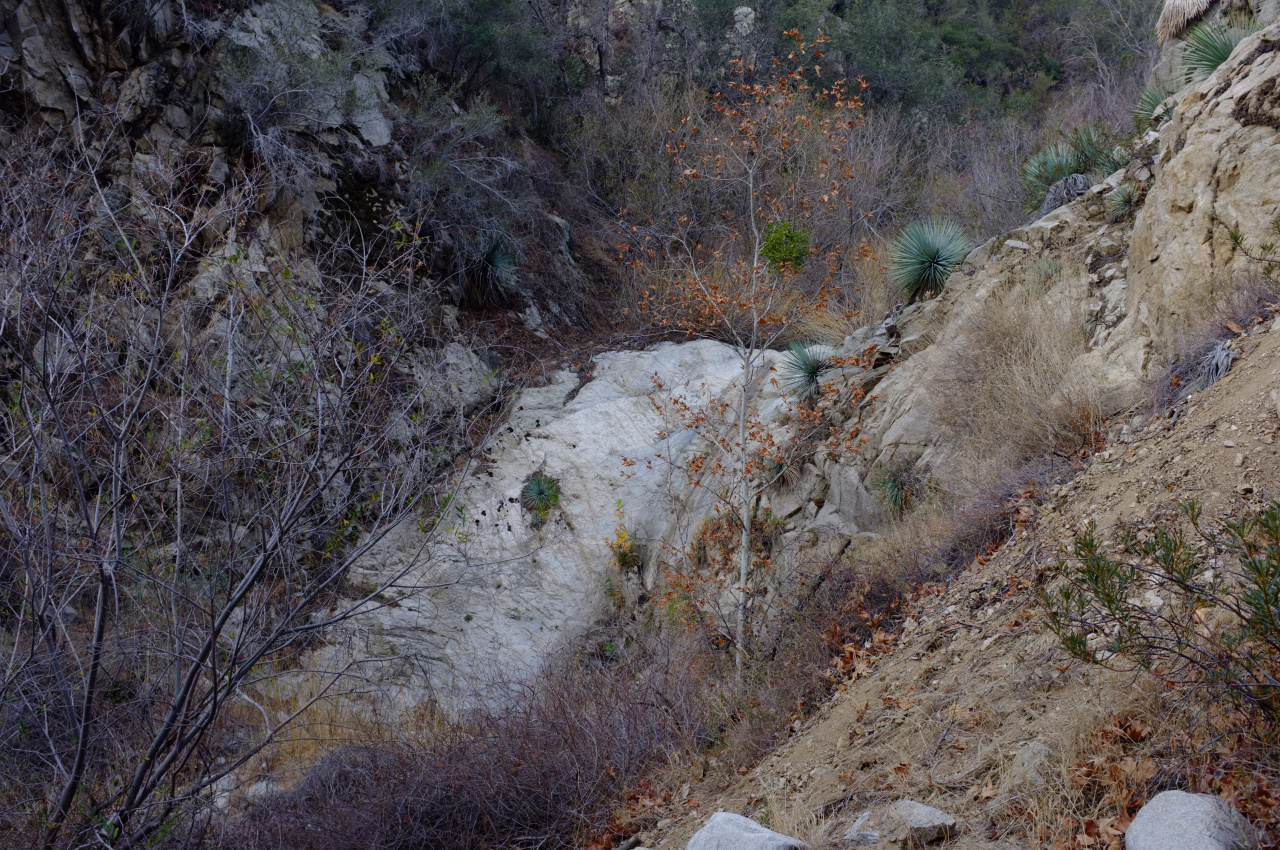 Both were bypassed on the right, with a wide arc. Also steep, brushy and loose. I'm going to be using these words a lot. The going was slow, but I was making progress. At elevation 2800' or so, the gully splits. I went left, and here the dryfalls ended, and there was a nice section of clear, rocky (dry) streambed that was easy to walk on.
Up to this point I'd see a use trail every once in a while, but it was not good enough or consistent to really be helpful. This didn't make a lot of sense. I haven't heard of this route being used by people to get to the peak or anywhere else. And it's not an obvious animal route either. The deer are better equipped than me to handle this pain-in-the-ass place, but I doubt they would CHOOSE to be here. As I was pondering, I saw this: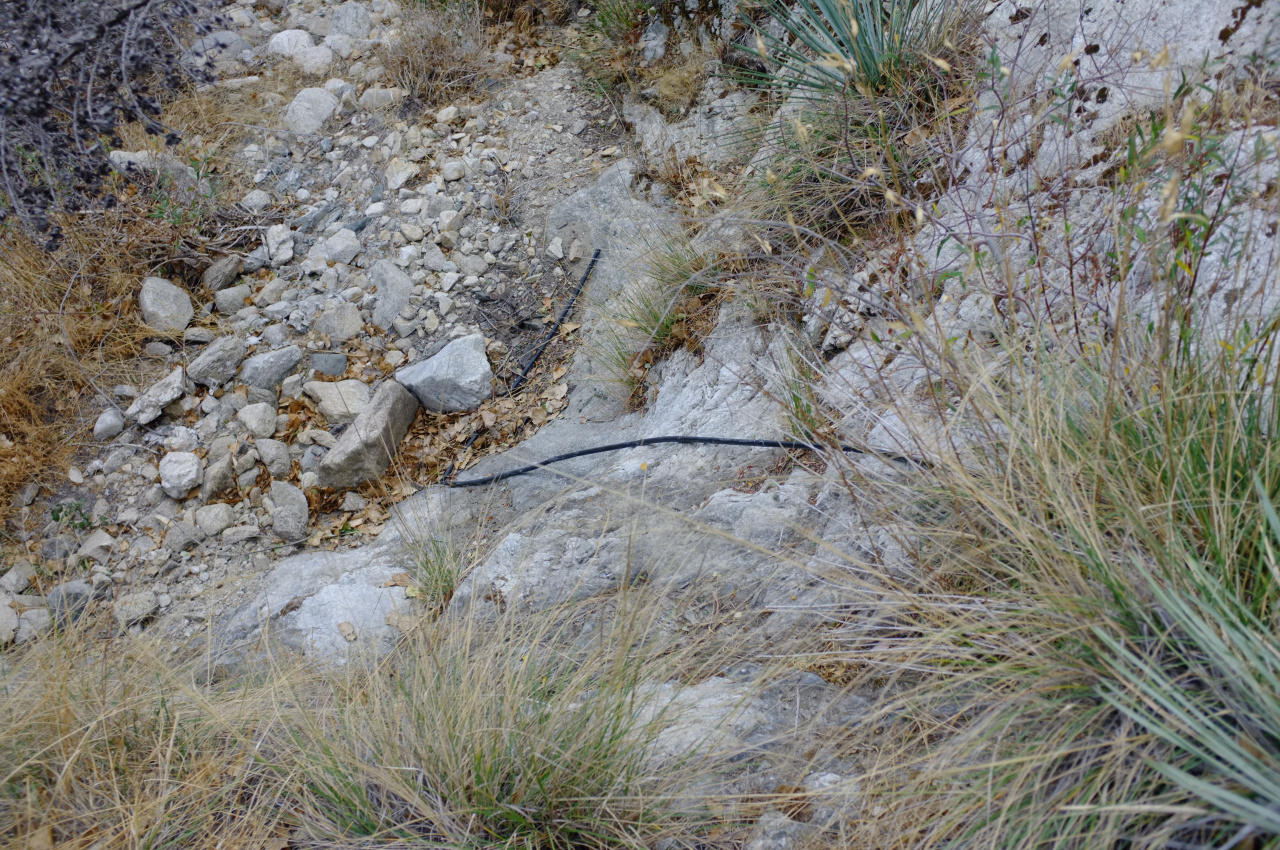 and it started making sense. This particular operation was no longer active. For one thing, there was no water in the canyon anymore, aside from a few stagnant pools here and there. And the hoses were punctured and severed in multiple places.
I kept pushing. I saw some pines coming up, and I climbed up to them to take a break. There was a nice view here: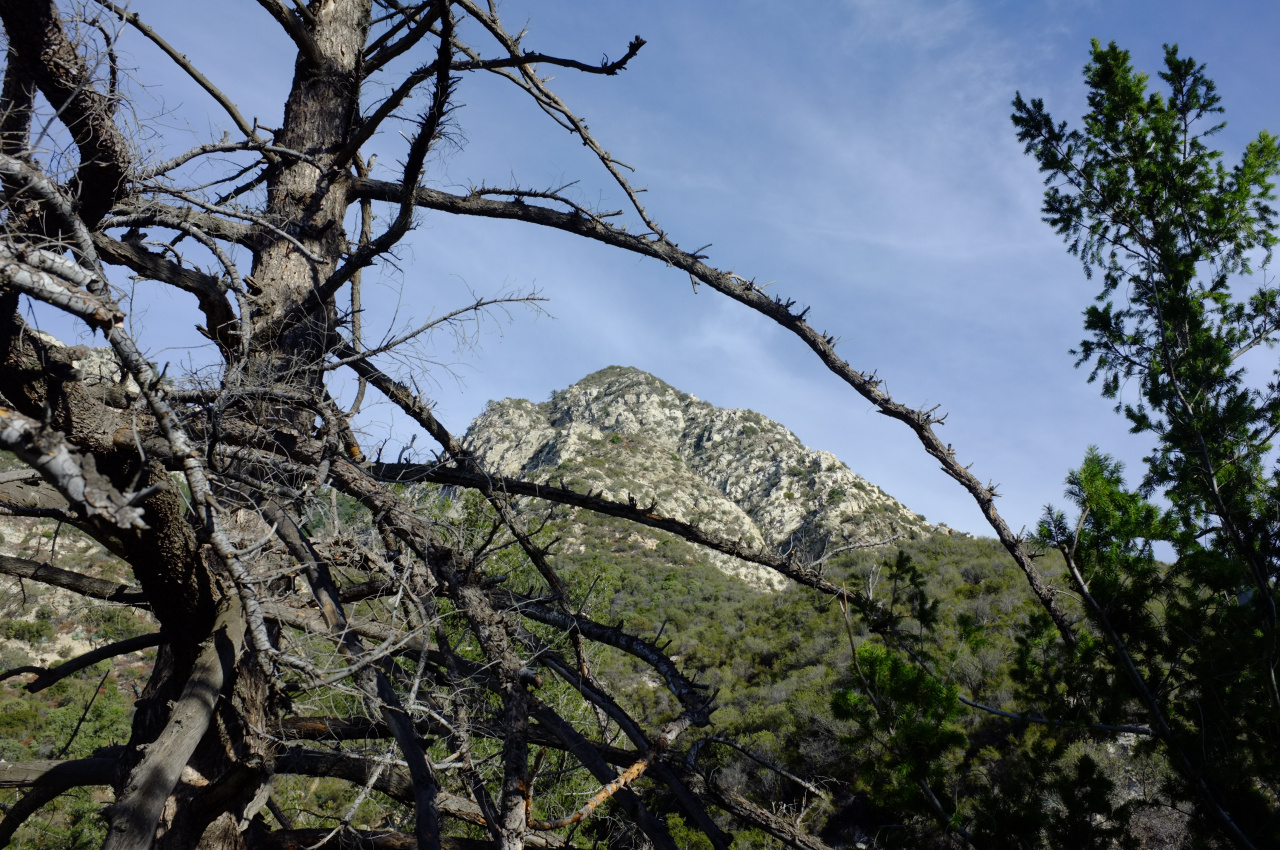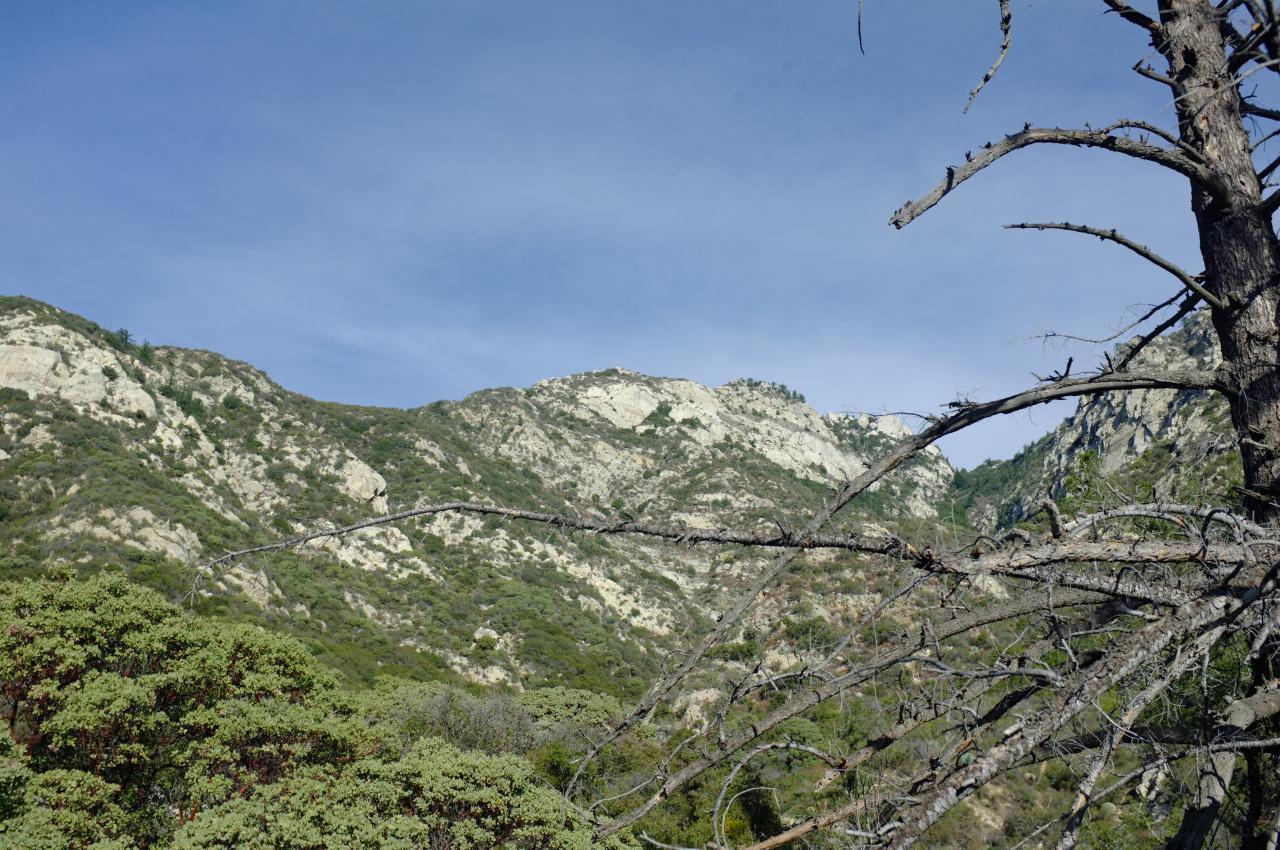 I don't thing either of these are the peak, but rather points on the ridge on either side. Here you could also see what would happen if one leaves the gully: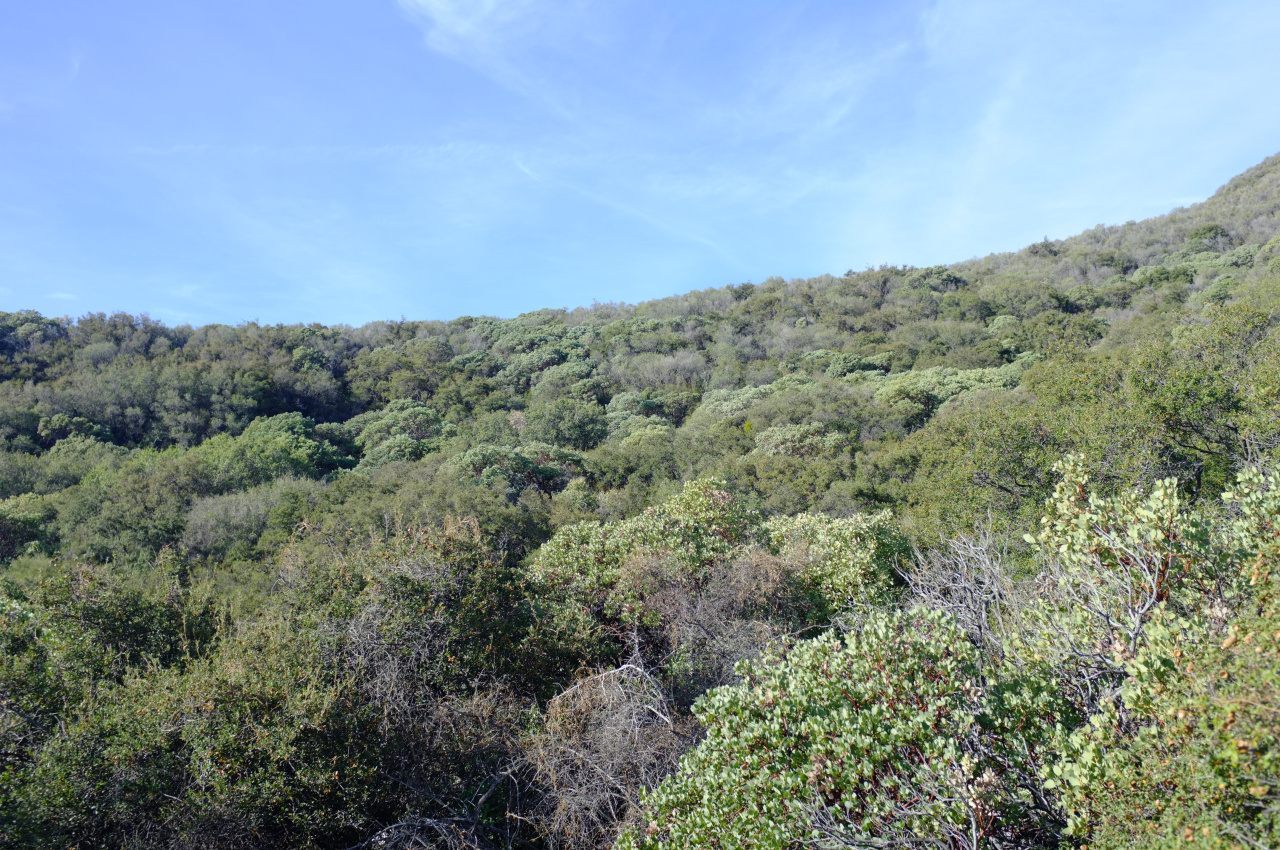 Yep, I'm staying in the channel, thank you very much. So yeah. I kept slowly moving forward. There was noticeable progress. For some reason there was still a use trail here and there, even here, so I don't know what that's all about. Eventually the canyon started closing in, and steepened considerably:
Soon (elevation 3900' or so) I was looking at a large dryfall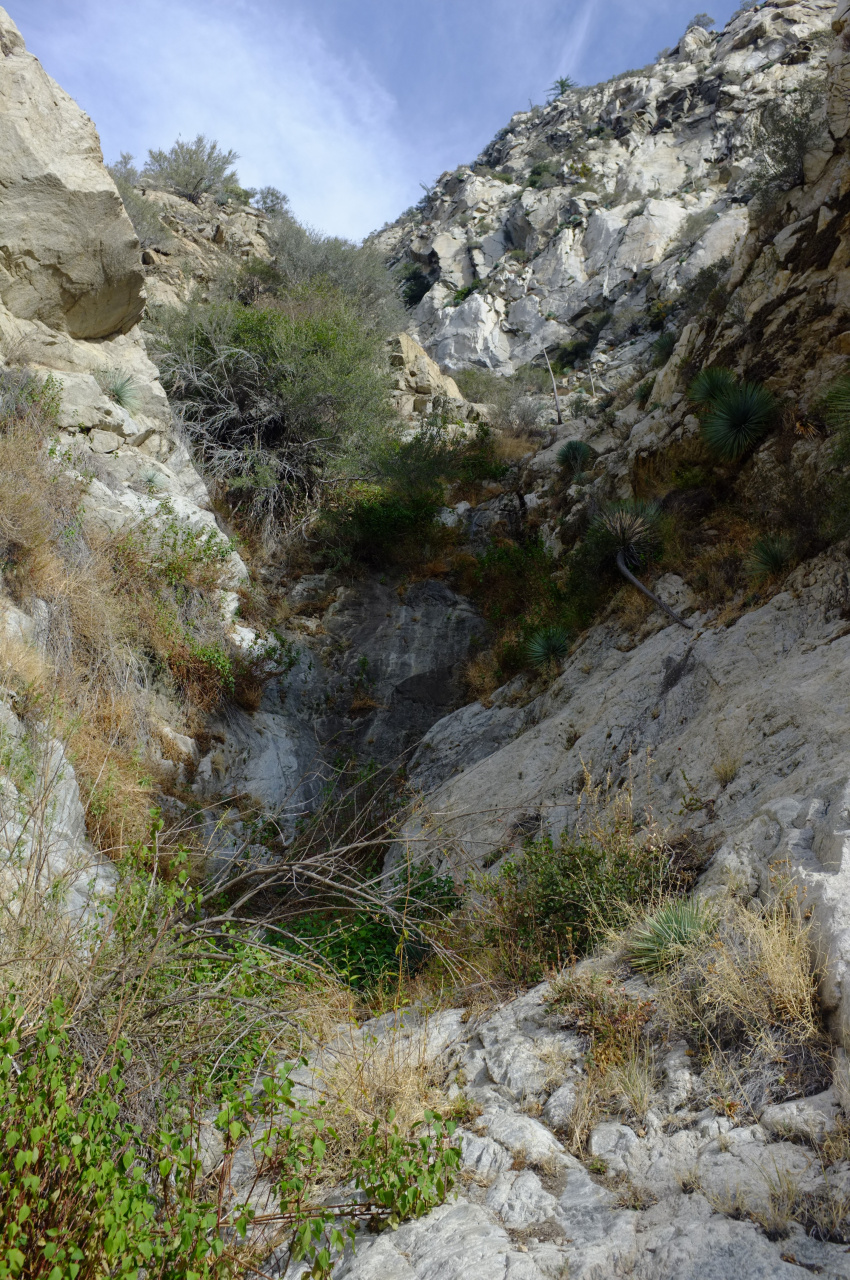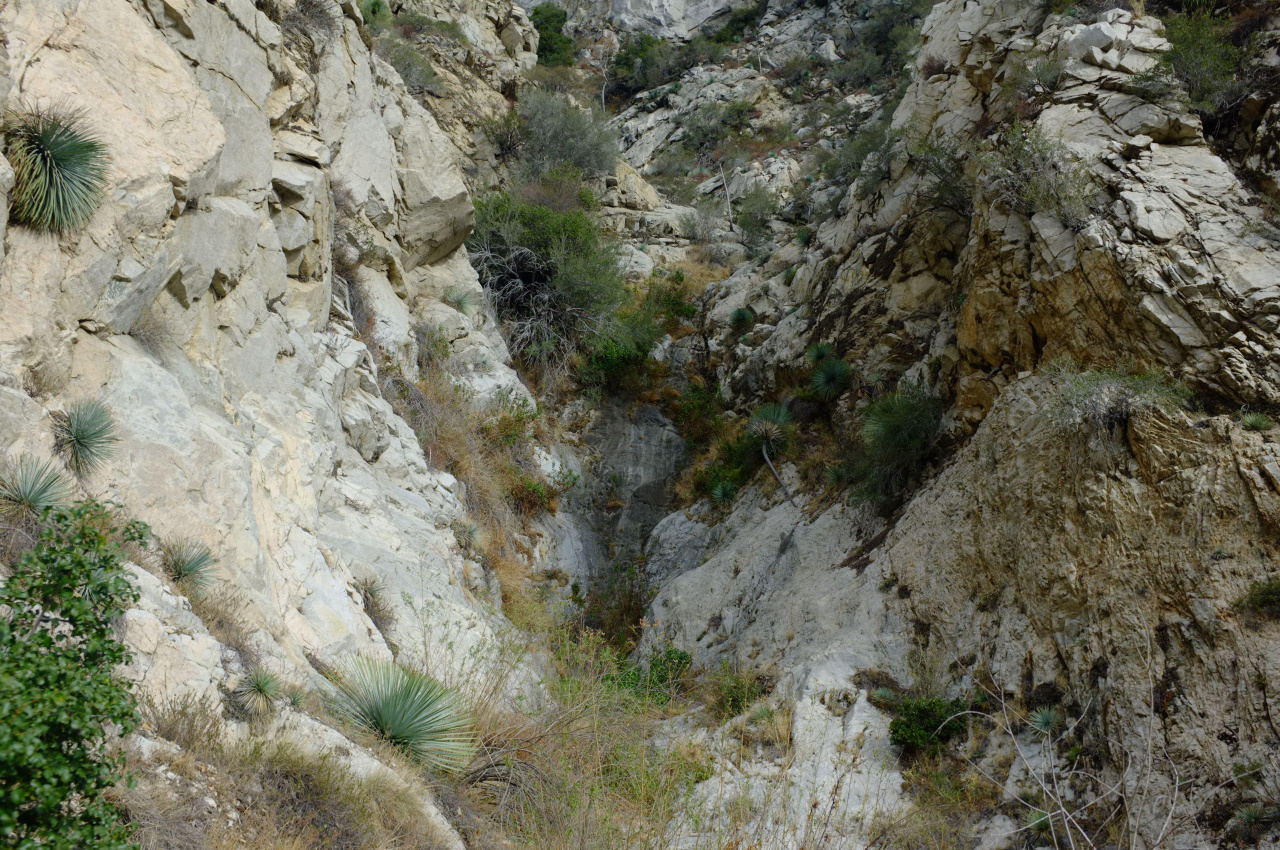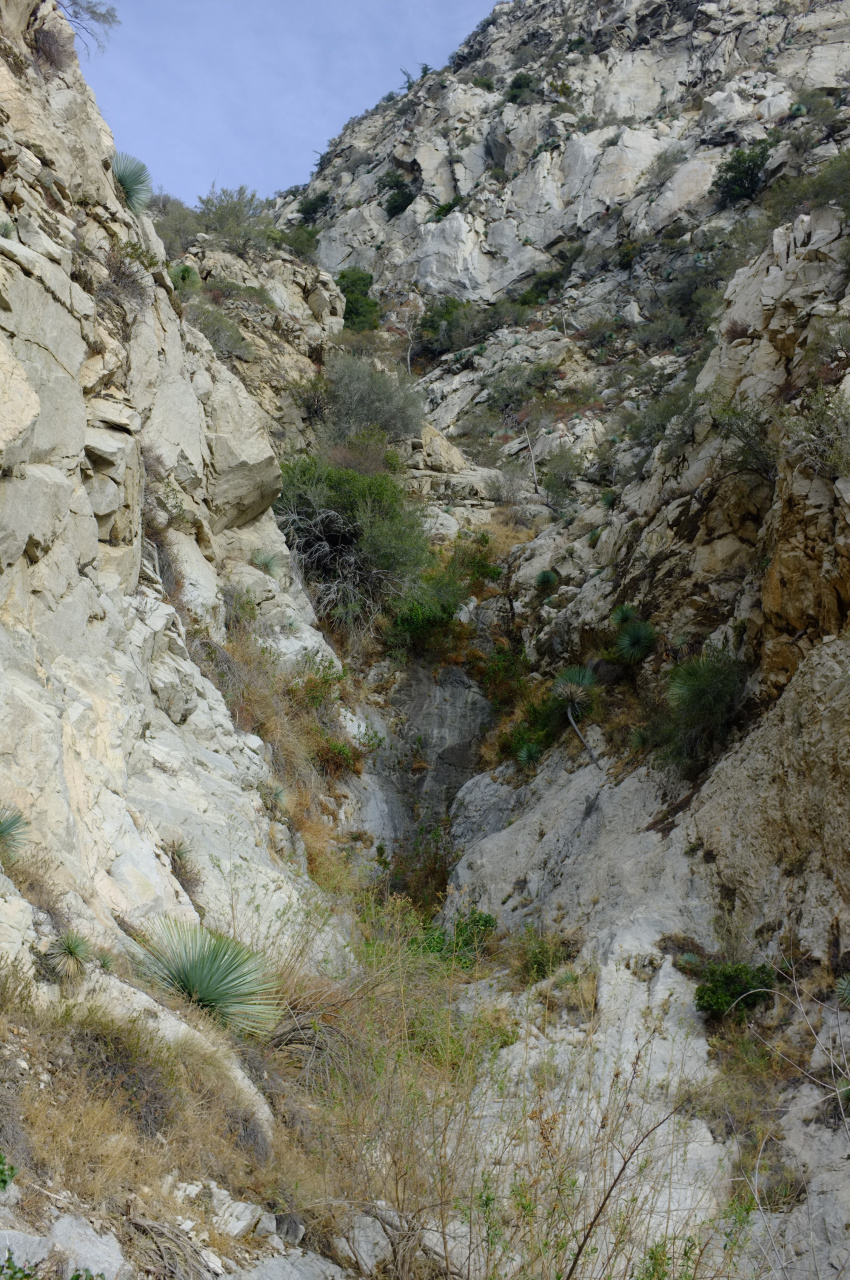 This was one of the shortest days of the year, and my turnaround time was approaching. I REALLY didn't want to be in this gully in the dark, so I decided this is where I'm turning around. I get overly cautious on these trips when I'm by myself, so here I made a silly mistake. The obvious question here is "you turned around at a dryfall, but was there a bypass?" and my answer is "I have no idea!" There was no obvious bypass. You could try to figure something out on the right wall, and nothing looked clearly doable safely. But I didn't even try to find a route. My guess is that maybe one could get around this. But the topo says this is only the beginning of the very steep section, and it looked like there was another dryfall immediately after this one. So even if you could get around this one, there're very likely others above it, and it's not at all obvious that they could all be negotiated safely. So I GUESS this isn't a viable route, but I can't say that with certainty.
I hung out here for a bit, looking at the ridge to the South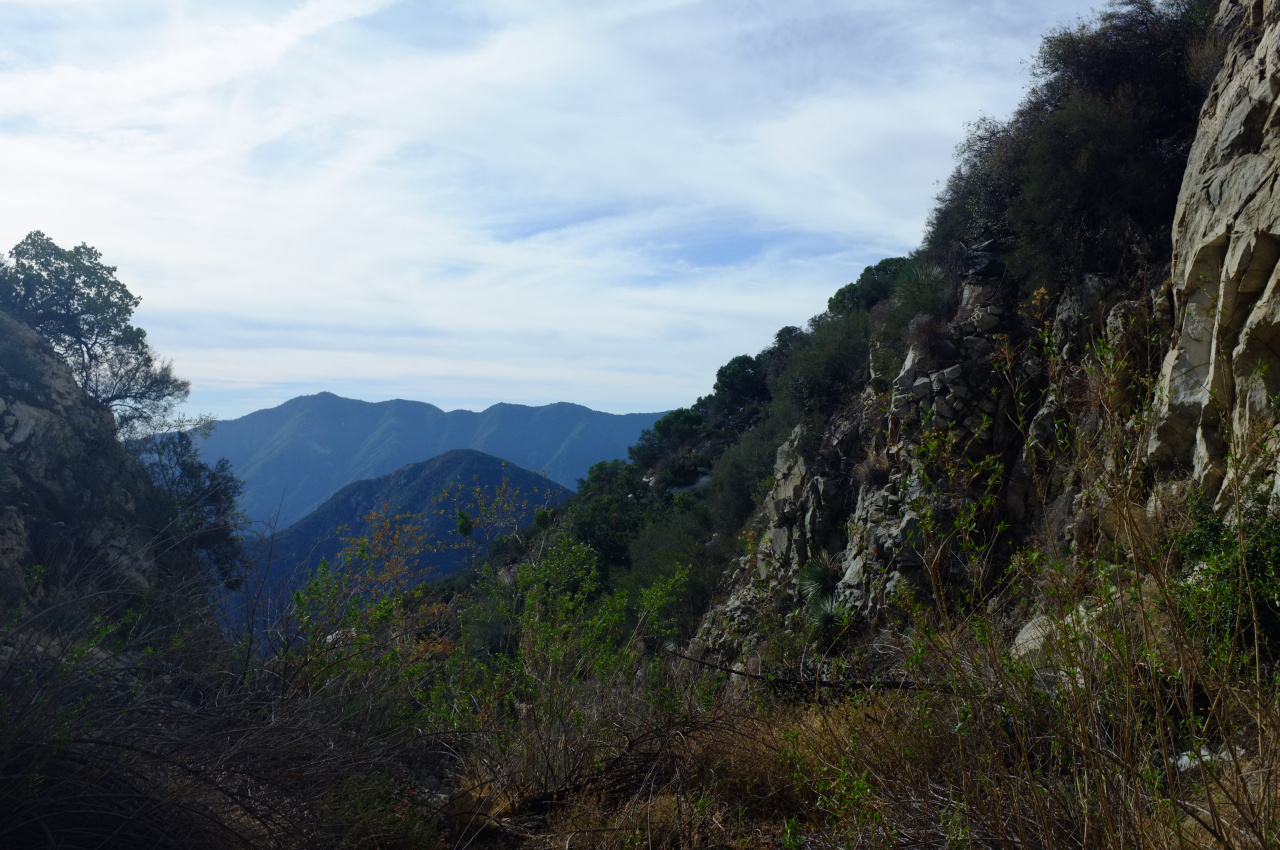 The way back was as brushy as before, but went by much faster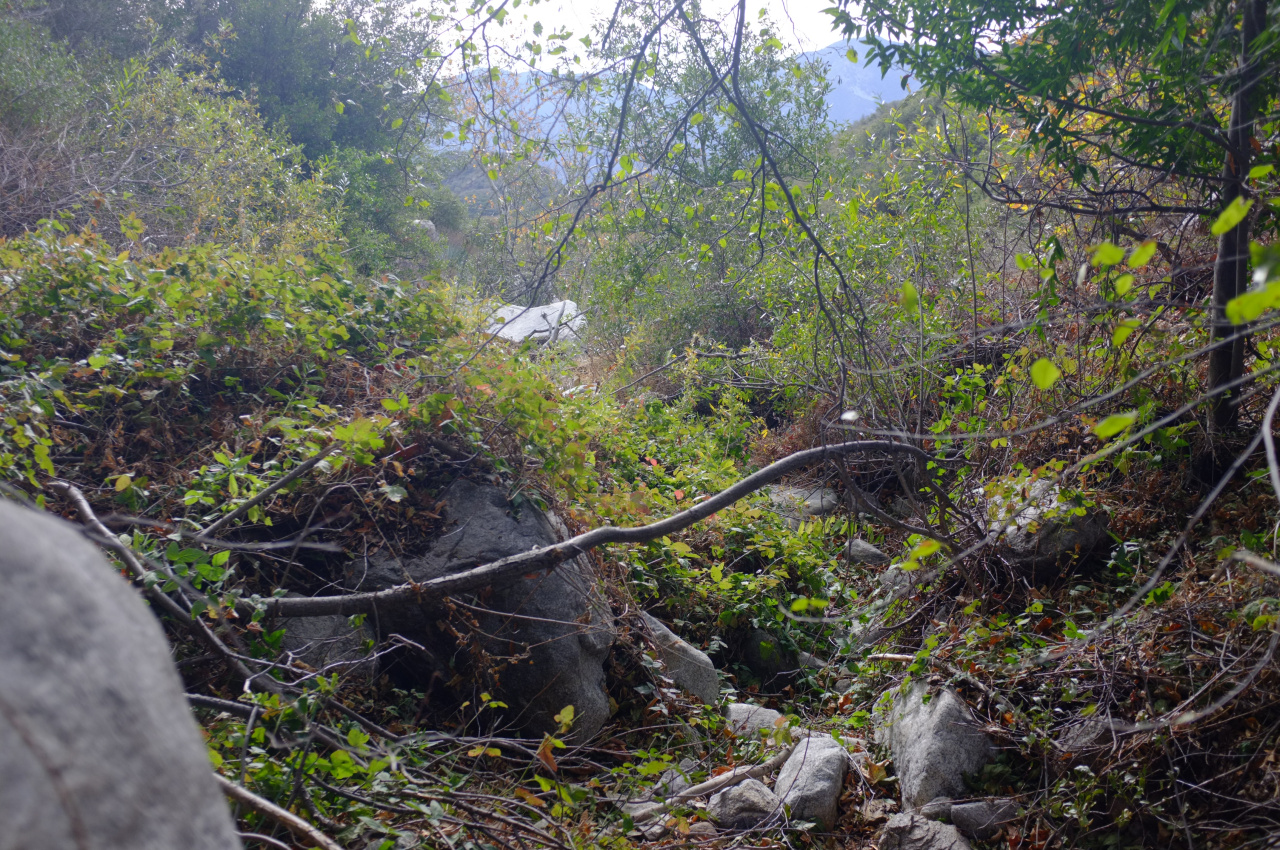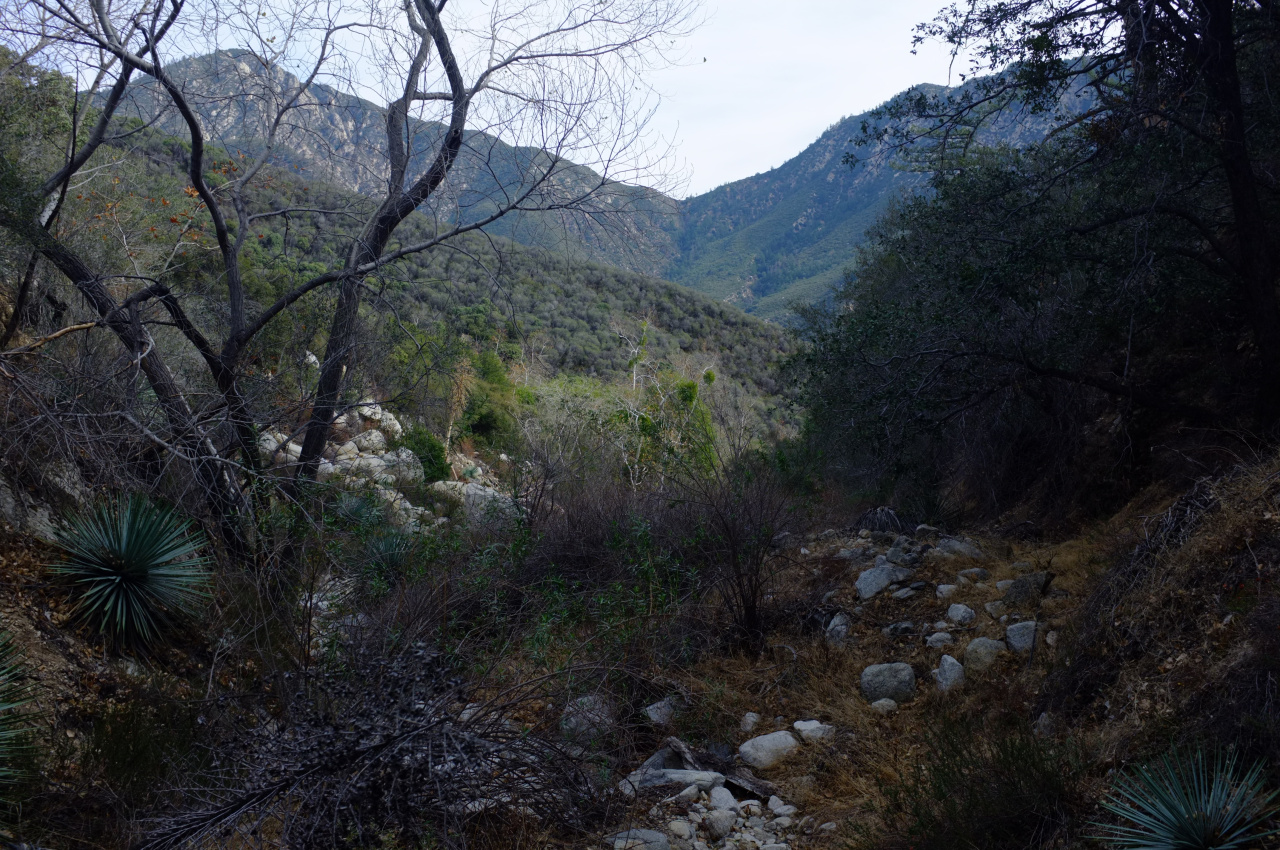 I took a black-hose-related detour, and after a bit was standing at the top of the upper-most of the dryfalls near Bear Creek. Managed a sketchy descent down the face. The next one wasn't as accomodating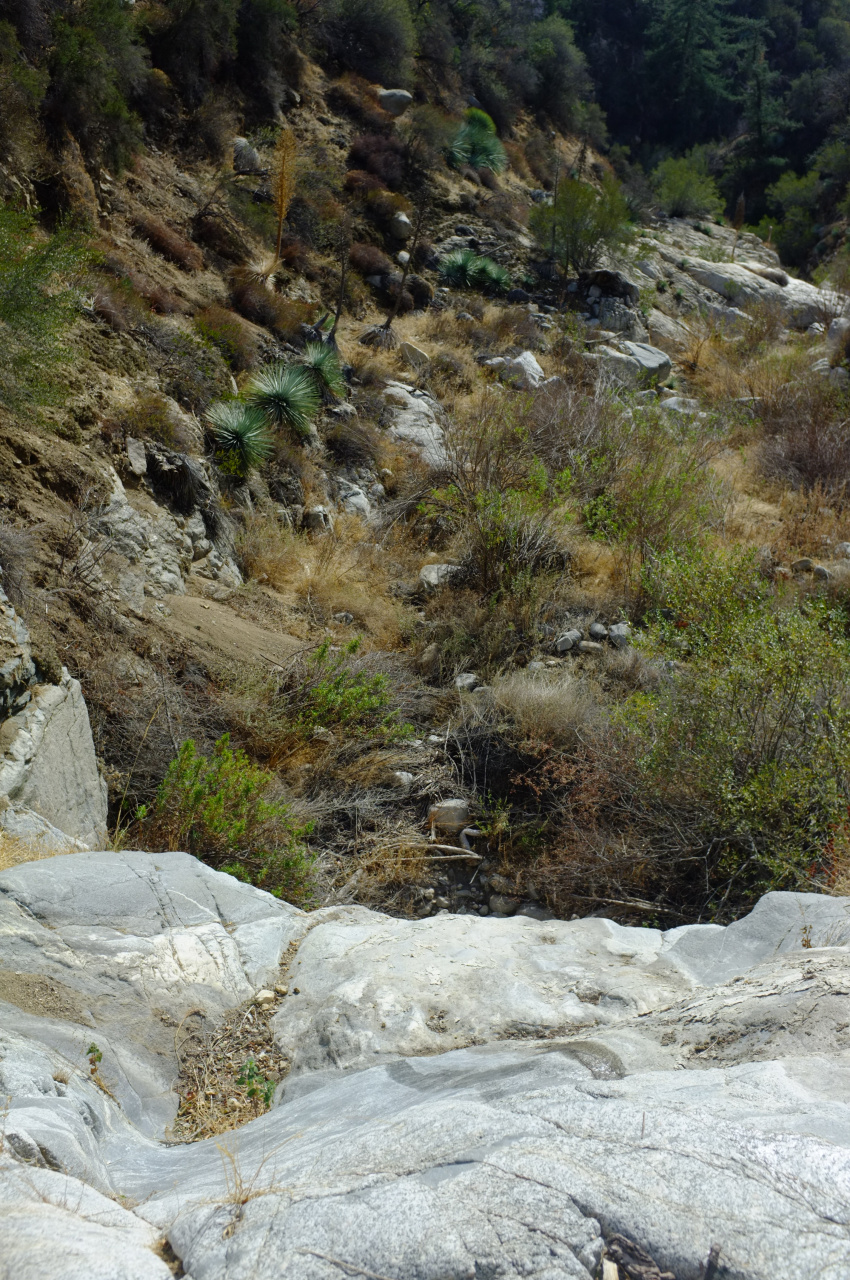 This demanded the wide bypass. I climbed the ridge to the left to get around the dryfall, but looking at the other side I could see and hear Bear Creek. So instead of dropping back into the gully and then having to negotiate at least another dryfall and lots of brush, I dropped straight to Bear Creek from here. From Bear creek, this ridge looks like this: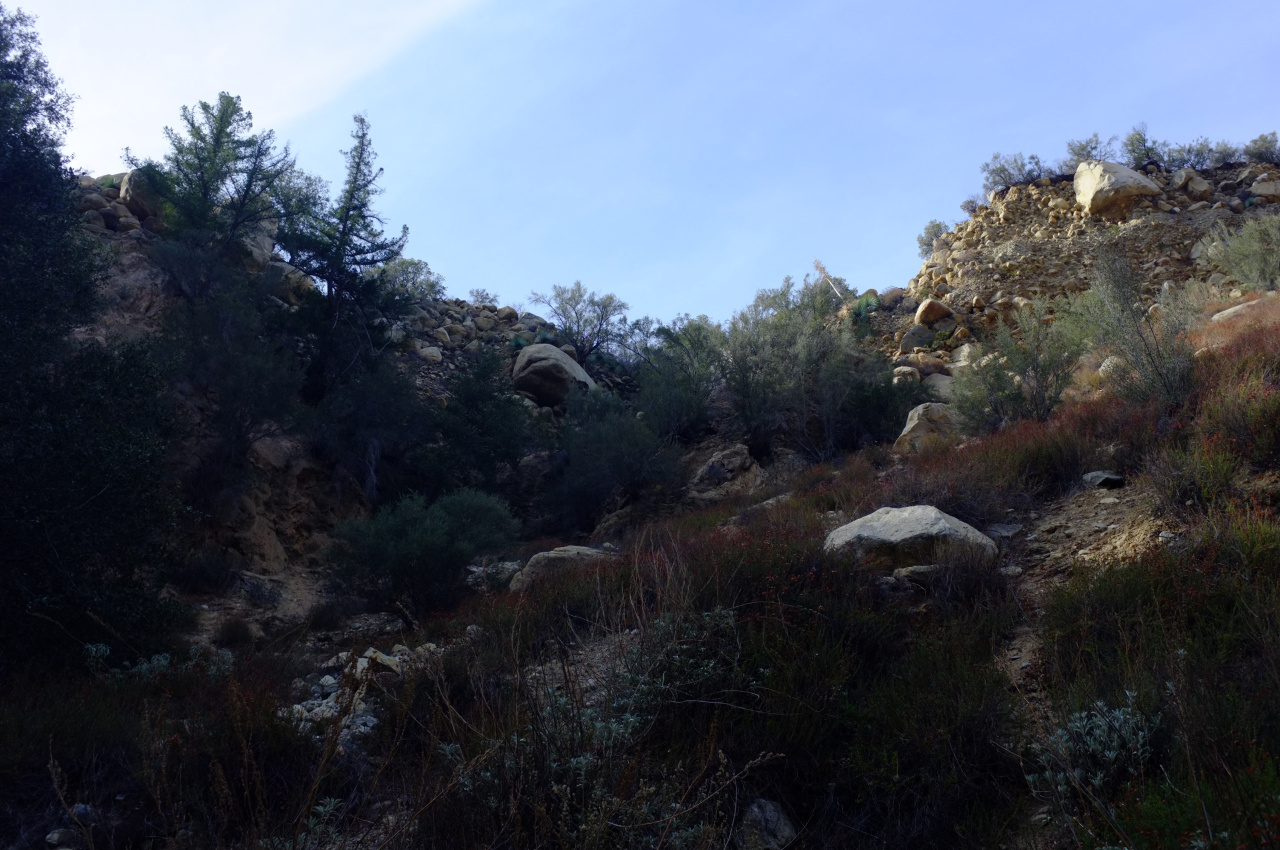 If somebody comes back this way, I strongly recommend this shortcut in both directions. About 400 yards above the mouth of the gully, climb the slope in the photo to the saddle, walk upstream (right) a bit to clear the dryfall, and drop down past it. You save a non-insignificant amount of work.
So yeah. The return trip went much faster than the climb, and I beat sunset by a lot. Really should have at least tried to clear the highest dryfall. On the climb up to Smith Mountain saddle I encountered the only person I've seen that day: a forest service volunteer who was wrapping up some trail work, and heading back. Apparenly he's been to Triplet Rocks decades ago, in the age before internet trip reports and gps tracks. That is badass.
I didn't get the peak, but I did complete the approach and the approach to the approach. And I retrieved 5 birthday balloons and explored a new (to me) part of the forest. So it was a good day.
Who's trying a Southern approach next? Taco? AW? Have both of you given up on this? :)