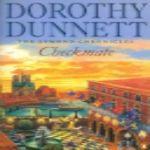 DUNNETT: Checkmate Group Discussions
In the Sixth and final volume of the Lymond Chronicles, Checkmate takes place in 1557, where Francis Crawford of Lymond is once again in France, leading an army against England. But even as the Scots adventurer succeeds brilliantly on the battlefield, his haunted past becomes a subject of intense interest to forces on both sides. Just us as we begin reading on August 16th.
Also in this forum, What Lymond Read forum. Now reading De Officiis by M. Tullius Cicero. Our discussions of all the works on Lymond's bookshelves continue.
Forums

Topics
Posts
Last post
Announcements

Replies
Views
Last post