WISH KO LANG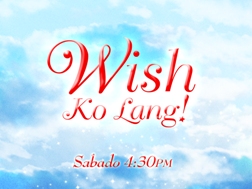 About the show
Everyone has a special, if secret, wish.
Wish Ko Lang! brings hope to the public by granting some of these wishes every week.
Hosted by Ms. Vicky Morales, Wish Ko Lang! is the first reality wish-giving show in Philippine television.
Over the years, hundreds of life-changing wishes have been granted from scholarships of impoverished students to reunions of families separated for decades.
Though often copied, Wish Ko Langs success remains unparalleled. Since its inception in 2002, the show is a consistent top rater.
After all, many consider their Saturdays incomplete without their weekly dose of heartwarming stories from Wish Ko Lang.