Soviet Army Platoon on the Defensive
The motorized infantry platoon may conduct defensive battle on the first or second line of its company, as part of the battalion's combat guard or on the front line of the regiment. The motorized infantry platoon protects a
base point
on a front of up to 400 meters wide and with defenses up to 300 meters deep. In combat guard missions the line can be up to 500 meters wide. The platoon's formation is composed of detachment positions, which can be arranged in a line (all units in the front trench) or two lines (the flank units are in the first trench, and the central unit is in the second trench) or in a left/right step (one of the flank units is in the 2nd trench, while te other two are in the first trench).
Motorized Infantry Platoon Combat Positions in One Line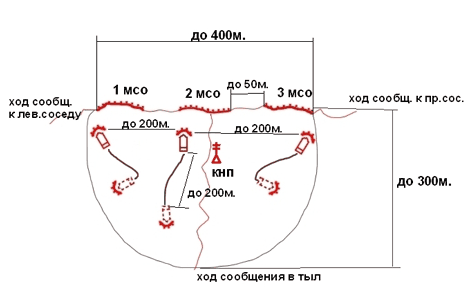 The detachment position is up to 100 meters wide. Between the individual detachments the distance can be up to 50 meters. They will be connected with a communications trench. The detachments are linked to neighboring detachment with communications trenches. The central detachment is also linked with the Commander's post and further to the rear.
Primary and spare trenches are dug for every IFV, and the 2nd trench is usually turned towards the rear and designed for all-around platoon defense. The distance between the trenches and the IFV is up to 200 meters. Furthermore, it is advisable to dig spare trenches for the detachments facing to the rear and the flanks for all-around defense.
The platoon command/observation post is to be placed no more than 50 meters to the rear of the front line, and is composed of a special trench and blindage, fitting up to a third of the platoon's personnel.
Two-Line Defense Line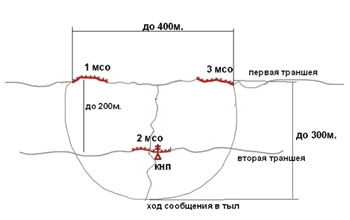 Step-Shaped Defense Line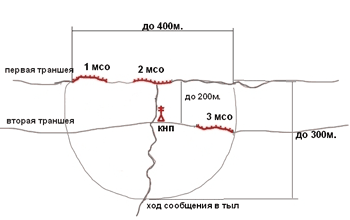 The platoon formations are shown in a deliberately simplified manner. The graphic does not portray spare positions, communications lines, IFV trenches, fire support and heavy weapon positions, barriers, minefields, ammunition dumps and water supply points.
Sources:
USSR Ground Forces Guideline (platoon/detachment/tank).
Translated from Russian by Allanea.
Written by Lt. Col. Yuri Veremeev