Hey Folks,
I haven't been around here too much lately...I've been busy doing some intense research on various areas surrounding N64 development....for both hardware and software.
Anyhow,
I recently got a hold of a very Rare Nintendo N64 Development cartridge know as the
"IS-VIEWER 64"
development cartridge.
So I decided to buckle down and actually get the unit up and running. So many collectors that own these cartridges, most of the time they just end up sitting on a shelf as a collectable Trophy. That idea I just found to be disturbing!! *#&$&*@!
So, after over a month of intense research, and then some time in the Electronics Lab...building up a Custom SCSI-2 interface cable...and also after getting some help from the N64 Development community in tracking down a Windows Driver, I managed to get the unit up and running!! SSSIIICKKKKKK!!
Now, this "IS-VIEWER 64" is a RAM only based development cartridge. It was released by the company "Intelligent Systems" in the late 90's for development on the Nintendo N64.
The main advantage of this development cartridge (at the time it was released) was the high speed data transfer rate which the on board SCSI interface provided. This allowed the shortest load time from a source code editing phase, to compiling and running the compiled ROM on the real hardware. Average load time varies based on the ROM game size...however averages may vary between 10-30 seconds. Again...all depending on the game ROM size.
Being a RAM based cartridge, this means that each time you power up the Cartridge, all Game data must be loaded into RAM through the SCSI interface. Once power is removed or the cart is disconnected, all loaded Game data is lost.
Also, the IS-VIEWER64 requires a specially Modded N64 Console for it to work properly. This is similar to the Kmc PARTNER-N64 Debugging console Mod. ( So I had to perform this Mod on one of my spare N64 consoles.)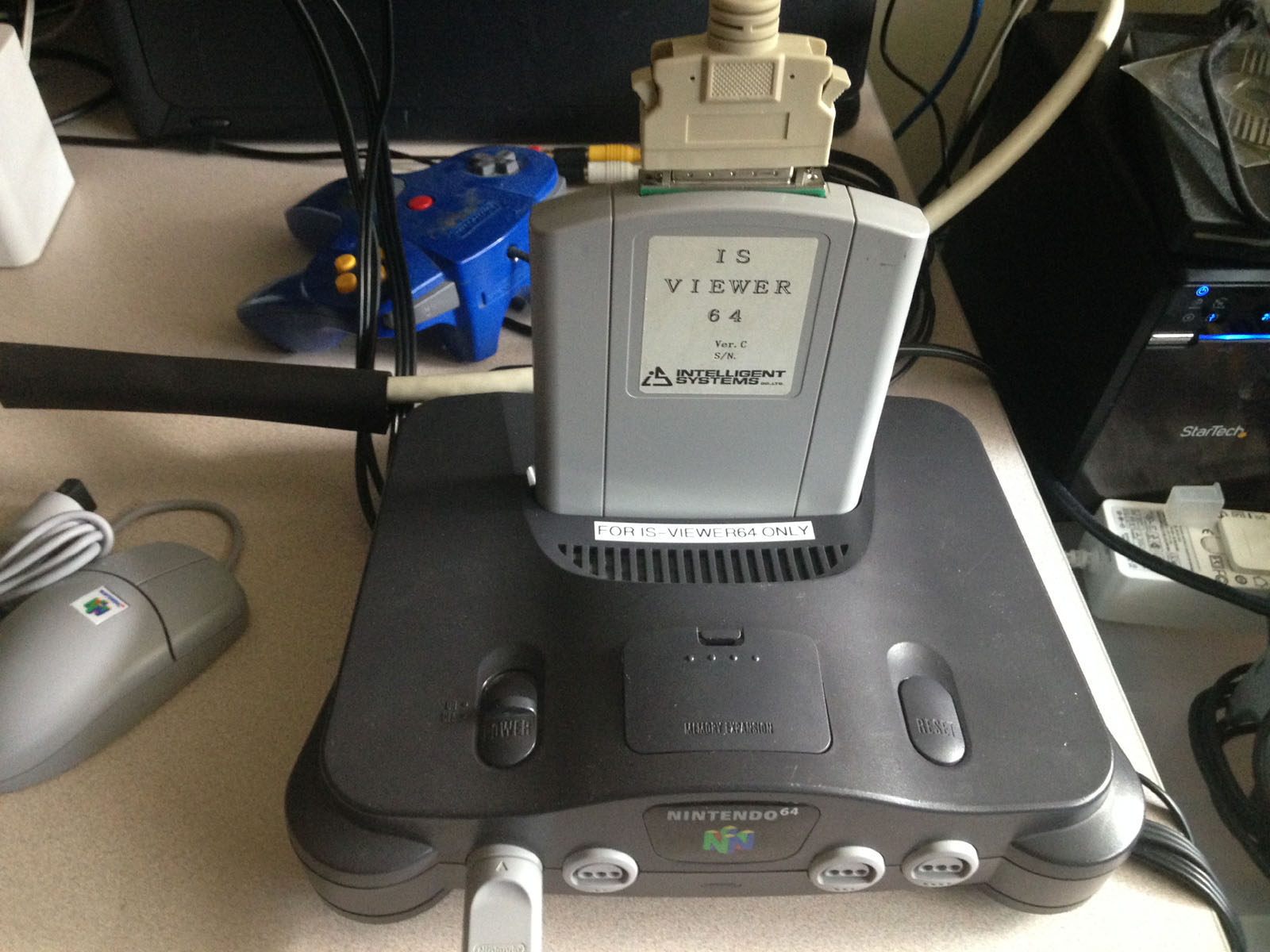 Anyhow,
I figured you guys would get a kick out of seeing this unit up and running....
You can check out a quick little demo video of it that I posted, here on my YouTube Channel. (Link Below:)
RARE Nintendo N64 "IS-VIEWER 64" Development Cartridge - NOW WORKING!!
Fun Stuff!!
Cheers! Folks,
-Gerry
---
Ohh, I posted a pretty detailed write up on the whole process..... over at assembler games if any of you wanted to go and read it...
The link to the Thread is in the Video description...
I was pretty excited once I got it to work...especially after all the road blocks I had along the way....but still considering all issues...this was probably one of the fastest projects to complete, that I've tackled in a while.
Fun Stuff!
-Gerry