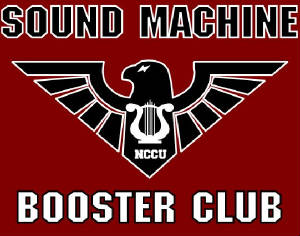 Dear SMBC Members, Alumni, Students & Friends:
http://nccueagles.yuku.com/forums/12
The Durham Chapter, of the Sound Machine Booster Club, will meet on Wednesday
, August 08, 2012 at 7:00 p.m.,
 in
Room # 104-A
at The Alfonso Elder Student Union.
Please be present and on time, with your new prospective SMBC member.
nccusmbc.tripod.com/membership.html
We will discuss
additional plans for the up-coming  2012-13 NCCU Division of Bands music season, including improved public relations, advertisement and SMBC support services goals, during the 2012-13 Marching Band, Pep Band and Wind-Symphonic band season.  The 2013 Band Blast and planning for the 2013 Awards Band Ball, (including financial, administrative and alumni volunteer services) will also be discussed.
It is very important that all members and interested parties be present for this meeting. The SMBC will consider several proposals that will become of vital importance, regarding the future service needs and growth of the NCCU "Marching" Sound Machine, as the University continues NCAA Division I Athletics and appropriate Division I Band Programs.  
The SMBC will discuss growth strategies, that will impact our future important role, regarding our mission of service and support to the NCCU Sound Machine Division of Bands. 
Your Recommendations and suggestions will be welcome, regarding SMBC membership goals, future fund raising,
Alumni Band recruitment strategy,
Chancellor's Spring Concert activities and  Band Awards Ball during April, 2012.
Fundraising goals for the 2013 12th Annual Chancellor's Concert in Durham, NC, will  be up-dated. http://nccusmbc.tripod.com/fundraising.html

If you or your alumni chapter would like to make a donation
towards the future NCCU Division of Bands' needs, regarding Marching Band recruitment, future Pep Band and Symphonic band operation or "Band Ball" 2012,
please send your donation in care of The NCCU Foundation, Attn: Sound Machine Booster Club, on your check's MEMO Line,
and mail the same to: SMBC - P.O. Box 72212, Durham, NC 27722.
You may also submit your donation,
On Line, directly to The NCCU Foundation, via the Sound Machine Booster Club account, with your credit card,
by clicking on the following Link:
https://webapps.nccu.edu/departments/do ... giving.cfm
SMBC Membership dues ($75.00)
or
( $125.00 Alumni Band)
for academic fiscal year 2012 - 2013
are now due. If you have forgotten to send us your check, please do so as soon as possible. Your membership dues will greatly assist us, regarding our on-going service projects for the Band.
Your SMBC Membership of $75.00 or more, will entitle you to receive a free SMBC Tee Shirt or Alumni Band Tee Shirt ($75.00
Membership)

Fundraiser For The NCCU "Sound Machine" Division of Bands:
http://nccusmbc.tripod.com/fundraising.html
The perpetual plaque for the NCCU Division of Bands Hall of Fame is our major fund raiser for this year and we need to move this fund raiser forward.
Please mention to your friends, family, community business, church, civic & social clubs and alumni about making a contribution or donation for one of the following categories:
Gold Eagle $100
Silver Eagle $50
Bronze Eagle $25
Let your contributions be something to be remembered!
Make your donation today!
I'm attaching the name plate form for your distribution.
NCCUsmbc.tripod.com/smbc_name_plate_form1.doc
NCCU "Sound Machine" Fans, Alumni and Friends, will now be able to show their
"LOVE - PRIDE and SUPPORT"
by purchasing, wearing and enjoying an assortment of NCCU "Sound Machine" Band Tee Shirts.
Please Order your "Sound Machine" Tee Shirt Today!!!!
NCCUsmbc.tripod.com/tshirt.html
Sound Machine Booster Club and NCCU Alumni Association - News & Information:
http://nccueagles.yuku.com/forums/3
Please Visit and Join Our NCCU Eagles (SMBC) Networking Blog

Dennis W. Ellis / For
Marilyn Clements, President
"Eagle_Spirit" Soars Forever!
The NCCU Eagles Fan Forum!
[url=http://durham_eagles.tripod.com/]
Durham Chapter - NCCU Alumni Eagles
[/url]
NCCU
Sound Machine Booster Club
NCCU
Campus Echo Student Newspaper