Oh, those wonderful 90's that we recall around here with such fondness. The playoff team of 1990 had completely vaporized after two years. Sam Wyche was gone. The whole team was a colossal train wreck. And if one unit could possibly stand out for being particularly inept, it was the most certainly the offensive line.
In the annals of Bungles history, never was there such a no-brainer of a draft choice available as in 1993. Willie Roaf was a big left tackle from LSU who would make a perfect cornerstone for a rebuilding team. The Bungs had invested a high draft pick the year before in David Klinger, and the young run-and-shoot quarterback was desperately in need of support. Klingler had this fatal tendency of holding on to the ball too long, and playing behind a sieve of a line was a recipe for disaster.
Roaf was slated to be right there when the Bungs drafted at five. And indeed he was, as Drew Bledsoe, Rick Meier, Garrison Hearst, and Marvin Jones fell off the board. It should have been like shooting fish in a barrel for Coach Dave Shula. In a situation like that, you run to the podium with your draft card. Jesus, even I could have made the draft selection, just going from what was in the paper.
So who did the Bungs take? Good ol' defensive end John Copeland!
And Roaf no doubt felt like he'd won the lottery.
It's worth recalling today, because, as you surely know, Willie Roaf was only hours ago inducted into the NFL Hall of Fame.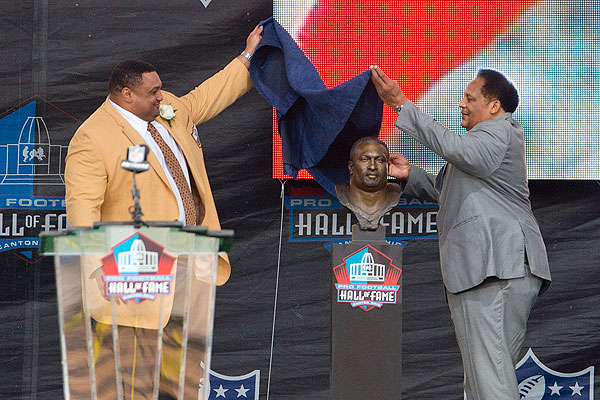 http://www.cantonrep.com/sports/hall_of ... illie-Roaf
I can't even recall what Copeland did. Poor sap.