US District Court Unseals Second 9/11 'Inside Job' Case
Developments regarding
Dr Judy Wood
, a former Professor of Mechanical Engineering from Clemson University. Wood is represented by mainstream attorney
Jerry Leaphart
.
On September 12, 2007
the Southern New York District Court unsealed an "inside job" case. This complaint, filed by
Dr Judy Wood
against the private contractors hired by NIST, alleges the World Trade Center was destroyed by
Directed Energy Weapons
(DEW). Wood's unsealed complaint is available here (in the Qui Tam section):
http://drjudywood.com/articles/NIST/Qui_Tam_Wood.html
Dr James Fetzer
, the founder of Scholars for 9/11 Truth,
interviewed Dr Wood and Mr Leaphart
on his October 11th Dynamic Duo radio show to discuss the new unsealed complaint.
An MP3 of this broadcast
is downloadable at this link:
http://tinyurl.com/3dmpqo
Dr Fetzer also submitted a press release for this wonderful news. Read it and learn that NIST admitted to Dr Wood (in writing) that they did
not
analyze the "collapse" of the towers!
http://www.opednews.com/articles/opedne ... es__22.htm
One of the Defendants, Applied Research Associates (ARA), is
a manufacturer of directed energy weapons
:
http://drjudywood.com/articles/ARA/ARA.html
ARA is also a Silver Level Founding Sponsor of the
Directed Energy Professional Society
(DEPS). Founded in 1999, DEPS put out their first newsletter one year before 9/11, containing the following excerpt:
"Lasers in space, lasers in the stratosphere, lasers
on and over the battlefield - we're at the
beginning of an evolutionary new wave of
weaponry."
http://www.deps.org/DEPSpages/graphics/wavefront2.pdf
Dr Wood has also discovered
that the "Capabilities - National Defense and Aerospace" section of ARA's website contains an image depicting a simulation with the following characteristics:
1.
A building (in the foreground) having damage similar to that of WTC 6 and the Murrah Building in OK City.
2.
A building (behind the red building) with the same cosmetic design as WTC 3.
3.
A building (in the background) turning to dust similar to the Twin Towers.
Here's the image: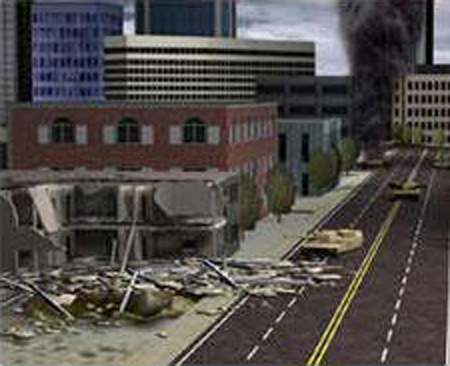 See pages 3 and 4 of Dr Wood's Appeal to NIST for information regarding that photo:
http://drjudywood.com/articles/NIST/NIS ... ppeal.html
Here are pages 3 and 4: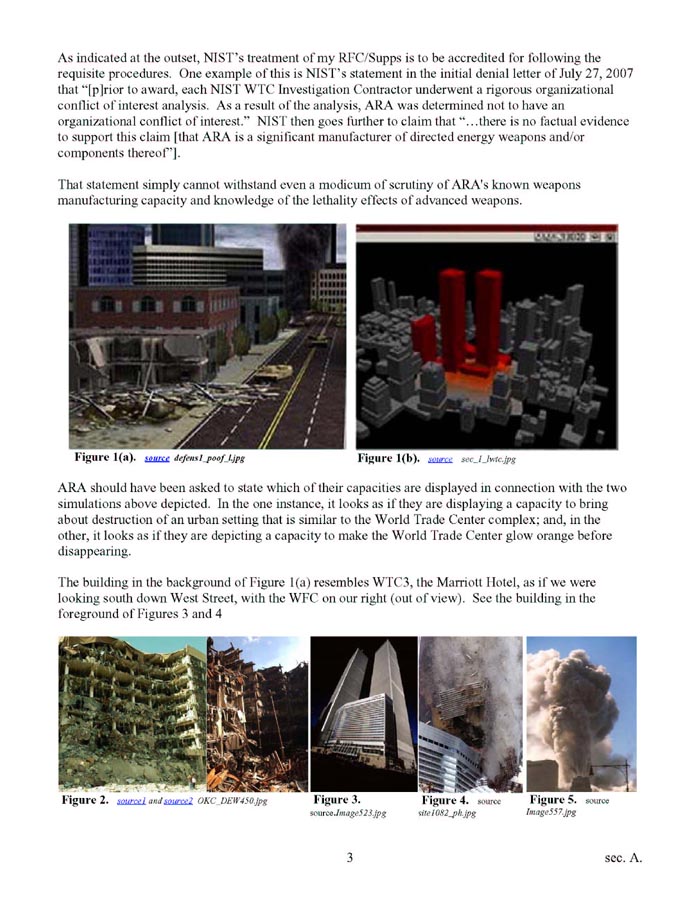 Those skeptical of the directed energy weapon theory often ask how such a weapon could eject steel beams horizontally from the towers, as seem in some of the videos and photographs. Dr Wood says the DEW didn't destroy the towers itself, but instead activated chemical clouds that were released from within the buildings; much like how light activates photographic film. Dr Wood has discovered photographic evidence of these chemical clouds coming from the towers, as well as WTC 7:
http://drjudywood.com/articles/dirt/dirt5.html
http://drjudywood.com/articles/dirt/WTC7.html
The Evidence for Directed Energy Weapons is Very Strong!
**Let's take this Vertical Cut on WTC 4 as an example.
The building material on the other side of the cut is "missing".
Where'd it go?
**Has anyone noticed... the WTC 4 cut is in the same path as the South Tower's north wall?
The South Tower is also
"missing"
.
**How about these Cylindrical Holes in WTC 5 and WTC 6?
What, if not a beam weapon, could make these?
**How about this video of the
Steel Core Turning to Dust
and trickling down?
http://www.youtube.com/watch?v=jVRh4U2BlhQ
**What type of weapon could
destroy car engine blocks, yet leave unexploded gas tanks
?
**This
police car
looks too weird.
**These cleanup workers certainly look puzzled.
What happened here?
**About 20 minutes before the South Tower is destroyed, the FAA orders all aircraft to land.
Two minutes after the North Tower is destroyed, the FAA allows military craft back up.
Why?
One must wonder... where did the towers go?
Look at these two comparisons.
What happened?
Dr Wood has filed legal challenges, which provides an excellent opportunity for a
new investigation
.
She deserves our full support.