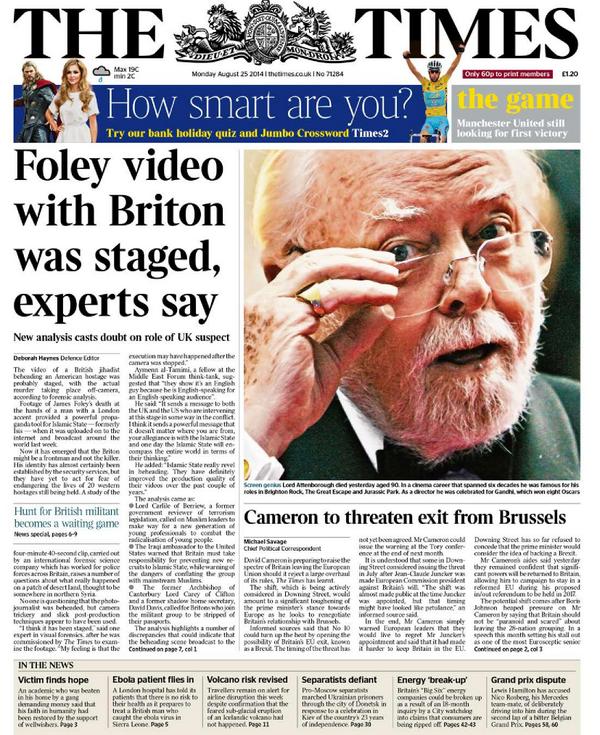 Foley video with Briton was staged, experts say - New analysis casts doubt on role of UK suspect

Hostage murdered after faked video, say experts

Times, The (London, England) - Monday,

August 25, 2014

Author: Deborah Haynes

The video of a British jihadist beheading an American hostage was probably staged, with

the actual murder taking place off-camera

, according to forensic analysis.

Footage of James Foley's death at the hands of a man with a London accent

provided a powerful propaganda tool

for the

US

Islamic State (formerly Isis) when it was uploaded on to the internet and broadcast around the world last week.

Now it has emerged that the Briton might be a frontman and not the killer. His identity has almost certainly been established by the security services, but they have yet to act for fear of endangering the lives of 20 western hostages still being held. A study of the four-minute 40-second clip, carried out by an international forensic science company which has worked for police forces across Britain, raises a number of questions about what really happened on a patch of desert land, thought to be somewhere in northern Syria.

No one is questioning that the photojournalist was beheaded [why not?]

,

but camera trickery and slick post-production techniques appear to have been used

.

"I think it has been staged," said one expert in visual forensics, after he was commissioned by The Times to examine the footage. "My feeling is that the execution may have happened after the camera was stopped."

Aymenn al-Tamimi, a fellow at the Middle East Forum think-tank, suggested that "they show it's an English guy because he is English-speaking for an English-speaking audience".

He said: "It sends a message to both the UK and the US who are intervening at this stage in some way in the conflict. I think it sends a powerful message that it doesn't matter where you are from, your allegiance is with the Islamic State and one day the Islamic State will encompass the entire world in terms of their thinking."

He added: "Islamic State really revel in beheading. They have definitely improved the production quality of their videos over the past couple of years."

The analysis came as:

Lord Carlile of Berriew, a former government reviewer of terrorism legislation, called on Muslim leaders to make way for a new generation of young professionals to combat the radicalisation of young people.

The Iraqi ambassador to the United States warned that Britain must take responsibility for preventing new recruits to Islamic State, while warning of the dangers of conflating the group with mainstream Muslims.

The former Archbishop of Canterbury Lord Carey of Clifton and a former shadow home secretary, David Davis, called for Britons who join the militant group to be stripped of their passports.

The analysis highlights a number of discrepancies that could indicate that the beheading scene broadcast to the world was not the genuine killing. Firstly, no blood can be seen, even though the knife is drawn across the neck area at least six times. Secondly, sounds allegedly made by Foley do not appear consistent with what may be expected. The forensic analysis expert said that no incision could be seen on Foley's neck, though the right hand of the jihadist partially blocked the shot.

The commentary provided by the forensics company, which requested anonymity, did not reach a definitive answer. It concluded: "No one is disputing that at some point an execution occurred."

The video begins with a clip of President Obama raising the prospect of US airstrikes against Islamic State targets in Iraq. This footage appeared to have been downloaded directly from the White House website. Interference was imposed on to the picture, making it look dated and old-fashioned.

Footage of Foley, 40, with his head shaven and kneeling upright in a bright orange robe, is filmed from two cameras running at the same time. Foley's words, which run for one minute and 26 seconds, appear to have been scripted. The analysis highlighted a blip in the imagery that could indicate the journalist had to repeat a line. Scrutiny of the subsequent speech by the masked jihadist, in which he warns the US of attacks, indicate that the words are spoken by the militant even though his mouth is obscured by his headscarf.

Next comes the beginning of the supposed beheading. The militant wraps his right arm around the journalist's head, holds his chin in his right hand and makes quick slicing movements with the knife in his other hand.

"After enhancements, the knife can be seen to be drawn across the upper neck at least six times, with no blood evidence to the point the picture fades to black," the analysis said. The next shot is of Foley's decapitated body, with his severed and blood-covered head on his upturned back.

The video concludes with the jihadist standing next to Steven Sotloff, a second kidnapped US journalist. Analysis raised the possibility that this clip was filmed before the footage of Foley.

It emerged yesterday that Foley wrote a last letter to his family, saying he hoped to be back in the US for his sister's wedding. He was banned from sending it but a Danish photojournalist, who spent 13 months imprisoned with Foley, committed the words to memory. When Daniel Rye Ottosen, 25, was released in June his first call was to Foley's mother, Diane. He dictated every word.

Are these men linked to Foley killing?

Amer Deghayes

aged 20, a student from Brighton, went to Syria, where he was INJURED and one of his brothers was killed. The US held his uncle in Guantánamo Bay. Deghaye may have had access to Isis leaders but claims that he fought with other groups.

Junaid Hussain

20, from Kings Heath, a suburb of Birmingham, was Jailed for six months in 2012 for stealing personal information relating to Tony Blair and his family, and posting it online. He has posted photographs of himself on Twitter brandishing an assault rifle and wearing a scarf to hide his identity. On June 4 he tweeted a reference to the black flag that has been adopted by Islamist extremists: "One day the flag of tawheed will fly over 10 Downing Street and the White House."

Abdel-MaJed Abdel Bary

23, from Maida Vale, west London, is an aspiring "grime" rapper called Lyricist Jinn. He was radicalised after mixing with associates of the preacher AnJem Choudary. A neighbour said the Bary's family home had been raided last week.

Abu Abdullah Albritani

Has kept his identity under wraps but is thought to be one of the men who left Portsmouth with Mashudur Choudhury, who was Jailed on his return.

Also among the group were

Iftekhar Jaman

, 23, and

Hamidur Rahman

, 25, who are both thought to have been killed since leaving the UK.

Al-Britani looks similar to Foley's killer and keeps himself masked, but his fixation with social media makes it less likely that he is the man holding Western hostages.

Ismail Jabbar

The 22-year-old Islamist has posted images of people that he claims his group, "Unit Bin Laden", have killed, including one of him apparently standing on a corpse. Although he has clearly been close to killing he is probably not tall enough to be Foley's killer.

Aine Davis

Born to parents of Gambian heritage, Davis, 30, left for Syria in July last year. He was sentenced for a firearms offence in 2004. He has a London accent but may be too well-built to be "John".