Universal released their Blu-ray "digibook" of Abbott & Costello's BUCK PRIVATES on Tuesday. A digibook is fancy packaging used as an excuse to overcharge customers and this set includes a DVD for the old folks
. Overpackaging aside, It's a thing of beauty to see this 1941 classic in high definition.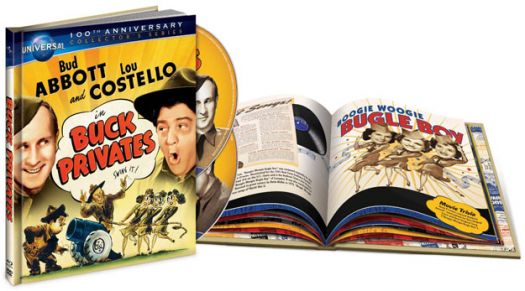 From bigpicturebigsound.com:
"According to the package, the 4:3, black-and-white Buck Privates has been "digitally remastered and fully restored from high resolution 35mm original film elements" and, as the characters here might say, brother, they ain't kiddin'! The image is immaculate, purged of every flaw to reveal abundant fine details, including the textures of the various costumes. What I mistook for a speck of dirt was actually a fly buzzing around Lou's head.
The blacks are deliciously rich, while the edge enhancement is minor and the noise minimal. The AVC-encoded video on this dual-layer platter hovers around the generous 30-megabits-per-second mark."
I remember growing up in the 1960's watching Abbott & Costello on my parents old Viking brand TV set. I think that the kids of the '60's were more part of the Abbott & Costello generation than the movie goers of the 1940's. Some folks may have gone out to see an A&C movie every year but the kids in the 1960's had them beamed into the living room regularly. Here I sit today, watching the boys on a 60" HD TV looking better than I could even have imagined back in 1965. Amazing!
This youtube clip is in very low definition...but, if you get BUCK PRIVATES on Blu-ray, you can see it in glorious high defintion with near perfect lossless sound.
http://youtu.be/y5H7F2Zsxl0