Have you ever experienced this: A kit which is way outside of your normal range of interest and one you would never consider buying comes into your hands, and it turns out to be a little jewel and just too tempting to resist?
That happened to me recently when William De Coster of Belgium paid me a visit. He brought a Special Hobby 1/72 Temco TT-1 Pinto as a gift. This one:
William knew the kit quite well as he had already made a start on one. Check out part one of his build report here (we are eagerly awaiting part two, William
http://www.network54.com/Forum/644810/m ... +report%29.
All the options in this boxing are civilian registered examples.
Since William has done a terrific job on sprue shots and describing initial assembly I'll skip that. His experiences with the build proved invaluable to my build. The dihedral problem is due to the lower wings being too long. Trimming a little less than a mm from the tips of the lower wings made sure that they slotted into the upper wings correctly and enabled a correct dihedral.
I added a bit of nose weight to make sure it would not be a tail sitter. William had a problem with the rear headrest - mounting it in its natural position prevented the canopy from fitting correctly. So I glued the rear headrest low enough to ensure the canopy would fit. Headrests (not shown in pics below) were scratchbuilt as I lost the kit supplied ones along with the tail pipe and front u/c door - I managed to throw away a sprue that was not empty. Aaaargh! Thankfully those parts were easy enough to replace.
Cockpit is well equipped so all I added was seatbelts.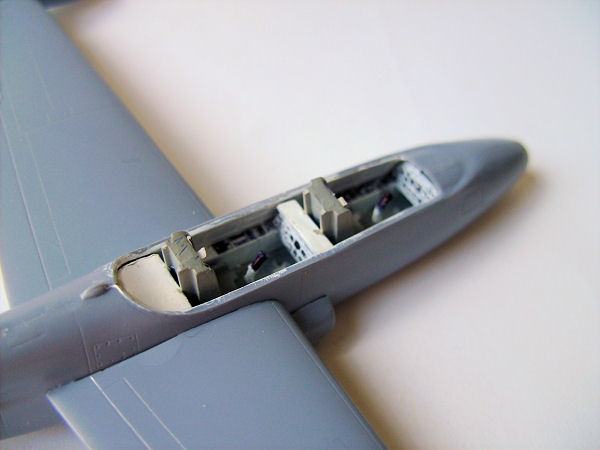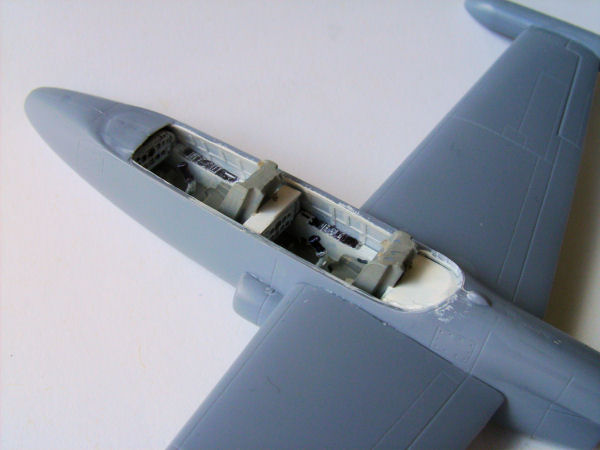 I spent a lot of time dryfitting and sanding the major parts and ended up using no putty at all. I have a few minor gaps but I hope those will be covered by a primer coat or two.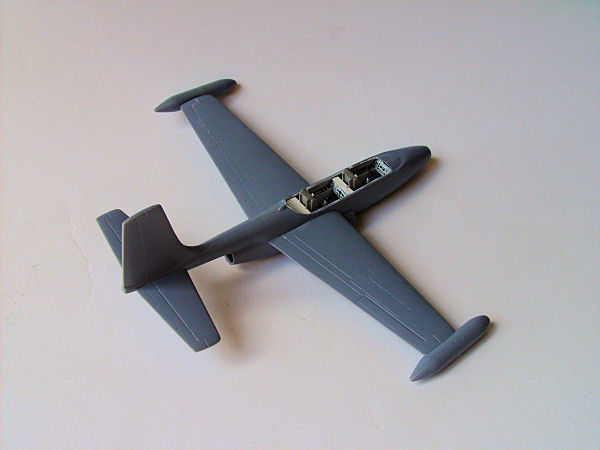 Canopy masked and ready for priming!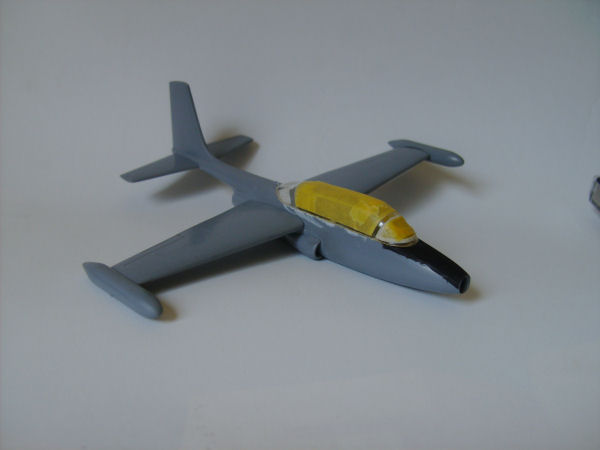 White primer is Vallejo 28010 spray can. I only meant this as a primer, but as the aircraft is going to be all white anyway, I think I just saved myself the trouble of a paint coat. The gaps I had were more or less filled by th eprimer coat - good!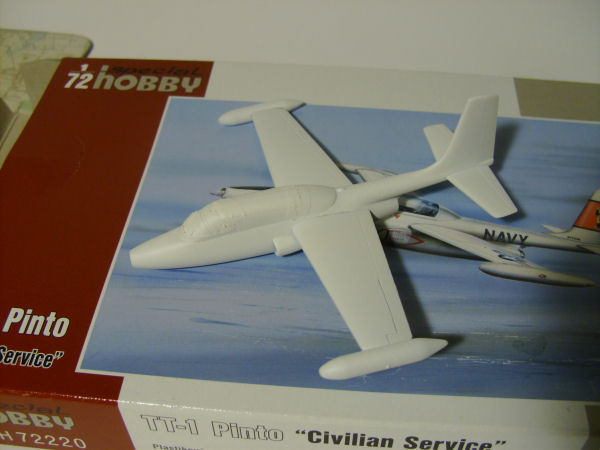 Those headrests... at this stage I found some video footage of this very plane, and it appears to have different seats. I guess bang seats are not allowed on civilian a/c. But the cockpit has the lid on, so I can't change that now. I think I'll just leave off the civil registration (very small lettering on the tail, see boxtop) and pretend it is a military bird. I strongly suspect this scheme is bogus as I can not recall seeing Pintos in service being any other colour than yellow, but what the heck...
Masking removed. It's beginning to look like the boxtop artwork! Headrests visible in this shot: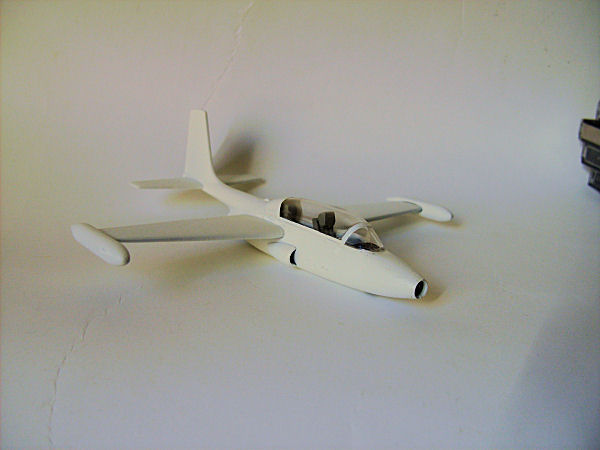 As to the other trainer in the message title, I thought the Pinto looked a bit like the PZL TS-11 Iskra. So I ordered the Mastercraft kit to build alongside. It was a bit late in arriving, so I haven't started on it yet.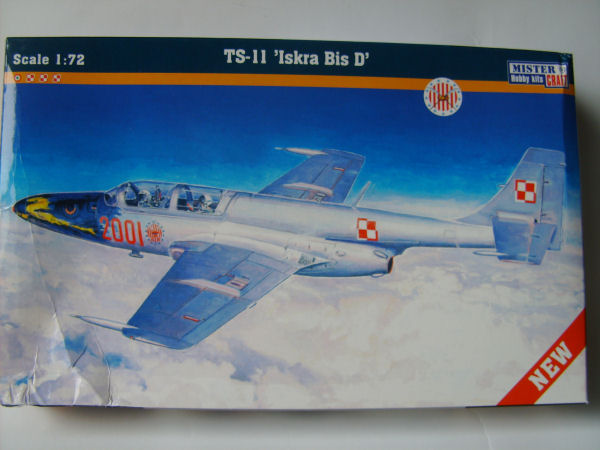 I don't know if Mastercraft produce their own kits or just rebox kits from other manufacturers. But the quality of their kits varies quite a bit. I have a Mastercraft PZL P.7 which is a terrific little kit. And then there is this Iskra, which is a bit on the crude side. The box was undamaged when I received it, but never the less one fuselage half was on the sprue broken into three parts. Breaks thankfully were clean and easily glued, so you probably can't tell from the pic below which half is the repaired one.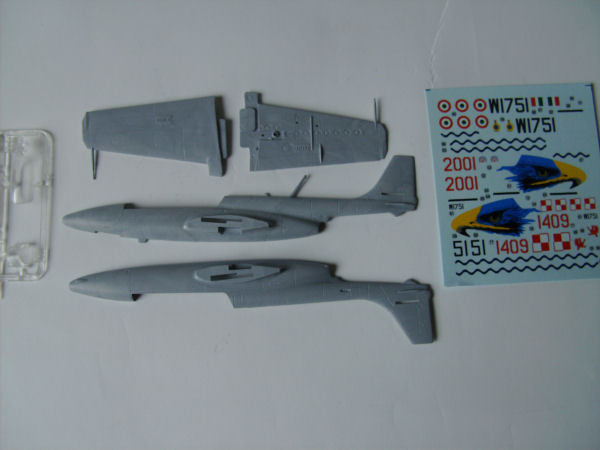 The kit offers four decal options according to the instruction sheet painting guide, but strangely only one of those (the one on the box top) appears on the decal sheet. The three other - and not on the painting guide - options on the decal sheet are two other Polish a/c and an Indian one. While that bird of prey nose art looks striking, I don't think I am up to the challenge of trying to get those decals to conform to the nose shape. I think I'll go for an Indian exanple.
_____________
CD